Four Questions from Sandy
We get a lot of good questions from readers and we feature most of them in our newsletters. And we're very thankful for all the questions we get from you every week. Occasionally we get questions that we can't, because of the length of the questions/answers, feature them in our weekly newsletter.
Today, we received four questions from Sandy that we thought would be of interest to most of our readers using Windows devices. The questions concern different kinds of USB devices and ports, buying a new computer with 8GB of RAM on the cheap, whether POP3 or IMAP is the best choice for email and SSD vs. HDD hard drives.
Thanks so much to Sandy for the great questions.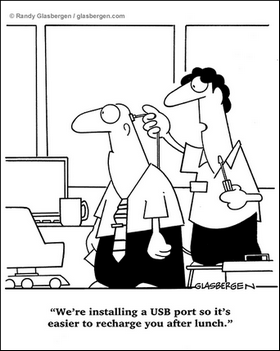 Sandy asks four questions
I actually have about four questions. I guess I'll ask them all in one email to you. With Black Friday sales coming, I know some people that are looking for new computers. With so many people using them for work because they are working from home, some specs needed may be higher than normal. I have someone wanting to teach and wants to go cheap in the $3 50 range, but those are only 4GB Ram which in my humble opinion, in today's Windows 10 atmosphere and other things, is just too low. It could very well be obsolete in 2 years. Anyway, here we go.
One, can you review and explain the new ports on the new computers. They used to come with 2×2.0 USB and 1×3.0 USB. Now they are coming with 1×2.0 USB, 1×3.0 Gen 1 USB, and 1×1 x USB Type C (available with discrete graphics only). Is the 3.0 Gen 1 a regular 3.0 USB port? What does discrete graphics mean with the USB Type C? I believe you can get an adaptor for that port that will make it a USB port. So many peripherals need USB ports these days. Heck, most people use the one and only port some are putting on them now for their mouse.
Two, I like using Outlook and have discovered that forwarding my Gmail to my Outlook on my computer is very handy. I've never loved working with Gmail, but need that account for two reasons, one for using on sites I might buy from without getting all the junk email, and two, if you change providers, you use your POP email address. So that being said, can you again review what is better POP or IMAP email?
Three, so many new computers are now coming with Solid State Drives. They are so small, and I figuring manufacturers now believe we are using Cloud storage or external drives. I now have over 1.5 TB of data. I am thinking of Cloud Storage. There are so many different ones that I was hoping you might review the better ones. I currently use an external hard drive and was wondering if you can use your Cloud storage just like you would your external hard drive? Can you read and write easily to Cloud storage just like you were using a drive number? Please review Cloud storage. If I have to save to the external drive and then try to remember what to put up on Cloud storage at a later time, it probably won't happen. If I want to back-up or replace my external hard drive, it takes 3 days to transfer my data from one external hard drive to another. I would think using Cloud storage would be better. But is it secure as you would be putting bank numbers, etc. up there. Your thoughts?
Our answer
Hi, Sandy… you won't believe this, but my answers will be shorter than your questions 🙂
USB 3.0, USB 2.0, USB 1.1
USB 3.0 devices are designed to work with older USB versions including USB 2.0 and USB 1.1. USB 2.0 devices will work with USB 1.1 ports. So, if you plug a USB 3.0 flash drive into a USB 2.0 port, it will only run as quickly as the USB 2.0 port can transfer data and vice versa.
USB C
USB is a different animal. USB-C is electrically compatible with older USB 3.0 ports. But because of the new shape of the port, adapters or cables with appropriate plugs are indeed required if you want to connect anything that doesn't have the USB-C oval shape.
And there are other types of USB devices and ports as well, but they are not as popular
COMPUTERS WITH 8GB MEMORY FOR UNDER $350
We agree that 4GB of RAM is not enough memory for most users. You might not be able to find a good laptop or desktop with 8GB of RAM for under $350, but if you do some shopping, you'll find quite a few around $350. Here's an 8GB laptop with Windows 10 for $380. 
EMAIL: POP3 vs. IMAP
Not even a contest here. IMAP is superior to POP3. IMAP keeps your mail on the mail server and synchronizes your email with your email program – it does not delete mail from the server. So, you never lose your email even if your computer becomes unusable or you get a new computer.
Another benefit to IMAP is if you check email on multiple devices, checking email on one device does not remove it from the server – so you can check mail on other devices.
POP3 is the oldest mail protocol and some services are not even offering POP3 anymore. POP3 downloads and removes mail from the mail server and you store it on your computer. If you don't back it up and your computer becomes unusable or get a new computer – your email is gone.
SSDs, HDDs, and CLOUD STORAGE
SSDs are getting increasingly popular because they are faster and supposedly last longer than a standard hard drive (SSD). They are also more expensive and the ones that come installed in new computers are typically smaller than standard hard drives. You can also buy hybrid computers with HDD and SDD drives, but they are more expensive.
If you have a Microsoft 365 (formerly Office 365) subscription you automatically get 1 TB of free cloud storage space. And OneDrive integrates seamlessly with Windows 10. If you need 1 TB of cloud storage space, you can at a Microsoft 365 Personal account for $6.99 a month. And that's a good deal considering you get MS Word, MS Outlook, Excel, PowerPoint, and more — and you get 1TB of secure cloud storage.
The files you store in the cloud are as only as secure as your password is strong. Microsoft has exceptionally good security on OneDrive. Is it perfect? No. But it is reliable and if you get a new Windows 10 computer, OneDrive makes all your files accessible as soon as you log in to it on your new computer.
Google Drive and other popular cloud-based storage services have also proven to be secure so far – but remember strong passwords are the key to your security.
I hope this helps you, Sandy. Great questions!