Dir2HTML
Windows XP, Windows Vista, Windows 7
Create lists from any folder or drive on your computer
1.2MB download file size
We all like lists: grocery lists, lists of friends, lists of enemies, lists of vegetables to avoid, lists of wines we like, lists of sites we like, lists of lists, lists of anything – even Listerine. Not many people LISTen well, so LISTen up because we're going to introduce you to a program that makes lists – and makes them without you having to type hardly anything. If you are a workophobe like EB then you'll love this program – but only if you are LISTening and you like lists.
I guess we're going to have to tell you right up front what this program makes lists of, in case some of you are salivating thinking this program can make any kind of list you want. It can't. But it can make lists from the contents of any folder on your computer – and if you're really a listophile it can list everything on any hard drive. Not only does it make lists of the contents of folders, it makes nice lists, neat, easy to read, orderly lists based on parameters you specify. Heck, if you're really a nit-picker you can even choose your own colors. I'm a black and white type of guy myself, the screen shot below shows my tendency toward the mundane.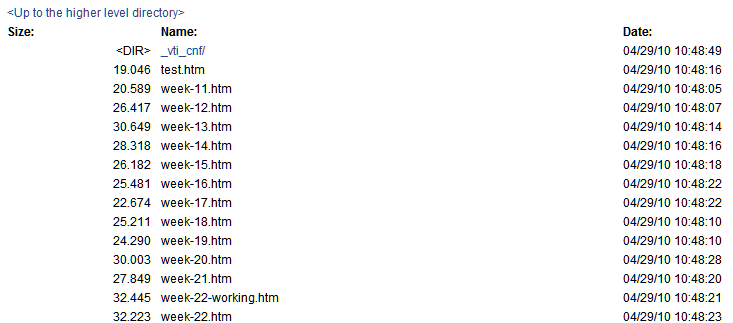 As stark as it may be, you have to admit it's neat and orderly – and easy to read.
Some of you are scratching your head wondering why on Earth you'd want to make a list of everything in a folder – or on a drive. Because you can? Because it's easy? Because you can't possibly know every file on your hard drive or in a folder full of files? Because you can't possibly know how much disk space each file is taking up?
That's right folks, our handy, dandy freeware pick of the week can make a list of the contents of any file or drive on your computer. East list you create shows the file name and the size – and all you have to do is select the folder you want to create a list from and set a file name and select a folder where you want to store you list. The program does the rest and it does it very fast. It cannot be easier to use, so even beginners will be making gorgeous lists of the contents of any folder in just minutes.
Here's another screen shot of the program running on my computer, proving once again we really download and test all this stuff. It's amazing that my computer doesn't rebel.
Yawn! I'm tired of extolling the virtues of this week's freeware pick – and thankfully the developers are wide awake and ready to continue my extolling:
"Arclab Dir2HTML is a directory to HTML index converter which builds a html index file out of directory structures and files on your hard disk.
Dir2HTML supports recursive indexing, can create sub-sections for each subfolder within the index file and link files for online and offline projects using a custom link-prefix.
Software Features and Options
Convert a Directory Structure and Files to a single HTML File
Include Subfolders (recursive)
Create Subsection for each Subfolder or hide Subfolders
Create HTML Sitemaps (in .htm Format)
Mask (Search Files)
Link files using a custom Link-Prefix
Add a Back-Link
Add Size
Add Date
Add Description Cell
Add Summary (include total size and number of files)
Lowercase Files and Folders
Uppercase Files and Folders
Convert Spaces in Links to %20
Custom Page-Title
Table Align and Width
Custom Fonts and Colors
Output in UTF-8 Format…"
So there you have it. Whether you're listing toward port or starboard, or just itching to get listing, this program makes some useful and interesting lists. If you're like me, when you start making lists you'll be shocked that you find all kinds of things you never knew you had. Maybe even things you wish you didn't have – so better hurry and delete them or give them a less obnoxious name. Just kidding. Get listing. Our freeware of the week is Dir2HTML and you can get it free from the fine and generous folks at Arcsoft.