Did you know that you have tons of icons on your computer and many of then you never see? Many EXE, DLL, and other files contain one or more icons, but getting these little buggers out of there is a problem – unless you have the right tool
Over the years we've had mixed results with icon extractors. The problem with most of them is that they only extract the smallest icons from complex icons. Since Windows has progressed from simple icons in 95 and 98 to complex icons in Windows XP and complexer (yes we know!) icons in Vista and Windows 7, extracting the tiny simple icons isn't really helpful. On today's big monitors 16×16 or 32×32 simple icons don't look so hot. Well, it's true. XP, Vista and Windows 7 use icons that are complex and contain all sizes from 16×16 all the way up to 256×256 on Vista and Windows 7.
Icons From File (which isn't a very creative name is it?) can extract some of the larger sizes from complex icons found on Windows XP and Windows Vista systems. This means you might actually be able to use some of the icons you extract because they'll be big enough so that you can tell what the icon actually is.
But rather than ramble on and have you skip to the download link prematurely, we're going to bring in the program's developer to wax eloquently about his program:
"Icons from File is a free tool for extracting icons or icon arrays from files (EXE, DLL, OCX etc.) with the ability to scan folders and search for EXE, DLL, and OCX files, which contain icons.
Extracted icons can be saved (exported) to a file:
– All or selected icon to ICO, BMP, JPEG, GIF, PNG, or EMF files;
– All icons as a BMP, JPEG, GIF, PNG, or EMF file.
All of the icons from the selected files may also be extracted and saved to a selected folder in a step or exported to a HTML document (.htm, .html) or dBase 5 file (.dbf). Saving high color icons (which have more than 16 colors) is also possible.
Export operations may also be performed via the command line.
Extracted icons may be printed (all or selected).

The program is optionally portable…"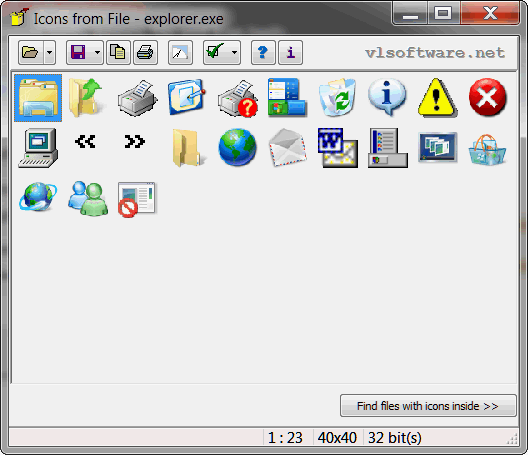 These are some of the icons contained inside Explorer.exe (Windows 7)
If you need icons, you've already got a million of them on your computer. OK. I exaggerate. You have hundreds, maybe thousands of them on your computer. Almost every DLL and EXE file has icons. It's kind of like mining. All you have to do is dig out the gold.
If you feel like mining some icons, you'll not need an axe or a shovel. You just need our freeware pick of the week Icons From File. And you can read more about and/or download it right here.
Details:
Icons From File
For All Versions of Windows (32bit/64bit)
What is it? A tool for extracting icons from files
Download size: 879 KB zip file
Do you have a freeware program you love? Tell us about it!