HiBit Uninstaller – It's Not Just Another Uninstaller
There are several good uninstallers out there. We've recommended Geek (free) and RevoUninstaller before. Both Geek and Revo Uninstaller use the program's uninstaller to start with, then they scan your computer for files the uninstaller left behind; leftovers as we call them. Revo cleans up a bit better than Geek – but Geek is faster;  both are excellent programs.
But now there's a new sheriff in town. His name is "HiBit Uninstaller" And let me tell you, this is one great uninstaller. Unlike Geek and Revo, it lets you uninstall multiple programs at the same time – but like Revo and Geek – it uses the programs' uninstallers, after after they're done running, HiBit Uninstaller cleans up the leftovers.
And about easy to use. HiBit Uninstaller shows you a list of all currently installed programs and lets you uninstall any item or multiple items by selecting their check boxes.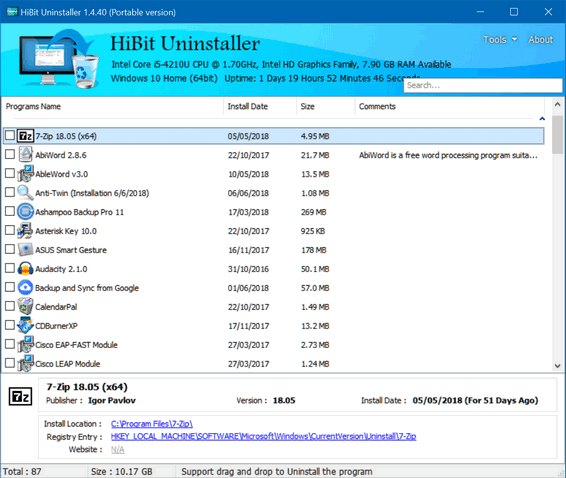 Above: HiBit Uninstaller shows you a list of all programs installed on your computer.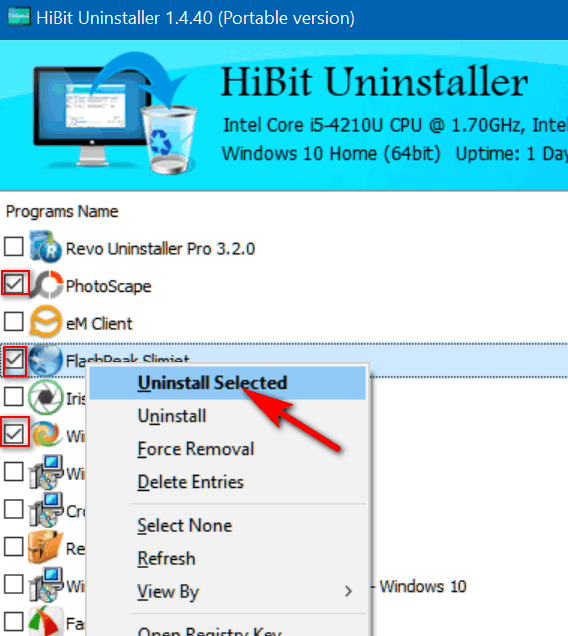 Above: Note the 3 checked boxes on the left. In the scenario above, I'm going to uninstall 3 programs with just one click. Of course, it will take some time. HiBit will run the uninstallers for all 3 programs – then when they've all finished running, you'll see a list of leftovers.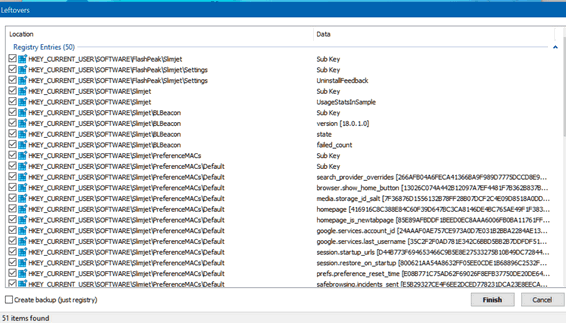 Above: A list of leftovers after running a program's uninstaller. To clean them all up, all you need to do is click "Finish". Note in the bottom left corner, if you want to be extra safe, you can also create a registry backup – but most of the time that won't be necessary.. but it's a nice feature.
Once you've selected the program or programs you want to uninstall, HiBit goes to work… first running each program's uninstaller and then it will offer to scan for files, registry entries and other items left behind by the uninstaller(s). .If the scan finds leftover, you'll see a list of all files, registry entries, startup entries, services and and other junk. that the program's uninstaller left behind. You willl then have the option to remove them.
HiBit Uninstaller lets you force the removal of programs with missing uninstallers or uninstallers which froze or aren't working correctly. It also has right-click Google lookup so you can search for answers to any questions you may have about a program or file.
Add to this several other useful tools such as: Windows Store Apps Manager,  Browser extension manager, Junk Files Cleaner, Services Manager, Startup Manager, Shortcut Fixer, Context Menu Manager (helps you to add or remove items from your Windows right-click context menu), Scheduler Task Manager and more.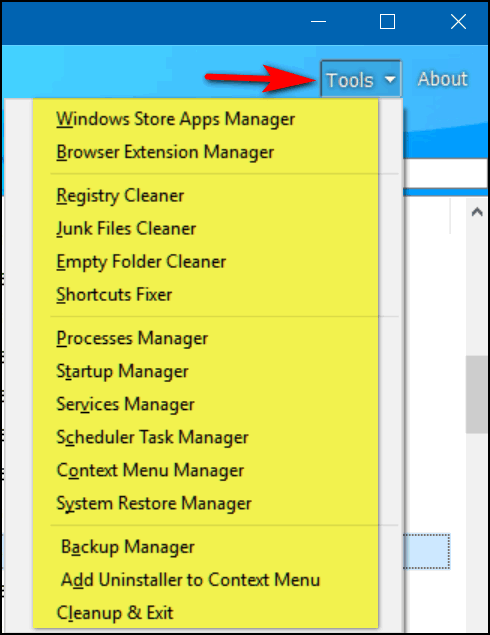 Above: HiBit Uninstaller's Nifty Toolkit.
ONE NOTE OF CAUTION: HiBit Uninstaller also includes a registry cleaner which have not tried and don't recommend – if you use the registry cleaner you use it at your own peril.
I've been testing this program for about 3 months. It's almost too good to be true – and that's why I tested it for such a long time. This is one of the best freeware programs we've ever found. When used with a little discretion, it will make your computer life a whole lot easier.
It's available as an installer or as portable app. We tested the portable version.
You can read more about HiBit Uninstaller – and download it from here.
WINDOWS 10 SMARTSCREEN WARNING IS A FALSE POSITIVE
Windows 10's SmartScreen is not very smart. It identifies HiBit as a malicious file. Microsoft engineers decided that if a file is not "generally downloaded" (not popular) that makes it suspicious. This morning (16 June 2018) I ran both the portable version and the installable version though VirusTotal's scanner. VirusTotal checks the file with 68 antivirus/anti-malware engines. All 68 (including Emsisoft, BitDefender, ESET, Google and many more) found it clean and  not malicious. You can visit VirusTotal here – or see the results of the scan here.

Above: VirusTotal scan today ( 26 JUNE 2018) shows that none of the 68 antivirus/anti-malware programs used to scan the file found any problems. All 68 found it clean.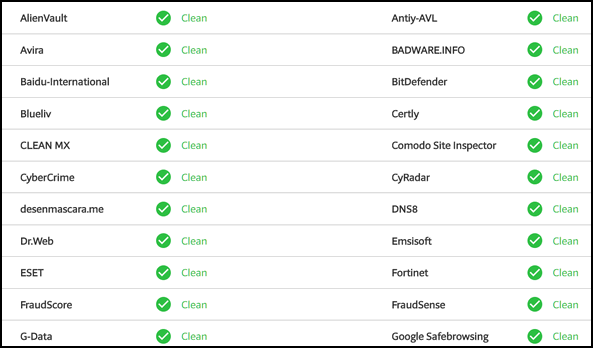 Above: Some of the 68 programs used to check HiBit Uninstaller. Note the checkmark and "Clean" rating.
SmartScreen Being Not So Smart
Notice that the only reason Microsoft SmartScreen gives for labeling HiBit Uninstaller is because it comes from an "unknown publisher". Sixty-eight antivirus/anti-malware programs disagree. They actually scan the file for problems rather than labeling a file "malicious" because it comes from a publisher it does not recognize (or because the file is not "commonly downloaded").
You can override SmartScreen's false positives as shown below.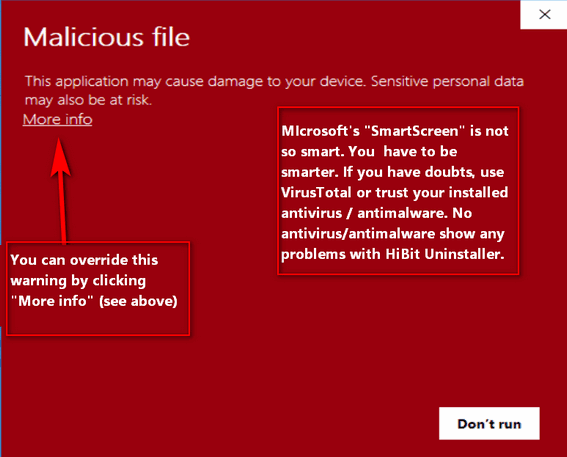 If we recommend something, you can trust we've tested it. I have been using HiBit Uninstaller for 3 months.  If you get the Not-So-SmartScreen warning above and you want to override it, just click "More info" then click "Run anyway" (see below).
You can also check out any file if you have doubts by going to VirusTotal and running the file through 68 different antivirus/anti-malware scanners.