Hover Over Links Before You Click Them to See the Real Destination URL
Helping to Keep You Safe!
One of the tricks scammers and other miscreants use is disguising links. We have told you many times that it's really important that you think before you click. One of the things you should think about is counterfeit links – those are links that look safe or text that disguises the true destination of the links. Did you know that by hovering over a link, you can see the real deal – the real link – uncloaked and not disguised?
We just recently found out that some folks – when they hover over links – tell us that they don't see the "real" URL (web address).  We forgot to tell people where to look to see the real URL. We're going to clear that up right now!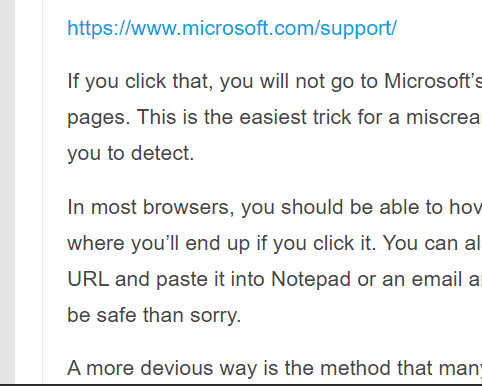 To make sure everyone knows how to reveal the real URL by hovering over a link, we made the animation above. You can watch as the mouse pointer hovers over the link and see the actual URL displayed at the bottom left.
This is an important tip – it is a fundamental tip that can help you stay safe on the Web. And remember – always THINK BEFORE YOU CLICK!