How to Back Up the Windows Registry
This tip is for Windows 7, Windows 8x and Windows 10 (all versions)
We try to stress the importance of keeping your computer backed up. It's the only way to protect your precious data and irreplaceable personal files. As most of you know there are dozens of ways your data is at risk. So, we know you're all keeping good backups, right?
Today, though, we're going to talk about something we don't harp on.. and that is: Backing up the Windows Registry. You've probably noticed that whenever we feature a tip that that includes editing the registry we always tell you to back up your registry first(or create a restore point). But, we have not shown you how to back up the registry. So, today we're going to show you how easy it is to back up your registry — and how easy it is to restore your registry from your registry backup if that should ever become necessary.
Let's back up your Windows Registry:
Press the Windows Key + R
Type REGEDIT in the run box and press Enter
When the Registry Editor opens, right-click on "Computer.
From the menu that appears, click "Export"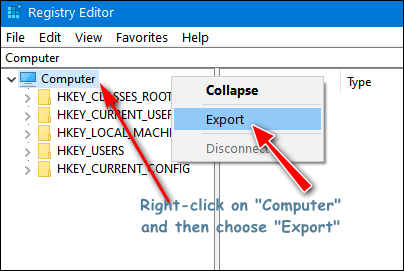 Save your registry backup on a flash drive or an external drive. It's not a very good idea to save it to your Windows drive (normally drive C ).
Also, be sure to save it with a name like "registry-backup15august2019". In other words, give it a name that tells you what it is and when it was created.
If you should ever need to restore your registry using your backup, it's easy. Just locate your registry backup file, right-click on it, and choose Merge. Be careful -only do this if you've made changes to the registry (or some program or malware program did) that caused major problems.
---
Cloudeight Direct Computer Care Repair Keys
THREE FOR $99!
During our Back to School Customer Appreciation Sale, you can buy three Cloudeight Direct Computer Care Repair Keys for $99! You can keep the keys for yourself, or keep one for yourself and give the others away – however you want because these Cloudeight Direct Computer Care & Repair keys are fully transferable. Don't miss out on this rare opportunity. Help us, help yourself, and help someone else too!. Cloudeight Direct Computer Care Repair Keys never expire – they are good until you use them!  
Get more information and/or get this special offer here!
Offer valid through Monday, August 26, 2019.