How to Change Your Default Browser in Windows 11
And it ain't easy, folks!
Changing default browsers in Windows 11 is a Microsoft-planned, convoluted mess. They want you to use Microsoft Edge. They don't want you to use Chrome, Firefox, Brave, Opera, Vivaldi, or anything else.  To keep you using Microsoft Edge, they've made changing browsers in Windows 11 a convoluted process.
How to change your default browser in Windows 11
Open Settings > Apps > Default apps and select the browser you want to be your default. In this example, we're using Google Chrome.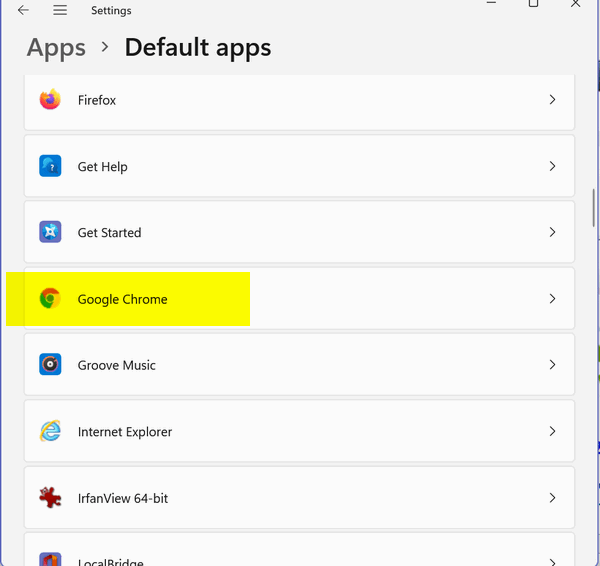 A page called Apps > Default apps > Google Chrome will appear. I'm showing it here as 3 different pages, but when you see it you'll just keep scrolling down.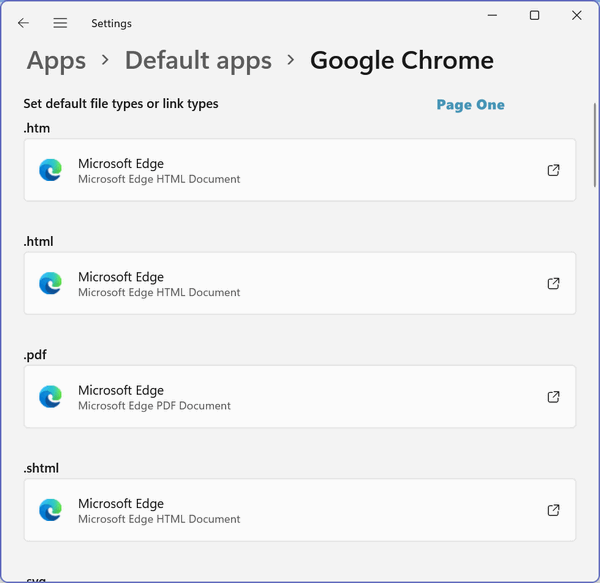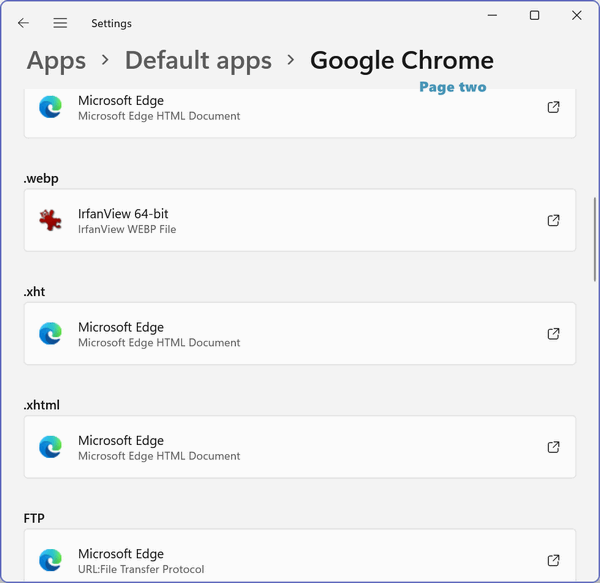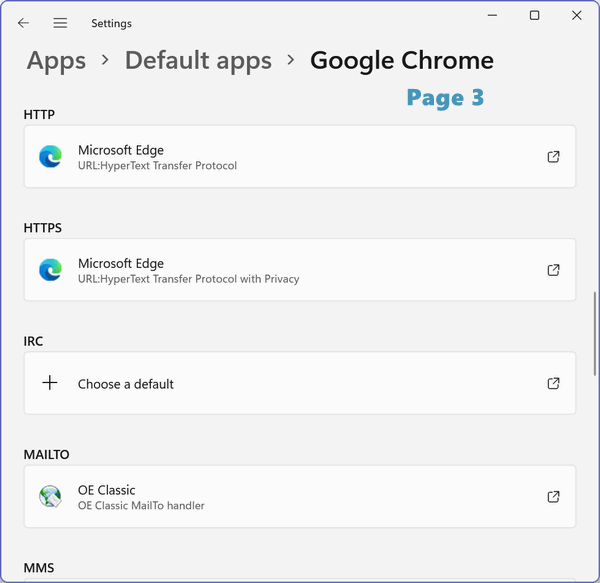 The first item you'll want to change is the file type called ".htm" which is the extension for a web page. Click the rectangle with the arrow (see below)…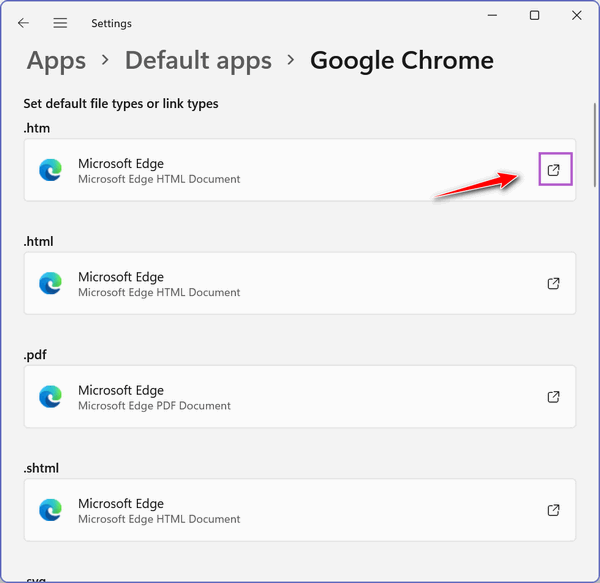 You may or may not get a warning that Microsoft Edge is the preferred browser – if you do just click "Switch anyway". When you click on the square with the arrow,  click on the browser you want to switch to, then click on "OK".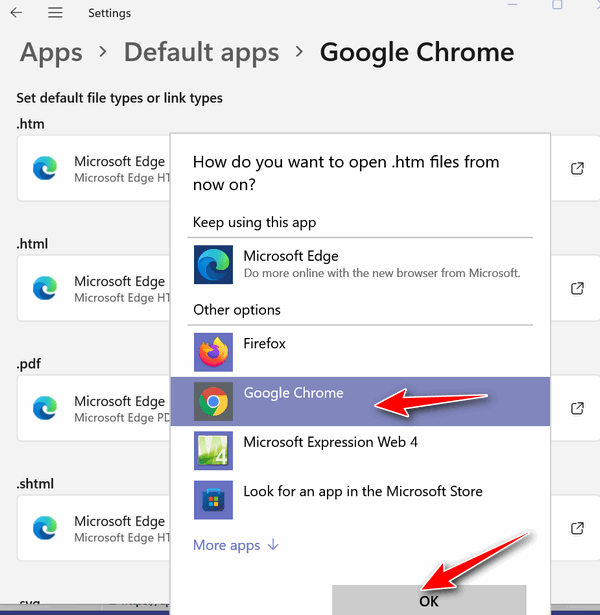 You'll have to do this at least four times for ".htm" ".html", "http", and "https". Optionally you can choose PDF, .shtml. 
You can see we've changed the basics – just four extensions: .htm, .html, http, and https. From now on links and html files will open with Google Chrome instead of Microsoft Edge. You can do this with Firefox, Opera, Brave, Vivaldi, or most any other installed browser.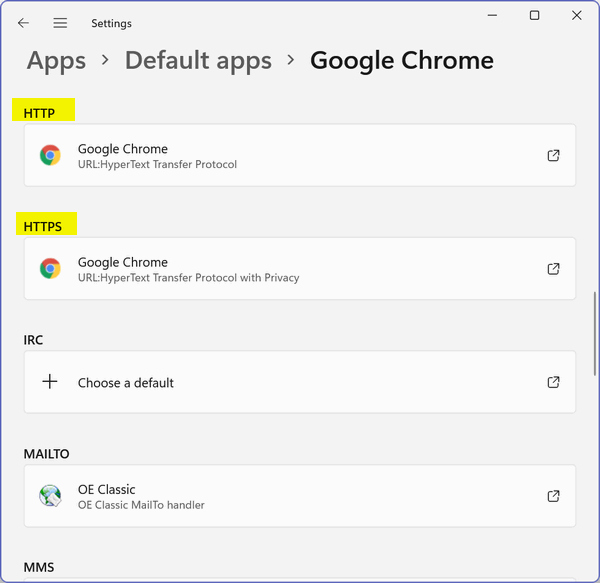 It's easy to see why Microsoft made changing the default browser such a pain. Most people won't bother with changing the default browser because it's such an illogical and convoluted process.
And wait… just one more thing. After you've set your default browser to any browser other than Edge, occasionally you'll get a warning that your browser settings need to be repaired or optimized. If you see that notification appear on your computer, don't click it – just close it. If you click it, guess what? Microsoft Edge will be back as your default browser and you'll have to go through all this again to change it.
---
Wait! Before you go…
Every week we help dozens of people with their computers without charge or any expectation of payment. And we have helped many folks who have fallen for tech support scams or other scams designed to steal their money.
And we now depend more on readers like you to help keep us going. Your donation helps us to help more people with their computers and helps us keep everyone safer online.
Please help support our small business and help us to keep on helping you.

---