Searching with You
Will this new search engine be a giant killer?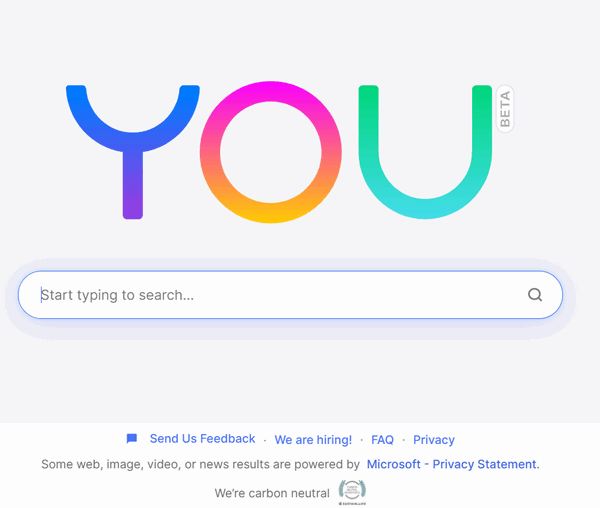 According to Statcounter, Google commands 91.66% of the search engine market. Here's the scoreboard for October 2021:
1. Google 91.66%
2. Bing 2.74%
3. Yahoo 1.50%
4. Yandex 0.96%
5. DuckDuckGo 0.60%
But now a new AI-driven, open-source search engine called You.com is launching its initial public beta release. It's well-funded by private capital firms Sound Ventures, Day One Ventures, Breyer Capital, and others. 
In taking on Google, You.com promises it will "bring more trust, kindness, and facts" to the internet.
More from You.com…
From search to "do engine"
You.com helps you get things done. Get news, check Github, compose a tweet. All in one place. Search one and done.

Your privacy
You.com puts you in control — choose either a personalized or truly private experience. You.com never sells your data to advertisers.

Summarize the web
The world's first open search engine platform that summarizes the web for users with useful and actionable content.

No ad-targeting
You.com is ad-free right now. We commit to never doing privacy-invading ads but may have private ads in the future…

Why use You.com instead of Google?
You.com summarizes the best parts of the internet for you, without ads and with great privacy. Our AI will help you find the most relevant apps but you are in control and can customize these apps and sources. We believe in bringing more trust, kindness, and facts to the internet.

How do You.com search results compare to Google's?
Our aim is to make your life easier by summarizing the web for you, eliminating the need to open multiple tabs. We'll also allow you to define your preferred sources and, whenever possible, show you results from the sources you prefer first — saving you time.
You.com has a FAQ page that answers a lot of common questions – including "How does You.com make money". If you're interested in learning more about You.com, check out the FAQ page here.
You.com offers a Private and a Personalized Mode
You.com comes with two operational modes – private mode and personalized mode. Users can easily switch between the two whenever they choose to do so. In private mode, search queries will not be stored on the servers, and clicks will not be recorded. Th
In "personalized mode", the user can search even if they don't create a profile. Users can select their preferred sources and modify the order in which they appear. Data will only be collected on user interactions with that site and not across other sites.
Testing You.com
We installed the You.com "Default search" extension in Microsoft Edge. Edge, in typical Microsoft style immediately turned it off and switch the default search engine to Bing, even though Google was set as default before changing it to You.com.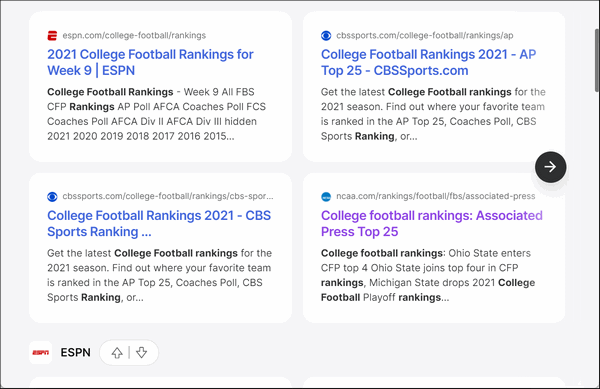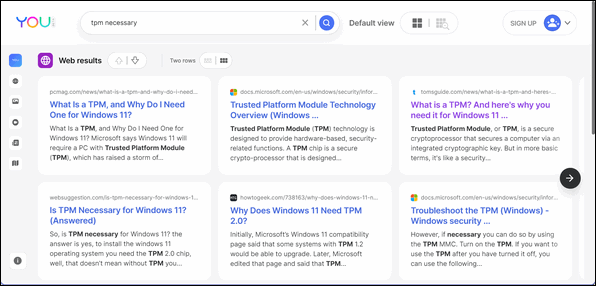 We're testing You.com and so far we like it. The search results seem accurate and they are presented in an easy-to-read format. But it's far too early to say if this is the giant killer its developers hope it will be.
Maybe it's time someone gave Google a real challenge,