\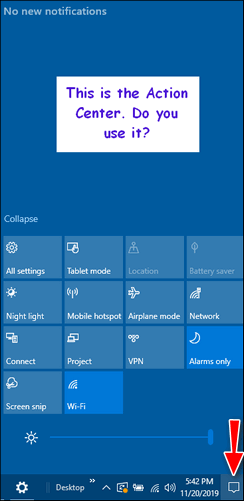 How to Disable the Action Center in Windows 10
One of the features that was introduced with Windows 10 is the Action Center. The ActionCenter displays notifications to users when updates are pending, a new email arrives, an app has changed, Windows Defender has detected malicious files, etc.
The Action Center also provides quick access to several of the important Windows 10 settings such as Night Light, Network, Airplane mode, Settings, Screen Snip and so on. And in newer versions of Windows 10, the Action Center has a screen brightness slider that's quite handy. But, of course, there's nothing in Action Center that is exclusive to the Action Center – in other words, there are other ways to do what the Action Center tries to make quick and easy to do.
But some people are not very fond of the Action Center and many don't use it. Today, we're going to show you how to disable the Action Center and regain some taskbar real estate. And don't worry, if you disable the Action Center you can re-enable it faster than you can say, "I really miss Windows 10 Action Center. I wish I would not have disabled it".
Here's how to disable the Action Center:
Right-click on a blank area of the taskbar.
Click on "Taskbar settings"
In Taskbar settings under "Notification area" click "Turn system icons on or off"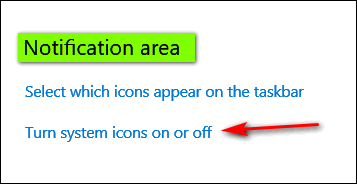 Look for "Action Center" in the list and then slide the switch next to it to "Off"

Above: Action Center "ON": The Action Center icon appears near the right edge of the taskbar.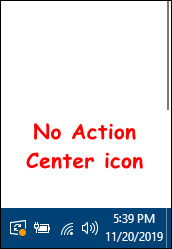 Above: Action Center "OFF": The Action Center icon is gone from the taskbar.
So, if you never use the Action Center, or didn't even know it was there. now you know how to disable it and free up some taskbar space. And if you ever decide you miss it, re-enabling it is as simple and flipping the Action Center switch back on.
---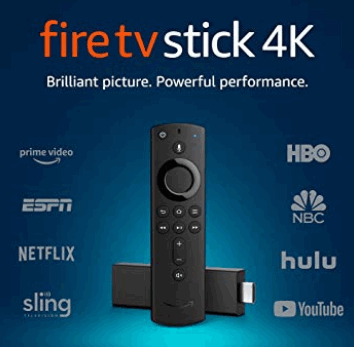 Fire TV Stick 4K with Alexa Voice Remote, streaming media player