How to Send Self-Destructing Emails with Gmail
The age of evanescent email
Sometimes you want the emails you send to be private. And sometimes the longer an email lingers the more likely it is that it will end up in the wrong place – or it may be seen by eyes that shouldn't see it.
Gmail has a new feature that would make Mission Impossible fans proud. It's called Confidential mode and it allows users to send self-destructing messages. Confidential mode is available on the Gmail web interface via a Web browser and in the Gmail app. Best of all, it is simple and easy to use.
Here's how to use Gmail's Confidential mode
1.) Compose your email as you normally would. Then click the Lock/Clock icon at the bottom of the compose window.
2.) Once you click the lock/clock icon, you'll see a Confidential mode window open. You'll see a notice that your recipient(s) won't have the option to forward, copy, print, or download the email.
3.) You have the option to select how long the email will be available to your recipient(s). Your choices are:
1 day

1 week

1 month

3 months

5 years
One week is the default setting. You'll also have the option to text the recipient a passcode they'll need to open the email. This feature is optional, and you can send a "self-destructing" email without setting a passcode.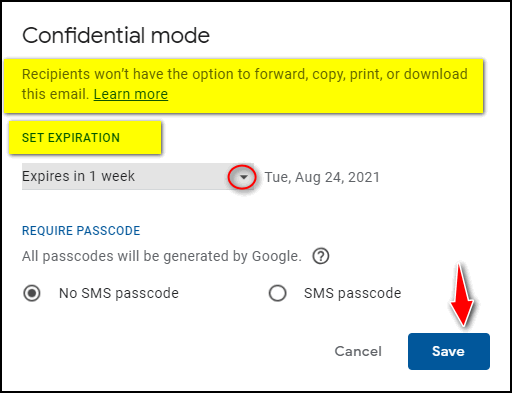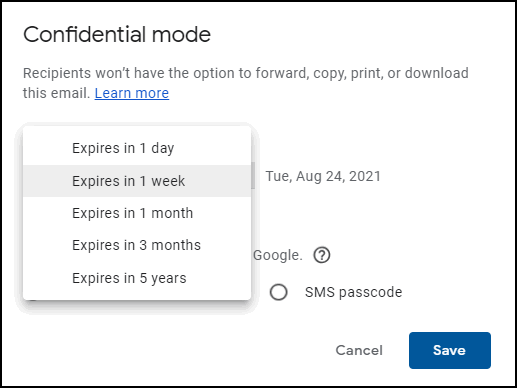 4.) Once you click "Save" a window will open reminding you that the recipient(s) won't be able to forward, copy, print, or download the email. When you're ready to send, just click the Send button to send your self-destructing email to the recipient(s).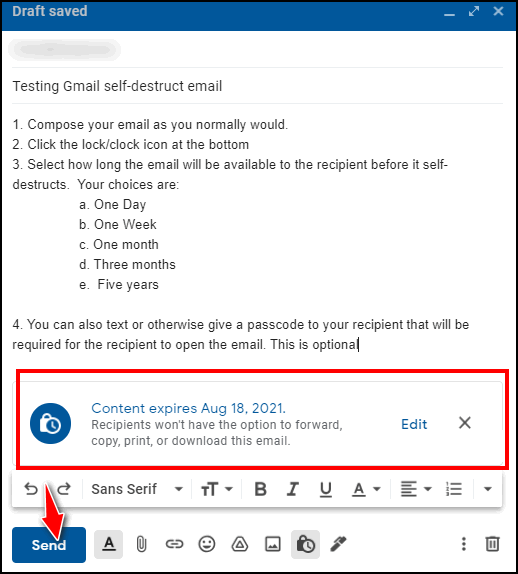 Gmail's Confidential mode should be used thoughtfully and sparingly.