How to Use Windows Task Manager

This tip is for Windows 10.
Task Manager is a great way to find out a lot of info about your PC. If your computer is freezing or hesitating, you can use Task Manager to show you what processes and programs are hogging system resources. You can use Task Manager to stop programs from running at Windows startups, and stop services and to open Services.MSC (the Services app).
First, we need to open the Task Manager and there are a lot of ways to do that. Here are a few:
Right-click on your taskbar and then click on Task Manager

Press the Ctrl+Shift+Esc keys

Press Ctrl+Alt+Delete then click on Task Manager

Windows Key + R. Type TASKMGR and press Enter
After you open Task Manager you may have to click "More details" to see details in Task Manager. You'll need to do this to follow along with this tip.
After clicking "More details" you'll see Task Manager in all its glory.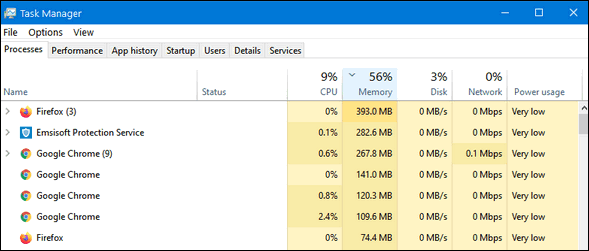 You can see your computer's CPU, RAM, Disk, and Wi-Fi usage by clicking on the Performance tab. You'll see graphs showing a quick view of your system performance. You can check your startup programs by clicking on the Startup tab. (Note: The Startups displayed in Task Manager is not a complete list of programs/apps starting with Windows – but it's a start.).
The "Processes tab" presents a list of processes running on your system. You can sort the list by name, by CPU or RAM usage and more. When you look at your list of the running processes it may look like you have a lot of processes running in the background, even if you don't. You may have more than 100 processes running. Don't worry – this does not mean you have 100+ programs running. If you want to see the total number of processes running on your computer you'll find it under the "Performance" tab.
You can change the order of any column by clicking the column's header to help you find out which programs/processes are using the most CPU/Memory – what we often refer to as resources.  Task Manager is a great tool that allows you to see at a glance what is using up the most resources on your computer.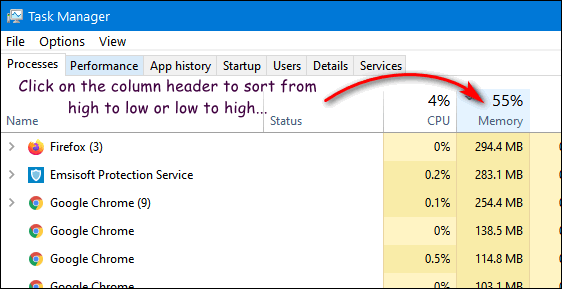 You may notice that the list of processes jumps around as you're looking at it making it hard to view. You can change the speed the list refreshes by clicking on the View tab, then click on Update speed. You can slow down or even pause the speed at which the view refreshes.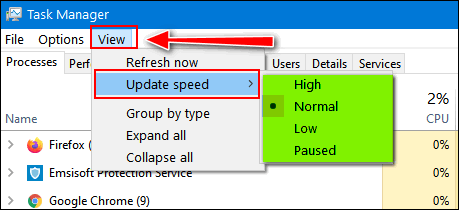 You can also check the status of Windows services. You can stop and start Windows services from the Services tab in Task Manager;  you can also open Services.MSC (the Services app) from there.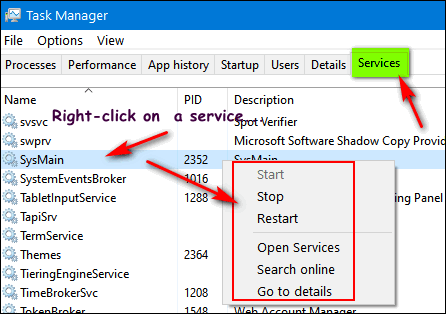 Task Manager is a tool you can use to learn more about your computer, diagnose problems, clear up bottlenecks, and a lot more. Open Task Manager and expand your Windows world!