If You Use Outlook.com, Hotmail, MSN, or Live.com Email, Heads Up!
If you use one of those email addresses you may find our InfoAve Daily newsletter in your junk folder
It's come to our attention that those who subscribe to our InfoAve Daily newsletter with an email address ending in @outlook.com, @hotmail.com, @msn.com, @live.com, @live.ca email address are receiving our InfoAve Daily newsletters but are finding them in the junk folder.
If you're subscribing to our InfoAve Daily newsletter with any of those email addresses, here's how you can ensure that our InfoAve Daily newsletters end up in your inbox and not the junk folder. And fortunately, Outlook.com makes it easy to do.
If you usually check your mail with an email client like OE Classic, Thunderbird, Outlook, etc. to change your account settings, you'll need to access your email online by signing into your account at https://www.outlook.com/.
Once you've signed into your account, look in the junk folder for our daily newsletter. Once you find it, highlight it and click "Not junk" at the top. The email will immediately be moved to the Inbox.
Now open the email and click the three-horizontal-dots icon at the top-right.

Once you click the three-dot-icon, a menu will appear. From that menu, choose "Add to Safe senders".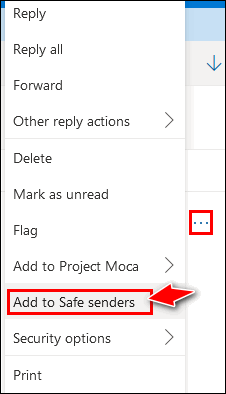 Once you click on "Add to Safe senders" you'll be asked to confirm that you want to add our newsletter sending service "feedblitz@mail.feedblitz.com" to "the safe senders" list. Click "OK". 
Once you click OK, messages from feedblitz@mail.feedblitz.com (our InfoAve Daily newsletter) will not be marked as junk and will always come to your Inbox.