InfoAve Premium Bonus Questions & Answers: Part 12
Each week we receive more questions than we can answer in the newsletter due to space restrictions. We try to answer every question we receive. Unfortunately, we just don't have room to put all the questions and answers in our weekly Premium newsletter. 
So now, each week, we will put some of the questions and answers we had to leave out of or Cloudeight InfoAve Premium newsletter and post them here and share them with our Cloudeight InfoAve Premium subscribers, our InfoAve Daily subscribers and our website visitors also.
Below are just a few of the questions and answers that we didn't have room in this week's (December 13, 2019 – Issue #843) InfoAve Premium newsletter.
Thanks so much to all of you who sent us your questions last week. Please keep them coming!
---
Eleanor has Windows 10 and wants to do daily backups
Hi…I've had your Infoave Premium for years and have read all your wonderful suggestions over the years. I've wanted to back up my computer for quite a while and finally bought a Seagate 4 TB Backup Plus Portable backup. I have not connected it yet because I'm wondering if there is a program that I could get to just daily backup what's new instead of backing up everything every day. I don't know if you could help me with this but I thought I would ask anyway. Thanks…Eleanor
Our answer
Hi Eleanor. Windows 10 comes with a really good backup program that is available to you.
Before we get to that, we recommend that you don't install the software that came with your external hard drive, it's unnecessary. Just plug it into a USB port on your computer. And, for best results with your backup make sure you leave the backup drive plugged all the time. Only unplug when absolutely necessary.
Plugin your external drive and use the following steps to turn on Windows 10 File History backup.
1. Right-click the start button & click "Settings"
2. In Settings click on "Update & Security"
3. In Update & Security click on "Backup" in the menu on the left.
4. Under "Back up using File History" click the big plus sign next to "Add a drive"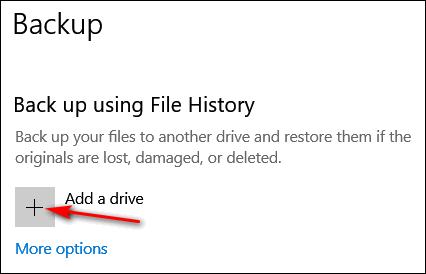 5. Select your Seagate 4TB hard drive.
That's it. With a drive as large as your Seagate, just leave File History set at its defaults.
File History backs up all your files and folders all the time. While it does not create an image backup, it creates reliable backups of all of the personal files (Pics, Documents, Music, Videos, Favorites, etc.). And with all the ways Windows 10 offers to recover your computer in case of major problems (and the fact you can make free Windows 10 installation media – DVD or USB flash drive) the need for image backups is less than it used to be in previous versions of Windows.
We hope this helps you!
---
John has problems upgrading Windows 10 to version 1909
I followed your instructions to download win 10 1909 to my Desktop computer. The initial download " Getting Update Ready" got to 99 percent in a short time. 28 hours later it was still at 99 percent. In the past week, I've attempted the download three different times but to no avail. Suggestions would be appreciated. Thank you, John
Our answer
Hi John. Below, you'll find every suggestion that has worked for me in the past. This is not to say these will work for you, but here they are.
1. If you have any flash drives, camera cards, or external hard drives connected, you should remove them before trying to update.
2. If you have Avast or AVG installed, Windows 10 version 1909 won't install unless you update to the newest version.
3. Clean out the SoftwareDistribution folder:
If your update files are damaged or corrupted, it may cause installation problems. The best way to fix this is to clear the Windows update cache located in a folder called SoftwareDistribution.
Before proceeding, we'll need to stop the Windows update and related services.
To do this, type CMD in taskbar search. When it appears in the search results, right-click it and choose "Run as administrator".
Type the commands below one at a time. Press Enter after each of them.
net stop bits
net stop wuauserv
net stop appidsvc
net stop cryptsvc
Open File Explorer and then open C:\Windows. Look for a folder called "SoftwareDistribution". Open the folder called SoftwareDistribution and delete everything inside it. Be careful – Do not delete the folder itself.
Now, restart Windows Update and related services by opening an Administrator Command Prompt (just like we did earlier and type each of the following commands and press Enter after each.
net start bits
net start wuauserv
net start appidsvc
net start cryptsvc
Finally, reboot your computer and run the Windows Upgrade Assistant again.
And if none of the above suggestions applies to you, the only thing else you can try is to install Version 1909 from a USB installation drive.
Make sure you have at least an 8GB flash drive available (a new one is preferred – if you have one with data on it, the data will be erased). Put the 8GB (or larger) USB in a USB port and go to this page.
Under "Create Windows 10 installation media" click the blue "Download tool now" button and follow the instructions for creating a Windows 10 USB installation flash drive.
Once it's created, browse to it in File Explorer and double-click a file called "Setup.exe". This will start the installation of version 1909. This is full installation USB so make sure you choose the upgrade option and not the clean install option. If you choose the wrong option, you'll wipe out everything on your PC and clean install Windows. So be careful and choose the upgrade option.
If the above suggestions don't help you, here are 2 more suggestions for you to try:
Download the Windows update troubleshooter for Windows 10 from Microsoft from this page.
After you download it, run it. If that doesn't work try running the following commands from an admin command prompt.
Type CMD in taskbar search, right-click when it appears in the search results and choose "Run as administrator".
Type the following command:
DISM.exe /Online /Cleanup-image /Restorehealth
When it finishes running you'll see "…. completed successfully". When DISM has completed successfully, proceed by typing the following command in an administrator command prompt:
SFC /SCANNOW
Note: When typing commands spaces are important. There's a space before each slash in both commands.
When SFC /SCANNOW completes, restart your computer and try the update again.
Finally, remember this — If you're using version 1903 you don't have to upgrade until October 2020. Version 1903 is supported until then. If you're using version 1809 you don't have to upgrade until April 2020. Also, you should know if you're using Version 1903, there are very few new features in 1909 – and none that are considered very important.
---
Paul is suspicious of a scam
Hi. I hope you can help me. In the last two days, I've gotten phone calls from a place called " Computer Services". They said my account has been expired and that I should call them at the number at the end of the call. What Account? They indicated a charge has been put on my account of $399.00.The call sounded like it was computer generated to me. The amount of $399.00 is for 5 years. I thought I knew a scam when I saw one, but this one if it is has me confused. Thank you.
Our answer
Hi Paul. This is a scam. They can't charge "your account" anything if you did not give them a credit card number – if you did give them a credit card number, call your credit card company ASAP and report you've been scammed and they'll remove the charge and prevent them from charging anything again.
If you didn't give them a credit card number, then just ignore the call. If it's a cellphone you can block the number they're calling from. If it's a landline, call your telephone company and tell them about this and have them block the number.
You may also want to report the calls to local authorities. It's illegal to threaten people or attempt to extort money or trick people into paying money for something they didn't ask for or buy.
—-
Paul wrote back: "Hi. Thank you for the quick reply to the question I had concerning the phone scam. I feel a lot better now. Thanks again. Paul"
---
Leslie says her computer got messed up when she installed Firefox
I would like to back up my computer for two days to get rid of the mess I made when I put FIreFox on. I also took YouTube off as I never use it. (Big mistake) I am 74 and all I do usually is play my apps, and visit with friends on FB. My son and daughter could do this but they will yell at me because they have told me not to touch anything. So please save me and send me the info. Everyone wants my passwords now but can't get to them. I was on Chrome and want to back up to the 4th of December. It's really terrible when you are almost 75 and your kids treat you like you are your great-grandchildren's age. 🙂 Thank you so much
Our answer
Hi Leslie. Firefox is a browser, it's not likely installing it would mess up your computer. If you don't want it, you can uninstall it. Open your start menu, find Firefox, right-click it and then choose Uninstall. It sounds to me like you allowed Firefox to be your default browser and you had all your favorite bookmarks, etc. saved in Chrome. Installing Firefox does not remove Chrome but if you're not careful it can take over as your default browser.
You can switch your default browser back to Chrome in about 60 seconds. Here's how:
1. Right-click your Start button
2. Click on Settings
3. Click on Apps & Features
4. Click on Default Apps
5. Under Web browser click on the icon showing and chose Google Chrome
6. That's it.
You can't uninstall or remove YouTube because it's a web site, not a program. All you have to do is go to https://www.youtube.com – any time you want to. And if you want to add it to your bookmarks again just see this Cloudeight page. 
If you need more help or have any other questions, just let us know.
---
Ellen and several others want to know how to find a good antivirus for Android smartphones
Can you suggest a good antivirus for Android phones? I'd sure appreciate your guidance! Thanks for all the good work you two do!
Our answer
Hi Ellen. It just so happens that Emsisoft makes a great antivirus and anti-malware for Android. You can get it from the Google Play store here:
Don't worry. That link is safe. Google Play links are very long so I shortened the link for you.
I hope this helps you and all the others who are looking for good protection for their Android phones.
---
Karen downloads things and then can't find them…
I download stuff and I can never find it. please help. Plus how can I get the icons on the front page?
Our answer
Hi Karen. Unless you have changed the default settings, all downloads go to your Downloads folder. Press & hold down the Windows key and tap the E key. The Downloads folder shows up in the left column as well as in the right pane. See the screenshot below.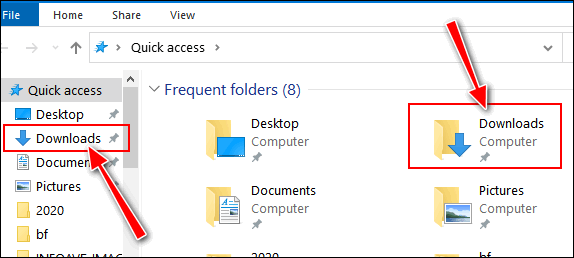 I am not sure what you mean by getting icons on the front page… do you mean your desktop? Generally, you can put a shortcut to any file, program or folder by right-clicking on the file, folder or program, and choosing "Send to > Desktop (Create shortcut) from the menu that appears when you right-click an item. Here's an annotated screenshot.
I hope this helps you, Karen.
---
Hazel can't get our WinterHouse screensaver to work on Windows 10
Hello, I have recently bought a new computer and am still feeling my way around Windows 10 and need your advice on how to get my screensaver to work properly when I go to personalization it takes me to the Background page and then I type in "screensaver"….. all good up till then, if I click on the "turn screensaver off & on, there is no indication which setting is chosen, if I choose the "change screensaver" and go through the motions of setting it up again, it becomes a very hit and miss situation as to whether it is going to work or not, I know it does because every now and again it surprises me by working as it should but more often than not it is a disappointment when it doesn't work as planned.
The screensaver I particularly want to use is the Cloudeight Snow House which I have used for years and downloaded from your site again recently to the new computer thinking that my old download may have been part of the problem but it hasn't made any difference.
Hoping you can solve this for me.
Cheers and a very blessed Christmas to you both……Hazel.
Our answer
Hi Hazel. Our WinterHouse screen saver is 13 years old so it needs a little extra loving care So I suggest you uninstall it then restart your computer. Next re-download it from here.
Now, this time when you install it, right-click on the installer (the file you downloaded) and choose "Run as administrator". Then, it's a good idea to restart your computer and open Control Panel, type Screensaver in the Control Panel Search and under Power Options click "Change Screen Saver".
Choose WinterHouse from the list and set the number of minutes of inactivity you want the screensaver to wait before it comes on. I suggest 5-7 minutes. It can be irritating when you're using your computer to have your screen saver came on so don't set it to one or two minutes. After you do that, right-click the Windows 10 start button, choose Power Options and make sure your screen is not set to dim too soon after the screen saver comes on. Look under "Screen". If you have it set to 10 minutes – the screen will dim and turn off the screen saver after it's been running 3 minutes. So, if you want to have your screen saver showing on your screen for any length of time you'll need to set "Turn off Screen" for a longer period or the screen will turn off and that will turn off the screen saver.
If you have any more questions, please let me know.
Happy Holidays & Merry Christmas!
—-
Hazel wrote back: "Thank you TC, I am sure it will work perfectly once I follow your directions, I am just so glad the "Winterhouse" is still available, it has been popular in our house at Christmas every year since it was offered by Cloudeight. Thank you once again and best regards to you both. Hazel."
---
Gilda wants to know what our best deal is for upgrading multiple computers to Windows 10
What's your best deal for one or 2 computers to upgrade windows 10?
Our answer
Hi Gilda. We do not have any specials for upgrading multiple Windows 7 computers to Windows 10. We have left the price at $35 (intro price) so we can help as many people as possible. It's not a simple task to do this as it requires 2 separate sessions for each PC that we upgrade.
The first session is where we set up the download and watch to make sure it progresses normally – usually about 45 – 90 minutes depending on the connection speed. And then we come back after the computer has been upgraded to Windows 10 and in the 2nd session we make it look like Windows 7. We think $35 per PC is a very fair price.
If you're interested you can purchase Windows 10 Transformation keys here. 
I hope this answers your question.
---
Kathleen says she reinstalled Emisoft but now it's not upgrading properly
I downloaded and installed Windows 10 last night. I lost Emsisoft so I redownloaded and installed it and put in the license key in but now it won't update for me. Can you help? Thank you, Kathleen
Our answer
Hi Kathleen. I have upgraded 50 computers from Windows 7 to Windows 10 and I've never had anyone have this happen. But anything is possible and since it happened to you let's get it fixed for you.
I suggest you do the following:
1. Uninstall Emsisoft
2. Restart your computer
3. Reinstall Emsisoft
4. Restart your computer
You must restart your PC after removing Emsisoft and installing it again.
If that does not work (and I'm 99% sure it will), let me know and I'll connect to your computer and try to help you.
---
Uwe wants to use Proton Mail in Thunderbird
Hello Folks. I would like to use Proton Mail that you recommended previously, but I would like to put it into my Thunderbird email program for easier access. I'm not sure how to go about it and don't want to jam up my 2 existing email accounts that are currently in the program.
Please advise. Thanks. Uwe.
Our answer
Hi Uwe. Proton mail (Free) does not support POP3 or IMAP, so you cannot use Proto (free) in any email program – Thunderbird, Outlook, or any other.
I hope this helps you.
---
You made it! Thanks for reading the extra questions and answers from Cloudeight InfoAve.
Happy Holidays! Merry Christmas!