InfoAve Premium Bonus Questions & Answers: Part 6
Each week we receive more questions than we can answer in the newsletter due to space restrictions. We try to answer every question that we get but we don't have room to put all the questions and answers in our InfoAve Premium newsletter. We thought we'd try something new. Each week we will put some of the questions and answers we had to leave out of InfoAve Premium and post them here each week. That way we can share them with our InfoAve Daily subscribers and our website visitors too.
Below are just a few of the questions and answers that we didn't have room in this week's (October 25, 2019 – Issue #837) InfoAve Premium newsletter.
And a big thank you to all of you who sent in your questions to us. Keep them coming!
---
Betty needs to switch her browser
I have Windows 10 and I've been using Internet Explorer. My Internet provider is recommending that we stop using IE and use something else. I have Google Chrome installed, but I would like to use a separate one for my email. Do you have any suggestions? Thanks for all your help over the years. Donna
Our answer
Hi Betty. Thanks so much!
There are a lot of good browsers out there – any of the following would work for you if you want to use a separate, dedicated browser to check your email.
Here's a shortlist:
Microsoft Edge – This is Microsoft's new browser and you already have it on Windows 10. Type Microsoft Edge in taskbar search and you find it. Once you open it you can right-click on its taskbar icon and "Pin to taskbar" (if you want to keep using it).
Microsoft Edge Dev – This might eventually replace Microsoft Edge. It's so much like Chrome that sometimes when I'm using it, I forget it's Edge Dev. You can get it from this page. Hint: Download the "Beta channel".
Firefox – Firefox is a great browser and I use it often as a secondary browser. It's been around a long time and it's constantly being improved. You can download Firefox from this page.
Opera – Not the most popular browser and a bit quirky looking but it does get the job done. If you don't mind it being a little different, it's fast and works well. You can download Opera here.
Of course, there are many other choices like Vivaldi, Waterfox, Pale Moon, Chromium, and on and on. But I think you'll find the right one for you if you just stick with the four listed above.
If you need anything else, please let us know.
---
Frank has two email accounts & gets our daily newsletter on one but not the other
I never receive Cloudeight InfoAve Daily at (***************@hotmail.com) why.? I do get it at (*************@outlook.com).
Our answer
Hi Frank. Apparently, on one account, it's going to your spam folder and on the other accounts going to your inbox. We have sent the daily newsletter out every night for over 4 years, so if you're not getting it on one account it's being placed in your spam/junk folder.
The daily news is a summary newsletter sent by Google. Google grabs new content from our www.thundercloud.net/infoave/new/ site. Google uses our RSS feed to get any new headlines and summaries from that page. We have no way of looking to see whose mail service is blocking it and who is not.
My suggestion is to look in the spam/junk folder in your Hotmail account and if you find the newsletter in the spam/junk folder, mark it as not spam/junk so that the next time the newsletter goes to your inbox.
Thanks for subscribing & your support. I hope this helps you.
---
Paul wants to know why his start menu looks different than ours
I love your newsletters and read them both as soon as I get them. But I have a problem. Whenever you have a tip about the start menu, you show screenshots of a Windows 10 start menu with programs on it. When I open my Windows 10 start menu all I see are tiles. What am I don't wrong?
Our answer
Hi Paul. Thanks! I'm guessing you're not using a tablet. If you are then you won't get the Desktop/Laptop Start menu we show in our article. If you're using a desktop/laptop, make sure you don't have Tablet mode turned on. Do this:
Right-click the Start button.
Click "Settings"
Click "System"
In the "System" settings window, click "Tablet mode" in the menu on the left.
Make sure Tablet mode is not turned on. Your settings should look like the settings shown in the screenshot below.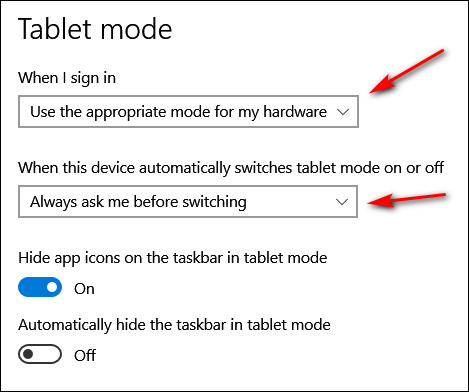 Once you've checked on Tablet mode, let's check to make sure you don't have your Start menu set up as full screen. If you do, you'll see no apps/programs – all you'll see are tiles sprawling across your desktop. Let's check this.
1. Right-click the taskbar.
2. Click "Taskbar settings".
3. When the "Taskbar settings" window opens click "Start" (in the menu on the left.
4. In the Start menu settings window make sure "Show more tiles on Start" is off – and more importantly, make sure "Use Start full screen" is turned off.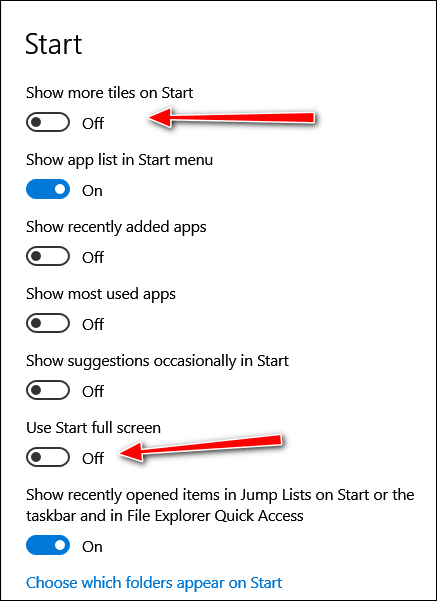 We hope this helps you, Paul.
——
Paul wrote back: "Thanks so much! You nailed it. I had my start menu set full screen. I have no idea how that happened, but thanks to you, it's set up right now. Keep up the great work. Paul."
---
Kelly wants to know what we think of Nord VPN
I can't tell you how much I appreciate your willingness to dig in and get it done. I will be a staunch supporter of both of you as you continue to help so many of us. I will also be more careful and not get into trouble, if possible! Phyllis
Our answer
Hi Kelly. Nord VPN makes so many false claims in their TV commercials, I wouldn't know where to begin. I'll make it simple. A VPN does not protect you from spam, malware, identity theft, hackers or anything else. A VPN is like a proxy that routes your Internet traffic through a VPN server. With a VPN provider, you can choose to appear to be from Eastern Europe, Japan, China, USA, Europe, South America, or some other place in Canada than you actually are.
But it's absolutely not true that a VPN prevents you from having your identity stolen, or protects you from malware, or keeps hackers away – it merely hides your IP address. Most people have their identities stolen by falling for fake emails and counterfeit websites. Most people get malware by downloading bundled software where the program they want is bundled with stuff they don't. VPNs cannot protect you from being tricked.
Please read this Cloudeight article for more information about VPNs.
Save your money, Kelly. Don't believe much of what you hear about VPNs.