You can do things like you're doing them now or you can do them the way they should be done. We opted for the former and we both almost got burned. Had we not had our drives backed-up with mirror-image backups, we would have still been putting our computers back together. Really! If we had to start from scratch now, it would take us months to get our computer back to the way we like them – and need them. We had no warning our hard drives were about to fail. The only warnings we had were the noises the hard drives were making – clunk, clink, clunk. By the time you hear rattling, clinking, clunking noises, it's too late – and it's too bad.
So wouldn't it be nice if there was a program you could download free that would tell you well in advance if one of your hard drives (or your only hard drive, Heaven forbid) was about to go belly up. Well now there is such a program and it's free. It costs you nothing but it just may save you a ton – a ton of time for sure. If you wait until your hard drives starts making awful noises, you may have only a few hours to start rescuing data. And if you mirror-image your hard drive – you may be mirroring damaged sectors and a kaput boot sector (like TC did). The program you need to install is also a freeware goodie. It's called Acronis Drive Monitor.
Now, we're a little miffed that Acronis wants your email address and name, city and state. But you can (and we're not telling you do this) use Marty Finkle for your name, areyoucrazyyouthinkimgoingtogiveyoumyemailaddress@laughingstock.com as your email address, and Kansas as your state. Of course if you're from Romania, or other places, you don't have to give a state. You'll have to give your country. We suggest Moldova – if it's on the list. You get what we're saying here?
Anyway…
It's time to bring in the program's developers and let them yammer for a few words. Then we'll get to the only thing you really care about – where to download the darn program – right? Yeah, we know, but some folks like to read, so we have to give them something to read, right? Get it? Read/Right? Haha!
Here's a description of Acronis Drive Manager from Acronis himself (herself, themselves?):
"Acronis® Drive Monitor™ is a free, downloadable software application developed by Acronis to monitor server, workstation and PC hard disk drives.
Why should you use Acronis Drive Monitor?
We all depend on instant access to data stored on our hard drives – buried inside PC laptops, workstations and servers – but those disks are vulnerable to severe failures that can cause you to lose business and personal data. Acronis Drive Monitor alerts you to problems that may indicate an imminent failure so you can be prepared to handle it without data loss.
According to a significant major study of disk drive failures conducted by Google, Inc. of 100,000 of its own drives, between 6% and 8% of drives fail each year, with the highest percentage of failures occurring in years two and three.
Acronis Drive Monitor checks disk health in the following three categories and reports deviations from normal operation to users, giving them an opportunity to replace affected drives prior to a potential total failure:…"
Trust us, Acronis is not shy with words. They ramble on and on and on, in the program, in person and on their Web site. But we ramble on no more.
Our freeware goodie today is Acronis Drive Manager. It's free, it's useful, and it's spyware/adware/badware free. What more can you want for nothing? You can download Acronis Drive Manager – or learn more about it – from this page. Hope your drives are better than mine! I have a secondary hard drive that's about to fail – really!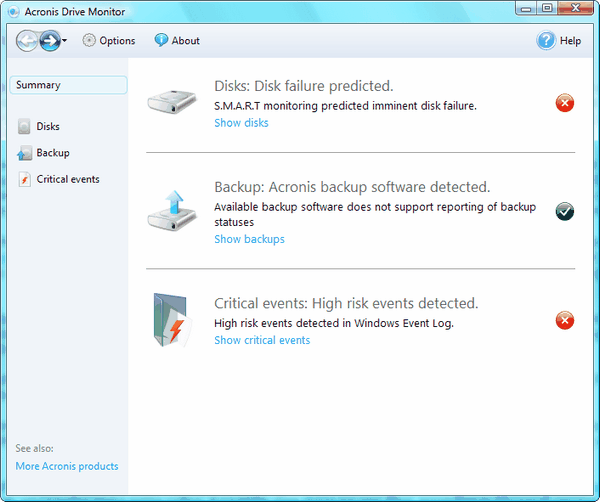 You folks still don't believe we test all this stuff, do you? See? I really do have a hard drive about to fail. Luckily it's a secondary drive – and it's backed up.
Stuff you want to know:
Acronis Drive Monitor
Windows XP, Windows Vista, Windows 7 (32/64bit)
A program that monitors your hard drive and warns you of problems or impending hard drive failure
Download size: 17MB