Laptops In the Dark: Let There Be Light
On Christmas morning I got a surprise from Santa. He stuffed it right into my Christmas stocking along with some candy and Silly Putty. And, no, it was not a lump of coal from EB, it was something that costs less than $10 but from which I'm going to get at least $100 of usefulness!
First a little backstory: My ASUS laptop which is just over 3-years old, came with a lighted keyboard. While I'm a touch typist **please don't laugh**, I still like to see the keyboard for number keys, fn key combinations and other keys that I find to be not touch friendly. To make a backstory short – my ASUS laptop lighted keyboard stopped working after six months. I was able to get it working again, but it quit again… and again and again.  Finally, I got tired of fiddling with it. Winter has descended upon my neck o' the woods and it's dark when I wake up and it's dark before dinner time. In other words – it's dark a lot of the time. Hence, I either turn on the lights in the room to work, or I fumble around in the dark. Most of you are putting  your money on the latter, however you'd be wrong.
In my stocking this year, I found something I never new existed, but which have existed for years. I received a package of  8 LED Laptop lights. They have bendable stems  – you just plug them in to any USB port on your laptop and twist them around to light up your keyboard. Because I'm a touch typist the shadows cast by my hands don't bother me, but if the shadows bother you, just plug in two of them.
You can also plug them into a smartphone, tablet or USB chargers and adapters. If you have have a USB adapter plugged into a wall socket these would make great night lights.
In our family stuff that gets stuffed into the Christmas stockings,  is usually cheap, fun stuff. The KED lights that I found in my "stocking" cost less than $10 for 8 of them and if you get them from Amazon and are also a Prime member they ship free.   There are other brands and configurations, and if you're interested I've put some others you can look at the end of this post.
I've only had these LED lights for 2 days so I really can't vouch for the quality. But I can say they all worked and they are easy to bend and very bright. It's not as good as having a lighted keyboard, but it's a lot better than turning on room lights at night – plus I'm sure I'll find a lot of other uses for them.
Here's some screenshots (these came from Amazon).

Eight cute LED lights that plug into a laptop USB port and light up your keyboard (and workspace).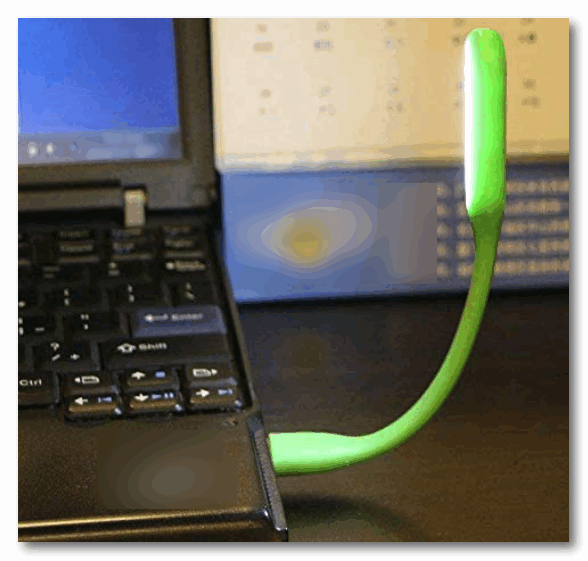 You can use them for a lot of other things too. Use them for a reading light, a night light, keyboard light… or if your car has USB ports – a night light or reading light for your car… use your imagination.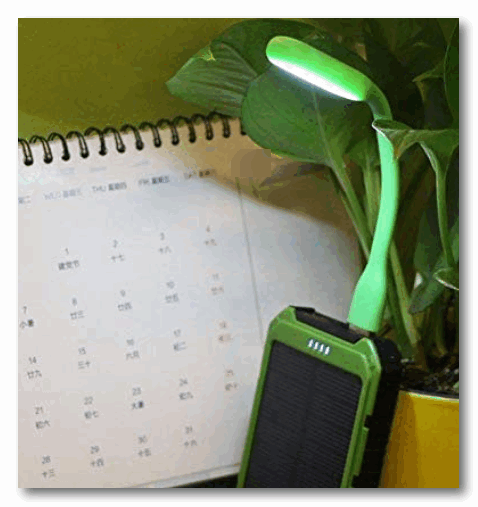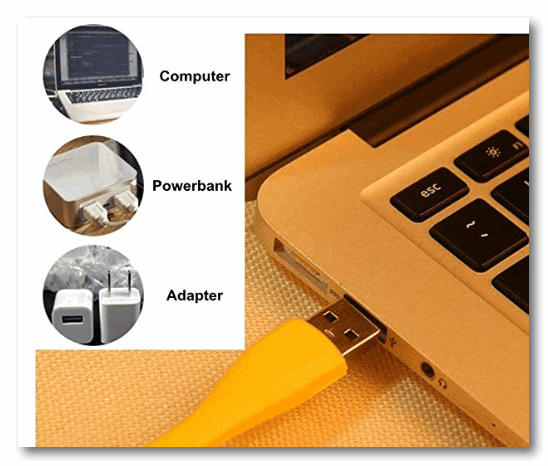 Now I have a "lighted keyboard" thanks to a thoughtful gift from Santa.  And if you're interested here is the Amazon page with more information. This set of 8 lights cost $6.99 (with free shipping for Prime members).
Here are some other brands of  LED computer lights, in case you want to look at some other brands and lights with more features such as variable brightness and on and off switches:
USB Reading Lamp with 14 LEDs Dimmable Touch Switch and Flexible Gooseneck
USB LED, Sonkoo Brightness Mini Portable USB Lamp with Touch Switch Flexible Neck for Laptop and Reading
X-DRAGON 5PCS Flexible USB LED Light Lamp 180 Degree Adjustable Portable Lamp for Power Bank PC Laptop Notebook Computer and Other USB Devices
We don't get a commission from any of these — and I have not tested any of them except for the ones I got from Santa. Mine work great. One thing is for sure. If you didn't know about these lightst before, at least you're no longer in the dark!