Make a Journal Using Nothing but Notepad
Here's an easy Windows trick that shows you how to create a personal journal using nothing but Notepad. In this crazy year of the pandemic, it might be a good time to start a journal. Who knows what's going to happen next?
1. Open Notepad (Type Notepad in taskbar search & press Enter)
2. On the very first line of your new Notepad type.LOG. That's a period then the world LOG in uppercase letter
3. Space down a line or two and type a description of your journal(optional). For mine, I used "Today, July 25, 2020, I am starting a diary. This is the year of the pandemic and who knows what's yet to come."
4. Save your Notepad file with a name you'll recognize… something like MyJournal. You can include the year if you like… I called mine "MyJournal2020".
5  Every time you open it, the current time and date will be appended automatically, so all you have do is add whatever you like to your journal below the time and date.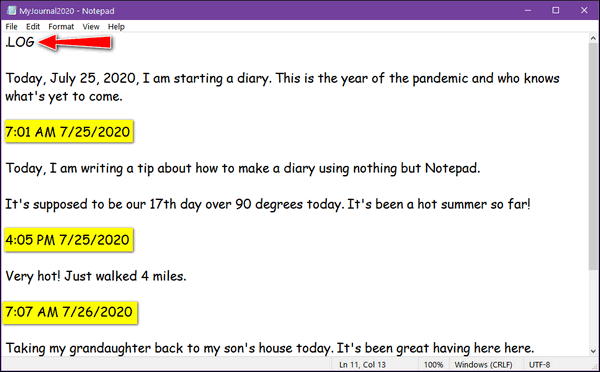 Above, you can see my simple Notepad journal, complete with times and dates.