New Tech Support Scam Affects Chrome & Firefox users
This scam was first reported two days ago ( 6 Feb 2018 ). Since then, it has been discovered that along with Chrome, Firefox and Brave browsers are also affected. This scam works by flooding the browser with 2000 download requests, right after the victim sees a web page that looks like a warning. The victim's computer CPU and RAM spike to 100% and their computer will stop responding. This makes it more likely that victims will pick up and call the toll-free FAKE Microsoft support number, give the scammers a credit card number and allow them to connect to their computers.
We want to keep you safe. Do not call any Microsoft or tech support numbers you see that suddenly appear on your browser or computer screens. Legitimate companies do not do this.
Here's a picture of what this scam looks like: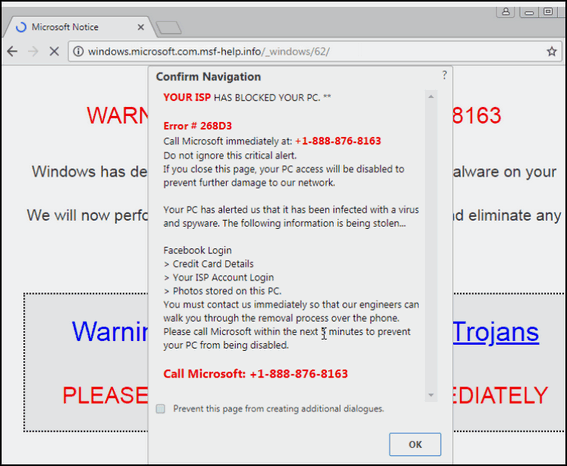 If this happens to you, immediately close your browser. If you can't close your browser use Ctrl+Shift+Esc to open Task Manager and close all browser processes – for example chrome.exe. If you reopen your browser immediately after the attack you will be flooded with more of the same… restart your computer before you open your browser again. When you restart your computer, open Chrome. If Chrome asks if you want to restore the pages that were open when you restarted your computer – it's IMPORTANT that you click "NO".
If your computer is frozen because CPU and RAM are at 100%, turn off your computer at the switch. When you turn your PC back on and open your browser, be sure you choose "NO" when your browser asks if you want to restore the pages that were open when Chrome was closed.
In all cases, after you've recovered from the attack, it's important that you reset your Chrome browser and clear your browsing data.  Read this post on how to reset your Chrome browser and clear browsing data.
If you're interested in reading more about this new tech support scam – read this article by ArsTechnica:
Con artists pushing tech-support scams have an arsenal of ways to lock up the browsers of potential marks. On Tuesday, a researcher disclosed a new weapon that freezes Google Chrome, which, by most measures, is the Internet's most widely used browser.

The point of all the techniques is to render a browser unusable immediately after it displays a fake error message reporting some sort of security breach. Given the appearance of a serious crash that can't be fixed simply by exiting the site, end users are more likely to be worked into a panic and call the phone number included in the warning. Once called, the scammers—posing as representatives from Microsoft or another legitimate company—stand a better chance of tricking the caller into providing a credit card number in return for tech support to fix the non-existent security problem. The scams are often transmitted through malicious advertisements or legitimate sites that have been hacked.