Playing With Paint
This is for those of you who have installed Windows 10 Creators Update (Windows 10 Version 1703).
MS Paint has been part of Windows since we can remember. And we can remember back to Windows 95 – which was THE Windows back in 1995 – twenty-two years ago. Actually, I think EB can remember back to Windows 3.1 which was 23 years ago.
While MS Paint has been a feature of Windows for a very long time, almost no one ever used it except those who knew the trick of pressing the Prt Scn key and pasting the clipboard contents into MS Paint to make a rudimentary screen shot.
Microsoft removed a lot of things from Windows… some that really mattered, like Outlook Express and Windows Mail… other features that didn't matter very much lived on – MS Paint being one of them.  Not only has MS Paint survived, it's evolved…  Paint 3D is not the Paint you remember from previous versions of Windows, it's a whole other animal in Windows 10 Creators Update (officially known as Version 1703). How useful the new Paint 3D is only you can decide, but it is fun to play around with: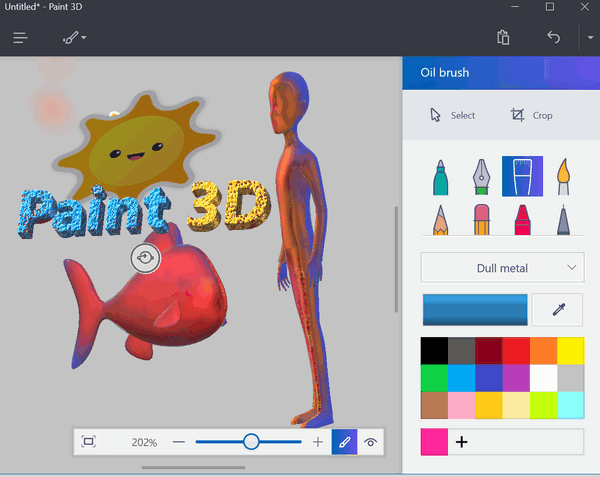 Above: Playing with Paint 3D in Microsoft Windows 10 Creators Update.
You can open Paint 3D in Windows 10 Creators Update from the Start Menu. It's listed as Paint 3D.
Oh, and if you're wondering, Paint 3D does not replace the venerable, old MS Paint that hardly anyone loves and hardly anyone uses, it's still there. Windows Key +R, type MS PAINT and press Enter. Yep, still there just in case you miss it.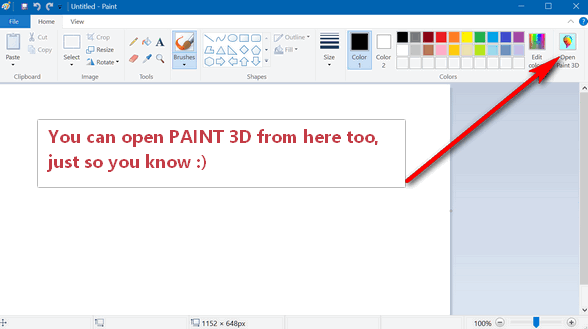 Above: The traditional MS PAINT, the one you know and love, survives in Windows 10 Creators Update, but notice that it now includes a button to open Paint 3D.