I love to watch brightly colored tropical fish swimming in an aquarium. It may no longer be politically correct, but who cares?
If you have a high-speed connection and time to kill, take 15 – 20 minutes and add some peace to your day. Watch dozens of brightly-colored fish swimming in a super-realistic digital aquarium — it all looks soooo real. And if you're needy and need a pet to care for, you can even feed these fish – indeed you can. And you never have to clean the aquarium or flush dead fish down your toilet!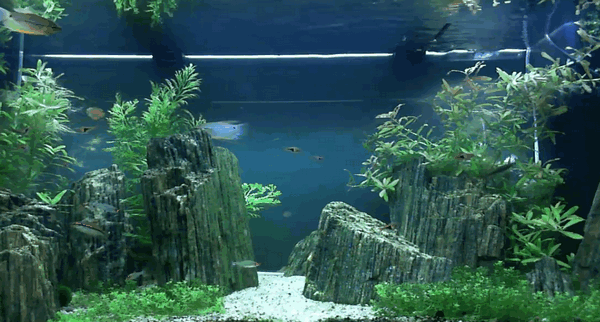 It's realistic, I tells ya!
Maybe this will help those Draconian grammarians too! Watching every word and sentence when you write is really stifling my creativity — no wonder American students are falling into the waste receptacle of educational oblivion. If you're a famous author, you make millions, but the grammarians who edit the great writers make $50,000.00 a year. That tells you something, I tells ya!
Now, whether you're an uptight grammarian whose pressure valves are about ready to blow off, or just an ordinary Joe or Jane who just wants to live and let live, you'll enjoy taking time out to visit this unique web site where the fish swim in an online aquarium and beg you to feed them.
I beg you not to be so harsh with me.
I'm off to watch the fish while the stripes inflicted upon me by the grammarians heal. How about you? Want to come with me?
Come along and sing a song and feed the fish with me.