Reminder: You Can Install, Try and Use Multiple Browsers
We are featuring this "freeware pick" as a tip today to remind you that you're not limited to using one or two browsers. You can have and use as many browsers as you like. It's certainly more convenient — and highly recommended — that you have one default browser, but that should not deter you from trying and learning about other browsers.
For instance, I (TC) have Chrome, Internet Explorer, Edge, Firefox, Pale Moon, Vivaldi, Opera, and now Slimjet installed. Chrome is my default, but I frequently use the other browsers to browse the web – and I almost always have Chrome and Firefox open. Darcy has Chrome, Firefox, Edge, and Internet Explorer installed – with Chrome as her default.
We want you to broaden your horizons and try new (safe) things. We want know that you're not limited to having and using just one browser. Using more than one or two browsers gives you a chance to explore the differences between browsers – and to learn the similarities.
Today, we're telling you about a new browser called Slimjet. It has many interesting features that we know some of you will love – for instance downloading videos to your hard drive and even extracting the music from videos as MP3s. And many of you will like the Facebook integration, others will love the edit and frame images before you upload them, and some of you will like the weather forecast feature. You can easily switch between Google, Bing, DuckDuckGo (and others) as your default search engine. And one thing we like best of all – you can try Slimjet without installing it. Just download the portable version, extract the zip file and click on the application icon to run the program. If you decide you want to keep SlimJet, just right-click on the application icon and choose from the following (or choose all three):
– Pin to Start
– Pin to taskbar
– Send to – > Desktop (create shortcut)
And if you decide you don't like Slimjet just shut down the program and delete the entire folder. No uninstallation necessary. The portable version makes no changes to your registry. So if you're interested, there's really no reason not to try it.
Major Features of Slimjet

[Note: We borrow liberally from the developer here.]
QuickFill form filler – Lets you open the page and sign in in one step.
Fully customizable toolbar – Add or remove additional toolbar buttons which give you quick access to various features
Flexible, powerful ad blocker – Allows you to block most ads from all sites – or allow ads from some sites while blocking all others. And an ad-blocking override feature that lets you override adbocking if the ad blocker makes a mistake.
One-click Facebook integration – Share your online activities on Facebook with a single click
Download online streaming videos
Easily download online streaming videos to local hard disk with option to extract the mp3 audio file.
Frame and enhance photos right before they are uploaded.
Flexible web page translation – Translate a full page or selected text between any two specified languages.
Weather condition and forecast – Gives current weather condition right on the toolbar. 7-day forecast information is one-click away.
Easily share the current page on various web services such as Twitter, Google Plus, Blogger, WordPress, Gmail, Hotmail, StumbleUpon.
Upload clipboard image – Easily upload clipboard image with a single click. No need to save it to a file first and then upload the file.
Quickly switch search engines: [Bing, Google, DuckDuckGo and others)
Quickly switch between different search engines.
Save webpage screenshot
Save screenshot of the entire page as an image file…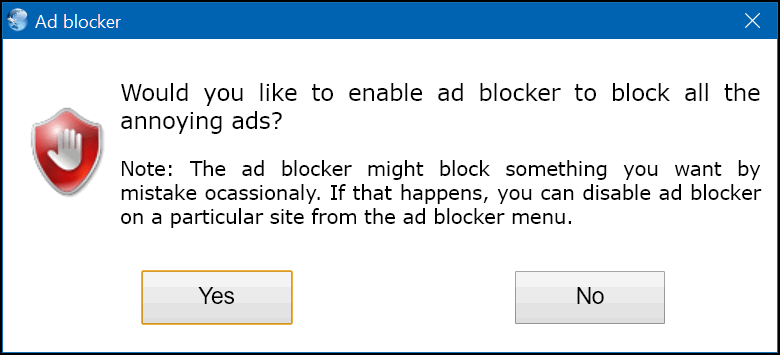 Above: Slimjet comes with multi-featured ad-blocker.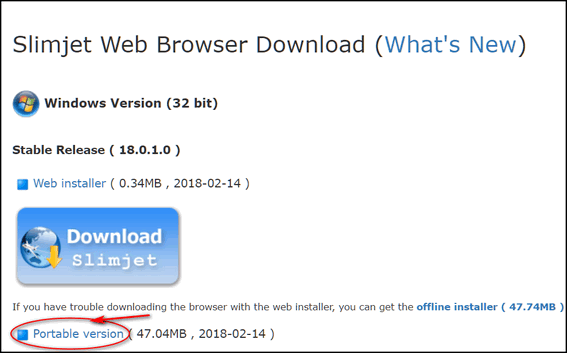 Above: Note that Slimjet is available as a portable version. That means it does not install. Just unzip it and run it.
If you'd like to read more about Slimjet and its features please visit this page:
When you download Slimjet please be sure to use this page, because it has the download link for the portable version of Slimjet. We recommend that you download the portable version.
One more thing. Slimjet is not associated with the scammy "Slimware utilities"