Deleting "Windows.old"  or "Previous Windows Installation" Files after Upgrading
Windows Vista, Windows 7 and Windows 8x
When you upgrade from XP/Vista to Windows 7, or XP/Vista/Win7 to Windows 8x your system will save a copy of the entire C drive and it can be quite a few gig in size. We helped a customer regain over 400 gigabytes of space on her system by clearing off windows.old ("Previous windows installations") files. If you try to delete it from C drive, you'll find you cannot delete it. Here is a way around that:
1. Click Windows Key + R to open the Run command
2. Type in cleanmgr.exe and choose to clean up C drive by clicking OK (see screenshot below)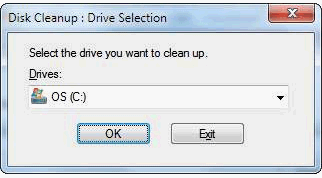 3. When the new Window comes up with list of things to clean, click "clean system files" (see where red arrow is pointing in the screenshot below)
4. Once again choose C drive, and when next window opens, go through list and check all items listed – you should see windows.old listed; there may be others too, such as windows.old000, so delete them all.
Note: Make sure you all files you may have wanted to save from your previous version of windows because this delete is final and you cannot go back later and retrieve something you may have forgot was there.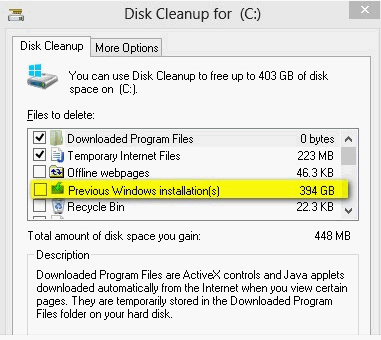 Want to do even more clean up? Did you know you can clean old restore points to from this screen. Click the "More Options Tab" (see screenshot above)
This tip is for anyone who has upgraded from a previous version of Windows, whether it was a day ago, a week ago or a few years ago. Happy computing!