Saturday Bonus Questions and Answers – 031222
It's Saturday and you know what that means! It means it's time for more Bonus Questions & Answers.
Sometimes the best tips and tricks are hidden in the questions and answers we publish. And rarely do we post questions and answers on this website. Today, we're featuring some of the questions and answers from past issues of our InfoAve Weekly newsletters. 
These answers were selected at random from past InfoAve Weekly newsletters.
---
Saturday Bonus Questions and Answers – 031222
Sandra is ready to toss her computers
I have a six-year-old computer running Windows 10 will all the updates. I have several issues since I have lost confidence in my computer skills after two bad incidents. I have been looking at your services and do not know which one is really right for me. I know I need help as I am ready to toss all my computers out. I am so frustrated. I have been getting your newsletters for years and have learned lots. But not enough to get myself out of a "pickle".
Our answer
Hi Sandra. Thanks for your nice comments and for subscribing to our newsletters.
With our Cloudeight Direct Computer Care service, we connect to your computer remotely, clean it up, optimize it, scan for problems, bad extensions, malware, etc., and repair any problems we find.
We offer a single repair key for $50 or an annual repair key for $129 – or if you are 55  or over – we offer our SeniorPass plan for just $99. Our annual repair plans offer unlimited repair sessions for one full year from the date of first use. Please see this page for more details.
If you need more information or have more questions, please let us know.
---
Rex asks about Windows 11, UEFI, and processors
HI Darcy & TC. Thanks for the heads-up regarding Windows 11. I have followed a few reports and found that 32-bit PCs and processors without UEFI will not be able to run Windows 11. I hope they are rumors for the sake of senior PC owners out there. Thanks for your comments. Rex
Our answer
Hi Rex. UEFI (and BIOS) have no relationship to the processor or the system type (32-bit/64-bit). UEFI is expected to eventually replace the basic input/output system (BIOS) but is compatible with it. Windows 11 will not support 32-bit PCs and computer manufacturers are no longer making 32-bit systems.
Independent of the CPU (processor), Microsoft lists Universal Extensible Firmware Interface (UEFI) support, TPM 2.0, and Secure Boot capability as hard (mandatory) requirements for Windows 11. Windows 11 won't work on 32-bit systems – so PCs with 32-bit architecture won't be able to run Windows 11.
But Windows 10 users and seniors and anyone else who uses Windows 10 can relax. Windows 10 will continue to be supported and updated at least until October 14, 2025. So, everyone running Windows 10 now can continue using it safely for at least another 3 3+ years.
We hope this clears things up a bit more for you.
---
Phyllis wants to know about System Restore
Hi! I'm sure you commented on this before, but I wasn't sure where to look for an answer to my question. I have an external hard drive and wanted to know if I should still do a system restore? Thanks for all your help. I really appreciate all the newsletters. Again, thank you.
Our answer
Hi Phyllis. Thank you. System Restore is a Windows feature that allows you to restore your computer to a previous point in time. Its main use is when you install a program or make a substantial change to Windows that causes serious Windows problems. System Restore does not remove files or data.
External drives are generally used for backing up files and data. Since System Restore doesn't remove personal files or data, there is no correlation between having an external drive and doing a System Restore.
If you should install a game, program, or malware that cause serious issues with your computer, you could use System Restore to go back to a time before you installed the game, program, or malware – and it would be like it never happened, providing restore operation was successful. Your personal files and files and folders would not be changed. So, again, there is no correlation between having your personal files/folders/data backed up on an external drive and running or not running System Restore.
We hope this answers your question, Phyllis.
---
Denton wants to switch from POP3 to IMAP in Microsoft Outlook
I use Gmail as my main email and then forward it to my Microsoft Outlook account. My email is set up for POP and I need to change it to IMAP (as recommended by you guys) How do I do that without losing all my saved emails and make the transition a smooth and uneventful event?
Our answer
Hi Denton. You'll need to set up the Gmail IMAP account in MS Outlook. The server settings for IMAP are completely different than POP3. You can deactivate the POP3 account from Outlook and set up your Gmail account using IMAP. See this Google page for server settings and more information.
If you deactivate (i.e., stop checking) your POP3 account in Outlook, the emails you've already downloaded should remain in your email client. And they'll also show up in your "All Mail" folder in Gmail.
Remember that IMAP is a mirror of what is on the mail server. Whatever is in your mail folders on www.gmail.com will be mirrored in your email client (in your case, Outlook) after you set up the IMAP account. So, if you want to know what folders and emails will be in your email program after you set up IMAP, just log in to your Gmail account on the Web and check.
---
Doug says ZDNet recommends the Brave browser and wants our thoughts on this
I just received a ZD net news email, and they are recommending a new browser to replace Chrome called "Brave" @ brave.com. They say it is really fast and secure. What are your thoughts on this?
Our answer
Hi Doug. Any time a big company like ZDNet, PC Magazine, or PC World recommends something, my first thought is what's in it for them? Brave is well-funded. I take things like this recommendation of Brave with a grain of salt. Because any time a large "For Profit" company recommends anything my feeling is somewhere along the line they're getting paid. This is not true with smaller sites though. Recommendations from smaller, privately owned sites very seldom are big enough to get "payoffs". Enough about all that.
Brave is based on Chromium as is Microsoft Edge, Google Chrome, and many other so-called "privacy" browsers such as Iridium, Epic, and the others. Whether Brave is really private or not, depends on how much you trust them to do what they say they will do.
My thoughts are that there is no privacy on the web, and I do not expect privacy when I'm on the web. Bitcoin was supposed to be the "safe" "untraceable" way to pay, yet the FBI was able to trace the ransomware attack on Colonial Pipeline by following the money trail. Brave's "advertising" is based on blockchain (cryptocurrency).
This comes from Brave Software…
"Brave Software's fast, privacy-oriented browser, combined with its blockchain-based digital advertising platform, is reinventing the Web for users, publishers, and advertisers. Users get a private, speedier web experience with much longer battery life, publishers increase their revenue share, and advertisers achieve better conversion. Users can opt into privacy-respecting ads that reward them with the Basic Attention Token (BAT), a frequent flyer-like token they can redeem or use to tip or contribute to publishers and other content creators.

The Brave solution is a win-win for everyone who has a stake in the open Web and who is weary of giving up privacy and revenue to the ad-tech intermediaries. Brave currently has over 25 million monthly active users and over 1 million Verified Publishers. Brave Software was co-founded by Brendan Eich, creator of JavaScript and co-founder of Mozilla (Firefox), and Brian Bondy, formerly of Khan Academy and Mozilla…"
I've been testing Brave for quite a while with the thought that I'd make it a freeware pick someday, but after about 8 months, I'm still not sure if I'd recommend it as a "Privacy" browser. Things like this that show up when you open Brave, concern me.
"Today's top stories in a completely private feed, just for you. Brave News is ad-supported with completely private and anonymized ads matched on your device. Your personal information always stays private, per our privacy policy…"
If Brave is truly private, exactly how would they "match" their newsfeed to me and my device? Matching my news to my device would certainly have to include my location as well. I sure don't want news from Bulgaria or Bolivia.
Finally, there's absolutely nothing wrong with Brave as a browser. I don't know if it's faster than Google Chrome. It's certainly more private, but as I said, they have to prove that, and proof requires more than just their word. I don't think it's "faster" than Chrome. Chrome runs well on my PC. Microsoft Edge is Darcy's favorite, and Edge is based on Chromium – just like Google Chrome. Darcy says Edge runs faster on her PC than Chrome.
But the browser you should use is the one that works best for you. So, go ahead and try Brave and see how you like it – but don't assume because ZD Net says it's faster and more private than Chrome that it really is.
Brave, Chrome, Edge, Firefox, etc. will all run differently on different systems. And we encourage everyone to install more than two or more browsers. I have six browsers installed on my computer. When you have a choice, eventually you'll stick with the one that works best for you. For me, that's Chrome, for Darcy's that's Edge, and for you, it might well be Brave.
So, it's OK. Go ahead and try Brave. It won't hurt anything, and you may like it. You can download it free from here. You can have as many browsers installed on your computer as you want – but only one can be the default.
---
Greg doesn't get what Microsoft is trying to do with Windows 11
Hi TC and EB. I know there is a lot about Win11, at the moment seems to be more negative than good, but we will see. Microsoft is bound to change requirements etc. before the final release. I am not too worried about TPM or the rest of the other issues. The one issue I do not like is no more local accounts.
From what have read so far is that Win11 Home will NOT be able to have a local account but must use outlook.com as login… (yes, I know according to reports Win11 Pro will allow local accounts but only after you have first signed in with an outlook.com account. I do not like this and am sure lots of others will not like this either. It should be people's choice to have a local or otherwise account. Microsoft is dictating this and therefore monitoring what people are or are not doing…
It is a blatant means of tracking that Microsoft has employed. Yes, I did upgrade to Win10, and to be honest, I do not mind it some things are quirky, but overall it is pretty good. But no local account…. not sure for Win11 and from the screenshots I have seen. I have to say it looks like a Mac layout.
What happens if the login server goes down for whatever reason or a person's internet connection goes down or even has no internet? Does that mean no one will be able to log in on their PCs? Or will it then go "local"? I just do not see the justification for making this a requirement. And for me, at least, it would stop me from ever using Win11. Most of the other things I can handle and accept, but that form of dictatorial control no. What are your thoughts on this?. Most talk has been about the requirements to run it but not about the Microsoft account issue. And yes I know can keep using Windows 10 until October 14, 2025, but what about after that?
Our answer
Hi Greg. First, as you note, you do have 3 + years to continue to use Windows 10 and in computer terms, that's a long time from now. And I really don't see many amazing features in Windows 11 – that would make me want to make the jump to Windows 11. If I weren't in this business, I would not even consider installing Windows 11 at this point.
Secondly, you don't need a connection to log in with your Microsoft Account. We both use Microsoft accounts on Windows 10, and we can access our computers without a connection. So, it's not true that you'll get locked out of your computer when you use a Microsoft account. You will need a connection to set up the account. But in Windows 10 or Windows 11, you don't need an outlook.com, Hotmail.com, msn.com, live.com, live.ca, email address to set up a Microsoft account. You can use Gmail for instance. 
And finally, Windows 11 is constantly changing. Microsoft has backed off on some of the stringent hardware requirements. Over time the requirements may be less severe.
Honestly, if it were not for my job, I would not worry about Windows 11 or what Microsoft is thinking. I'd just keep using Windows 10 until the end of service date of October 14, 2025, and whatever happens then happens. One thing for sure… by then I'm certain Windows 11 will be different than it is now.
Windows 10 will be supported and updated for the next 3 years and 7 months. And as we've already said, in terms of computers, that's a long time.  I would bet that many will be getting new computers over the next three years and new computers will come with Windows 11 installed.
---
Linda's getting a new computer and wants help setting it up
I am getting a new computer today… I would like you to log in and take everything off of the computer that I don't need and download and install Emsisoft for me.
Also, I would like for you to install OE Classic Email and whatever else you think I should have. Just let me know if I need to buy a SeniorPass or do you charge individually. Please let me know what I need to do for you to connect to my computer and help me make the transition…
Thanks again to you both for all you do for us, I don't know what we would do without you!

Our answer
Hi Linda. Thanks for your nice comments.
We can optimize and set up a new computer for the best performance and appearance. We can help you transfer files from an external drive to your new computer. That would require a Cloudeight Direct Computer Care Key or a SeniorPass – both are available from this page. A SeniorPass is the best deal since it includes one full year of repair services for just $99. A Cloudeight single repair key is $50.
OE Classic installation and setup is not included in our SeniorPass program and is not covered by a Cloudeight Direct Computer Care Key. You can get the details on this page.
You'll note that you have to purchase the OE Classic email program separately from our setup service. The details are available on that page.
If you have any other questions, please don't hesitate to ask.
---
Carol can't get rid of Qwant in Firefox
I went into Firefox apps and extensions to remove items I do not use in hopes Firefox would work better. I removed the extension named Qwant. Now Qwant keeps showing up as the search engine. Can this be removed? I have tried uninstalling and reinstalling Firefox and the search engine Qwant keeps coming back. I cannot find Qwant anywhere on my computer to uninstall it. Can you please help?
Our answer
Hi Carol. Search engine settings in Firefox are usually controlled by add-ons or extensions. Search engine hijackers would take over search engine settings though. The quickest and easiest way to get rid of intrusive extensions or hijackers is to return Firefox to its default state. The easiest way to do that is to reset (refresh) it.
Please see our tutorial here to learn how to refresh Firefox and return it to its default state without losing your bookmarks or saved passwords. I just updated the instructions on that page, so all the information is current as of today.
We hope this helps you, Carol.
---
William says his wife's laptop is in trouble
My wife has a Lenovo Laptop running Windows 10 version 20H2. The laptop will now no longer open Google Chrome. It comes up with the error 'Status Checkpoint". At the same time, Emsisoft has an error saying 'Emsisoft browser security has crashed. Click this balloon to reload the extension'. If you click the extension, it returns with the same message a few seconds later! If I click Shift+ Ctrl+N, I get a sort of Chrome screen, then if you try to load a webpage, you get the same error and message that it can't load the page! It suggests restarting the computer or restarting Chrome. I have checked that there are no updates to do. I have switched off the computer and waited for 15 minutes, all to no avail!  Another thing: Microsoft Edge won't start at all! Any suggestions would be most helpful.
Our answer
Hi William. It sounds to me like you need to reset that computer. There are a lot of issues there that would be instantly fixed by doing a reset. A reset removes all the programs installed, removes the Windows installation, saves all your personal files and folders, and then reinstalls a fresh copy of Windows.
A "cloud" reset takes an hour or two (depending on your connection), but when you're done, you'd have a brand-new installation of Windows and then you could reinstall the programs you wanted – like Chrome, Emsisoft, and the others. When you do a reset, Windows leaves a list of programs that were installed on the desktop. You don't have to re-install them all, just the ones you really need – that's our advice.
Since your computer seems to have corrupted files or some Windows corruption, we suggest you do a cloud reset. We have a step-by-step tutorial for doing a cloud reset – you can read that here.
We're fairly sure once you complete the reset, all will be as it should be. But if you need any more help, let us know.
---
Allen uses OE Classic and wants to know about blocking senders, etc.
I'm using OE Classic Pro for my email program. It has two options for blocking junk mail. Which is best to use/ Block by username or Block by user Domain? Thanks!
Our answer
Hi Allen. Blocking by sender is safer but blocking by domain is more effective. A warning though: You should only block a domain if you're sure that no one or no company you know would ever use the domain. You'd never want to block domains like @gmail.com, @hotmail.com or any major ISP like @comcast.net, @spectrum.com, @cox.net, etc. so be careful.
That being said, there are times when blocking a domain is very effective and will not result in any good email going to the Junk folder. Let's say you're getting spam from a company called Acanna, and you block all mail from @acanna.com. From then on, all mail that was sent from acanna.com will go to your Junk folder. But let's say Acanna uses many email addresses — for instance canned-corn-sale@acanna.com and you block by the sender, it will just put anything coming from canned-corn-sale@acanna.com into your Junk folder. But the next day they send an email from green-beans-sale@acanna.com – and the following day they send spring-peas-sale@acanna.com, those emails mail will go into your Inbox. But if you blocked the domain "@acanna.com" all emails from Acanna.com would go to your Junk folder – so you can still double-check to make sure everything that is being blocked is junk or spam.
Now, excuse me… I'm going to grab Acanna beer!
---

Don't have a Cloudeight SeniorPass? It's a great deal. Learn more here.
Our Cloudeight SeniorPass is a great deal. You get unlimited support for one full year from the date you first use your SeniorPass. We can help keep your computer running well, fix all kinds of computer problems, clean up malware, and a whole lot more. Our SeniorPass is like having insurance for your computer. And it's only $99 for an entire year.
Get your SeniorPass today for just $99.  It's just like having insurance for your computer – only better!
To learn more about our SeniorPass, please see this page.
---
Stanley wants to know about bandwidth and connection speed
I am rather confused about the difference between bandwidth and speed. I was under the impression that the time taken to get a web page was analogous to a water pipe. The rate of getting a website (water received) was dependent on speed (water pressure) and bandwidth (diameter of water pipe). However, in your very interesting freeware pick, it seems that speed and bandwidth are the same things. Regards, Stanley.
Our answer
Hi Stanley. Actually, these were site picks and there were five of them. The Cloudeight Site Picks article was titled "Five Good Internet Speed Testing Sites".  We didn't mention bandwidth at all. I see that one of the sites (at least) claims to measure bandwidth but I take that with a grain of salt.
Bandwidth is often mistaken for internet speed. Bandwidth is actually the volume of information that can be sent over a connection in a measured amount of time. This is usually shown as download speed and upload speed but that is not bandwidth.
But let's use water as an example since that was your analogy. The speed of your internet connection is the speed at which data downloads to your device and uploads from your device to servers on the Internet. Bandwidth is the amount (volume) of data your connection can carry before it slows down. Think of bandwidth this way. A garden hose vs. a fire hose. Water flows just as fast through a garden hose as it does through a fire hose (theoretically), but there's a big difference between the volume of water each can carry. A fire hose has a great deal more "bandwidth" than the garden hose, although the speed of the water flow remains the same with each.
Bandwidth does not matter so much if you have only one or two devices in your home using your wireless Internet connection… but if you have several smart TVs, tablets, smartphones, computers, and other Internet-connected devices in your home all using the Internet at the same time, then you're going to need more bandwidth, or your connection speed will slow considerably. Think of watering a garden vs. putting out a house fire.
---
Tammy wants us to recommend a good file recovery program
Hi. What do you recommend to recover files that were accidentally deleted? I am looking for a freeware program, but I would pay for a file recovery program if there aren't any good free ones. I love your newsletters and your tips! Thanks, Tammy S.
Our answer
Hi Tammy. We've tested a lot of file recovery programs and my favorite is one called Puran File Recovery.
It's a former Cloudeight freeware pick. You can read more about Puran File Recovery here.
You can use wildcards to find file types – I found wildcards work exceptionally well. Also, its deep scan feature is supposed to help you to recover data from formatted drives. I have not tested this feature, but it sounds like a great feature.
---
Dianne cannot see thumbnails only icons.
Thanks in advance for giving my little frustration with photos in Windows 10. Recently, something changed in my laptop so that when I want to upload pictures, many of the pictures show just the general picture icon vs. a thumbnail of the actual picture. It's just annoying not to see what picture I'm uploading; having to open the picture file first rather than simply uploading.
I have a new Lenovo Yoga which I love, but the online help couldn't seem to help other than to suggest doing a backup on an external drive then they would do a clean reset. Of course, I'm running to you before I do anything! Thanks as always, Dianne
Our answer
Hi Dianne. Thanks so much. Type FOLDER OPTIONS in taskbar search. When you see "File Explorer Options" in the search results, press Enter or click "Open". In the Folder Options dialog, click on the "View" tab at the top and make sure that "Always show icons, never thumbnails" is unchecked (OFF). Then click the "Apply to Folders" button and click "Apply/OK" (at the bottom).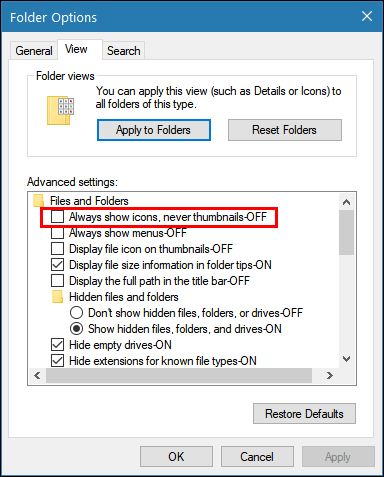 Restart your computer. If you still don't see thumbnails, run the File & Folder troubleshooter from Microsoft. See this page for more info.
We hope this helps you, Dianne.
---
Ann's friend said her HP printer won't work without Adobe Flash
This is for a friend. She has a Windows 10 HP brand computer and uses an HP Printer. She said her printer will not work without Adobe Flash Player. What is the simplest way to fix this? She knows nothing about computers other than to use one and I'm too far away to help her.
Our answer
Hi Ann. HP Printers (or any other printer brand) do not need Adobe Flash Player to work. If her printer is not working, it's not because of the demise of Adobe Flash Player. It's because it's not set up correctly. The best way to fix it is to get her printer model and go to the www.hp.com website and look up her model of printer and then download the software for it. Before she sets up her computer again, she'll need to remove the current printer from Windows by going to Settings > Devices > Printers and scanners, clicking on the HP printer she wants to re-install and she'll see a "Remove device" button appear. She should click on that. Then restart her computer and set up the printer exactly as she did when she first got it.
If you need more help (or if she needs more help), let us know.
---
Sharon read our article on freeware and wants to know about Privacy Badger
I read your article about freeware. Can Privacy Badger be used when I have Emsisoft installed? I love Emsisoft will not change it. Thanks, Sharon.

Our answer
Hi Sharon. Privacy Badger is not an antivirus or antimalware, it's a popup blocker and privacy enhancer. So, Emsisoft and Privacy Badger don't do the same thing, and they complement each other. You can read more about Privacy Badger here.
---
Richard has an old 1TB HDD (Hard Drive) and wants to use it in other ways
Good Morning my two longtime friends. If I have an HDD from another computer (2Tb) and want to clear all partitions on that HDD so I can put it into my Desktop (send bay) to use as a backup of my "System" and File History. Or put it into an external HDD enclosure so that I could either a) use it as a backup for 3 computers – My wife's desktop, my desktop, and my laptop. or b) put it on my router – perhaps with a network path – so that all three computers can be saved without having to move it between them.
I know this is a "Tall Order" but you two friends might know how to do it, or can direct me to a site that would explain it. Is it all possible that you can do it through one of your programs??? I would certainly be willing to support you two – as I have in the past – by purchasing that program. Though I started on computers when they were first birthed, (fist computer was MS-Dos) at almost 85 yrs. old, I think I've forgotten more than I knew.
Please advise – I highly respect your advice and direction. Retired Pastor and former dBase programmer, Rich.
Our answer
Hi Rich, thanks for your nice comments. You have many different questions here and I'm not certain exactly what you're trying to do. So, I'm just going to guess and do the Cloudeight thing and give you the simplest, easiest answer.
You can buy an external enclosure for your HDD and essentially make a USB external hard drive out of it. Once you do that, you can use Windows Disk Management to remove the partition (combine them into one partition) however, if you've never used Windows Disk Management before you'd find it easier to use a partition manager like MiniTool's Partition Wizard (Free). Partition Wizard makes it easy to create partitions or combine partitions.
Here's an excellent tutorial on how to make an external hard drive from an HDD. You can do it in about 10 minutes. All you need to buy is an external case which you can buy from any computer store or Amazon or other online computer supply stores. These cases include a power supply, an interface adapter, and a method of mounting an HDD (either 3.5-inch or 2.5-inch). Here's an external case for about $23 from Amazon that supports both 2.5 and 3.5-inch HDDs).
If this does not answer all your questions, it should at least narrow the field for you and get you headed in the right direction. We hope this helps you, Rich.
---
Wait! Before you go…
Every week we help dozens of people with their computers without charge or any expectation of payment. And we have helped many folks who have fallen for tech support scams or other scams designed to steal their money.
And we now depend more on readers like you to help keep us going. Your donation helps us to help more people with their computers and helps us keep everyone safer online.
Please help support our small business and help us to keep on helping you.