Saturday Bonus Questions and Answers – 051422
We survived Friday the 13th and now it's Saturday – the weekend has begun. And that means it's time for our Saturday Bonus Questions & Answers.
Sometimes the best tips and tricks are hidden in the questions and answers we publish. And rarely do we post questions and answers on this website. Today, we're featuring some of the questions and answers from past issues of our InfoAve Weekly newsletters. 
These answers were selected at random from past InfoAve Weekly newsletters.
---
Saturday Bonus Questions and Answers – 051422
Margaret asks us to check out a video editor
Hello Darcy and TC. I am hoping you will be able to find the time (I actually have no idea how that could be possible with ALL you do. Crazy!) to check this and decide if it would be a good addition for those working with videos:
https://filmora.wondershare.net/filmora-video-editor.html
Thanks! Margaret
Our answer
Hi Margaret. I have never heard of Filmora Video Editor, but I have heard of Wondershare. So, I took the Flimora installer to VirusTotal and checked it with 71 antivirus/antimalware programs. None of the 71 found any malware, virus, or anything bad in it. You can see the results of the scan here.
Generally, but not always, freeware is the vector of choice for malware bundlers. Filmora Video Editor is not freeware, it's trialware, and if you want to keep using it you have to pay at least $39.95 /year.
So it looks like it's a yay for Filmora Video Editor – as long as you realize it's only free to download and try (trialware). If you want to keep it, it's not free. They do a good job of downplaying that on the download page.
We hope this helps you!
———-
Margaret wrote back: "Thank you TC. I really thought this was free but for me, this would be closer to $55. per year. Thank you for checking it, though. Good to know it appears to be clean for those who will buy it. Margaret."

---
Loretta says Bing has taken over
Bing keeps taking over my Google Chrome. I removed it from the list but still happening. Someone said I should use Reimage to check it out. Please do you have an answer? Thank you.
Our answer
Hi Loretta. Bing is a Microsoft search engine. I am guessing you added a Bing toolbar (extension) or some other extension to Chrome that keeps switching your search engine. It could be a search engine hijacker.
Try this:
1. Type CHROME://EXTENSIONS in the Chrome address bar & press "Enter"
2. Disable or remove any extension that contains the word Bing or Search
You can also remove Bing from the list of search engines available in Chrome.
1. Type CHROME://SETTINGS/SEARCH in the Chrome address bar & press "Enter"
2. Make sure your default search engine is set to Google.

3. After you click "Manage search engines, you can remove Bing from the list of available search engines, if you choose to do so.

If the above doesn't stop Bing, reset Chrome by following the instructions on this page. 
Resetting Chromes returns Chrome to its defaults. Keep in mind this does not remove bookmarks. It disables all extensions, clears Chrome history and cache, and restores Chrome to its factory defaults.
Reimage is borderline malware in our opinion. It's scammy and it can mess up your computer. Our advice is don't use it. If you have installed it, we recommend you uninstall it ASAP.
---
Jean is wondering if a call she got from Amazon is legitimate
Hi, I'm just wondering if a phone call I received at 11.30 pm last night was genuine or a hack because it was just like how the hacks work ie took a while to answer, then said it was a call from Amazon and I just hung up straight away as I do with hackers because I thought this was one and if it was genuine, wouldn't they have called me again, but they haven't. Thanks so much for all the help you give members. Kindest regards, Jean.
Our answer
Hi Jean. Thanks for your nice comments.
Amazon, Microsoft, Google, etc. do not call you at all – the only exception to this would be if you had a problem and had been working with them. None of them would call you out of the blue.
Keep in mind it's easy for hackers and con artists to change the "Calling From" number to anything they want. This is called "spoofing" and with the right software, it's easy to do.
Anyone calling you for a legitimate purpose would leave a message if you didn't answer. And if you don't have voicemail or an answering machine, they would certainly call you back.
You did the right thing.
---
Karl asks why Consumer Reports doesn't ever test or review Emsisoft
I subscribe to Consumers Report Magazine and they periodically review and recommend Anti-Virus software, but I have never seen Emsisoft listed in any review but they list Avast, Norton, etc. Now they claim to be impartial but this puzzles me and I'm sure persuades a lot of readers to go with these mainstream A/V bundles. As a longtime reader of your newsletters and user of Emsisoft on multiple PCs with not a hint of a problem, I have to wonder… what gives?
Our answer
Hi Karl. Regardless of what Consumer Reports promises, products reviewed by produced by sponsors are always favored. That being said, I've always taken Consumer Reports reviews of software (and PCs) with a grain of salt. Many of their computer/software reviews are way off the mark.
For example. Consumer Reports, in the past, has listed AVAST as one of the top antivirus programs. Oops. In January 2020, after AVAST was outed for collecting and selling its users' data, they withdrew their recommendation. If Consumer Reports actually dug down and did extensive testing they would have been the ones to out AVAST. And if they had tested Avast and its kissing-cousin AVG, they would have noticed they try to install bundled software, including a search-engine hijacker, a chromium-based "secure" (sure!) browser, and a useless Windows fixer tool.
We use our own testing, independent AV lab tests, and our own experience in cleaning malware and PUPS from computers supposedly protected by McAfee, Norton, and others. Additionally, Emsisoft's customer service is impeccable. They take care of our mutual customers.
We continue to use and recommend Emsisoft.  But if I'm looking to buy a new car, a new dishwasher, or a new lawnmower, I will check out Consumer Reports because I believe they do test those kinds of things. 
---
Muriel has questions about Have I Been PWNED
Quite a way back you advised readers about https://haveibeenpwned.com/ which I visited immediately and all my email addresses checked out OK. Simple and straightforward.
I was inspired by a recent Wired article to revisit the site again, today. It's different. The results for me today said I had been pwned on all of my email addresses. To me, a strong focus of the site was in the promotion of a specific password manager. Trying to find out the sites that pwned me was futile, but I found a lot of statistics and FAQs. A deeper look around said that I had no "pastes". I think maybe it's worth a revisit and re-evaluation by you. Judge for yourself whether or not you think it's worth an update for your readers. I'd like to know your opinion either way.
Our answer
Hi Muriel. We've been growing more and more suspicious about that site over the last few months, but only one of my addresses shows up as being PWNED.
I have reviewed that site and I would no longer recommend it as it seems to be supported by advertisements which was not the case when we first reviewed it. I think it's important for a site that's dealing with information that can send shivers up the spines of folks who find their email addresses that have been found/posted on the "Dark Web" to be free from any financial influences. Obviously promoting a commercial (not free) password manager leads users to the right conclusion that using strong passwords and changing them frequently is one of the best and easiest ways to keep your private data safe. They'd be tempted to buy "safety" by buying the commercial password manager. But what they may not be aware of is that there are excellent password managers that are free. 
And keep in mind that just because your email address was found on the Dark Web that disaster is sure to follow. A harvested email address is a magnet for spam but if there is no personal information to go along with it, there's not much real danger of it being used to steal money, bank account info, or worse, your identity.
Have I Been Pwned seems much more commercialized now than it was when we previously reviewed it. Money is a great motivator. But we're not accusing Have I Been Pwned of selling out or of anything else. However, we are going to err on the side of caution and remove Have I Been Pwned from our recommended sites list. It's hard enough for users to ferret out the truth and stay safe as it is without being confused by vague and possibly unfounded warnings. At this point we feel it's in our readers' best interest to take any results they find on Have I Been Pwned with a grain of salt. And we have put a note at the top of our 2017 review to that effect. 
Thanks for the heads up, Muriel.
---
Barb wants to know if NVIDIA is something she needs
My PC has something called NVIDIA and I never use it, don't know what it's for, and would like to know whether it's essential for the running of my computer or if I could safely get rid of it. Thank you for your advice.
Our answer
Hi Barb. NVIDIA is your graphics/video card and related drivers. So, yes you need it.
---
Cheryl wants to know if we offer computer care and repair services for business computers
I was wondering if you offer your computer repair keys for a business computer?
Our answer
Hi Cheryl. We can work on any computer, business or personal. There is no difference in charges for personal vs business computers.
Just visit https://thundercloud.net/direct/ to learn more about our Cloudeight Direct Computer Care service.
We hope this answers your question. Thanks for asking.
---
Donna wants CalendarPal back
I purchased CalendarPal many years ago and I loved it. Is it possible to have CalendarPal on my win 10 computer and if so how do I do that? Thank you for all the help you give to so many people. Keep up the great work. A friend and long-time user, Donna.
Our answer
Hi Donna. Thanks so much for your kind words, friendship and support!
CalendarPal is now free to use and it works great on Windows 10 and Windows 11.
You can download it free from here.
We hope you enjoy it!
---
Leo has a question about Thunderbird's calendar
This is about the Thunderbird email program. How do I get my mini calendar back in the right pane when I open Thunderbird? Thank you for all your help in the past.Leo.
Our answer
Hi Leo, and thank you! It's easy, press the F11 key to show the calendar and press F11 again to hide it.
We hope this helps you.
---
Jim wants to know if a great deal on MS Office is legitimate
I'm curious about the advertisement for Microsoft Office Professional Plus 2019. It seems like an offer too good to be true. Is it? You guys have been an important part of my 20 years of computer experience and I trust your judgment. Keep it up, PLEASE! Jim
Our answer
Hi Jim. Thanks so much for your long-time support and your kind words.
If it seems something is "too good to be true" it almost always is. Many companies outside of the USA don't prosecute software and intellectual rights violations as we do in the USA. So often you'll see pirated copies of Office being sold for unbelievably low prices.
And then there's the gray area of OEM software. This is when a company, such as a computer manufacturer, purchases a bulk license from Microsoft that allows them to include MS Office on the computers they sell. Sometimes, companies outside the USA buy OEM licenses and use them (illegally) to create and distribute "iffy" copies of MS Office at very low prices.
Let the buyer beware. If you have a pirated copy of MS Office or MS Office OEM version that is not legitimate, it's your responsibility. Most of the time nothing happens, but why risk it?
You can get MS Office 365 for $6.99/month or $69.99/year from Microsoft. Using the subscription, you will always have the newest, most updated version of MS Office. And it's all on the up and up. You can learn more about Microsoft 365 here.
We hope this helps you, Jim.
---
Jason's friend fell for a tech support scam
The Secretary of my Masonic Lodge told the members he contacted a company that he saw an ad for to clean a "virus" out of his computer. They sold him a lifetime plan where they would get into his computer and clean out any virus they found and do this every 3 months for life. It was $699.00.
I told him he not only got ripped off but they probably put a key logger into his computer. Because he just did this a week ago, I told him how to get out of it and told him about Emsisoft. I also just emailed him your latest newsletter to read. Hopefully, he will call me and not only sign up with you but get Emsisoft with you. He may also get a key with you to clean out the program from this other company and look for any key logger that I suspect may be on his computer.
Our answer
Hi Jason. Tell him to contact his credit card company IMMEDIATELY, dispute the charge, and put in a fraud report These are scams, and he could buy a new computer (or even TWO) for what he paid them. The credit card company will always take the side of the consumer.
Thanks for recommending us. And if and when he comes our way and we certainly will do all we can to help him.
---
Terry wants to know if we'd recommend this tip for password protecting a folder
Would you recommend this: https://www.ilovefreesoftware.com/07/tutorial/password-protect-folder-windows-10-without-tool.html. 
Is it easy to crack the password?
Our answer
Hi Terry. I never understood why anyone would want to password protect a folder. If you have folders you want to protect, password-protect your Windows user account and log out when you're not using your computer. If you have other people using your computer, then separate create accounts for them.
If you password-protect your Windows user account all you have to do is press Windows Key+ L to lock your computer. Then a password or PIN is required to log back in. That way no one can access any folders.
Sometimes those little "tricks" like password protecting a folder without using any software are just to show that it can be done. But if you don't trust those who have access to your computer or don't want people accessing a certain folder, how hard is it to press Windows Key + L whenever you're not using your computer? Your computer's locked, and no one can access any files, folders, or anything else on your computer without knowing your PIN or Windows password.
---

Don't have a Cloudeight SeniorPass? It's a great deal. Learn more here.
Our Cloudeight SeniorPass is a great deal. You get unlimited support for one full year from the date you first use your SeniorPass. We can help keep your computer running well, fix all kinds of computer problems, clean up malware, and a whole lot more. Our SeniorPass is like having insurance for your computer. And it's only $99 for an entire year.
Get your SeniorPass today for just $99.  It's just like having insurance for your computer – only better!
To learn more about our SeniorPass, please see this page.
---
Shari can't log into her Outlook account
Hello again. Trying to get onto my email/internet (outlook – live.com – and incurred the following message. What to do now?
"Corrupted Content Error
The site at https://outlook.live.com/mail/?bO=1&sessionId=5236e974-9c49-496d-870c-0547d0dcdb0e has experienced a network protocol violation that cannot be repaired. The page you are trying to view cannot be shown because an error in the data transmission was detected. Please contact the website owners to inform them of this problem…"
(The email I'm using for this email is some red herring whose name I don't know, but it's a backup). Thanks, Shari
Our answer
Hi Shari. It looks like you bookmarked or created a shortcut to the Outlook site AFTER you logged in. When you do that the login expires. So always create a shortcut or bookmark the login page, before you log in.
The correct page to sign in to your Microsoft account (live.com, live.ca, hotmail.com, msn.com, outlook.com) is this:
Create a shortcut to the Outlook sign-in page and then sign in. Don't create shortcuts to webmail using the URL displayed after you log in. That link expires and you'll end up getting error messages.
---
Rose wants to know the best way to copy and transfer files from one computer to another
Hi TC and EB. I would like to know what is the best or a good way to transfer files from a pc to a laptop?
Thanks for all your help and advice. Rose
Our answer
Hi Rose. The best way to do it is to back up the files on an external hard drive. Then you can transfer the files to a new (or another) computer. If you don't have an external drive, you can buy an external hard drive (1 terabyte) for $50 or less.
You can also use a cloud storage service like One Drive if you have enough space. If you have enough space. For example, if you have MS Office installed, you get 1 TB of One Drive space which should be plenty for backing up/transferring files. And keep in mind with One Drive files are accessible from all your devices so you really wouldn't have to copy/transfer them.
Either way, the easiest way to copy (transfer) files from one device to another is to back them up first, then you can copy them anywhere.
If you have any more questions, just let us know.
---
Linda wants to know where to find temporary Internet files on Windows 10
Hello. It has been a few years since I have written with a question, but now is the time.
I was in the Paradise Campfire, the deadliest fire in California history. We survived, Praise the Lord, but we lost our computers. I didn't play on the computer for many months afterward but we finally bought new ones. I was pleased to discover that I still had all my friends' email addresses and mail saved in "Old Mail" on AOL. I am learning how to use the new computer but I do have a question for you. How do I view my "temporary internet files?"
I used to be able to go there to retrieve things that normally I would not be able to save. I think they were found in temporary files but I am not sure. I would click on an email link to listen to a song but there was no way to save it on my computer until I discovered I could get it from temporary internet files. Please tell me how to find that list now on the new Windows 10 computer. Thank you, Linda
Our answer
Hi Linda. We are all is well for you now. That must have been a harrowing experience. We're glad you're doing well. It is nice to hear from you again.
The location of Temporary Internet Files varies by browser. First, before you will be able to see the folders below, you'll need to show hidden files and folders. To do that type FOLDER OPTIONS in the taskbar search. When you see "File Explorer Options" appear in the search results, press "Enter".
In the Folder Options dialog that opens, click on the View tab at the top. Tick the circle next to "View hidden files, folders and drives" and click "Apply/OK".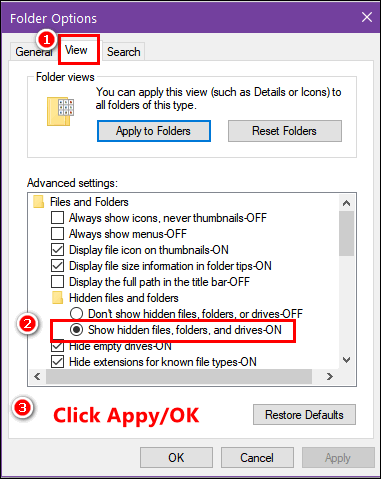 Once you do that, you'll be able to navigate to the hidden directories where temp Internet files are stored. Here are the locations for the most popular browsers.
Chrome stores temporary Internet files at:
"C:\Users\<Your Username>e\AppData\Local\Google\Chrome\User Data\Default\Cache"
Internet Explorer and Microsoft Edge store temporary Internet files at
"C:\Users\<Your Username>\AppData\Local\Microsoft\Windows\Caches"
Firefox stores temporary Internet files at
"C:\Users\<Your Username>\AppData\Local\Mozilla\Firefox\Profiles\<profile>" (Firefox profile is numerical)
We hope this helps you, Linda.
———–
Linda wrote back: "Thank you so very much for your quick reply and for all the help you give me and so many others through your emails and website. Have a wonderful day! Linda."
---
Paul D. wants to put a shortcut to Microsoft Edge on his desktop
I have a window 10 and 8.1. My question is how do I put a Microsoft Edge icon on my desktop and not the taskbar?
Our answer
Hi Paul. To put a shortcut to MS Edge on your desktop open the following location:
C:\Program Files (x86)\Microsoft\Edge\Application\
Find msedge.exe and right-click on it. Choose "Send to > Desktop (Create shortcut)" from the right-click menu.
You can remove the MS Edge taskbar icon by right-clicking it and choosing "Unpin from taskbar" from the right-click menu.
——-
Paul D. wrote back: "Thanks for the great help. Stay safe and take care. Paul."
---
Wait! Before you go…
Every week we help dozens of people with their computers without charge or any expectation of payment. And we have helped many folks who have fallen for tech support scams or other scams designed to steal their money.
And we now depend more on readers like you to help keep us going. Your donation helps us to help more people with their computers and helps us keep everyone safer online.
Please help support our small business and help us to keep on helping you.