Saturday Bonus Questions and Answers – 100122
It's October and "frost is on the punkin and the fodder's in the shock" (James Whitcomb Riley). And it's Saturday too, and that means it's time for another round of Saturday Bonus Questions & Answers.
Sometimes the best tips and tricks are hidden in the questions and answers we publish. And rarely do we post questions and answers on this website. Today, we're featuring some of the questions and answers from past issues of our InfoAve Weekly newsletters. 
These questions & answers were selected at random from past InfoAve Weekly newsletters.
---
Saturday Bonus Questions and Answers – 100122
Heinz wants to change his display name on one of his Gmail accounts
When sending e-mails out on my office computer in my G-mail account, the return address shows up as "Jake ——— > —-xxx—@gmail.com"
Jake was the Adjutant prior to me taking over. How do i delete his name and show mine? I have searched Gmail info on the computer – possibly as "user" but can't delete it. Heinz
Our answer
Hi Heinz. Here's how to change your display name in Gmail.
1. On your computer, open Gmail.
2. In the top right, click Settings. See all settings.
3. Click the Accounts and Import or Accounts tab.
4. Under "Send mail as," click Edit info.
5. Enter the name you want to show when you send messages.
6. At the bottom, click Save changes.
That should do it!
---
Linda tried to update Windows from the Microsoft Windows 10 Update page
I tried updating my version of Windows 10 by clicking on the URL you put in the weekly newsletter. I clicked on "update" and nothing happened. What should I do? Thanks!
Our answer
Hi Linda. When you go to the page at https://www.microsoft.com/en-us/software-download/windows10, it does not start the update – it downloads a program called "Update Assistant". So, when you click the "Update now" you're downloading the Update Assistant – you're not updating Windows.
To update your PC you have to run the assistant to update your computer. I am guessing you'll find the "Update assistant" in your downloads folder. When you find it, double-click it to run it.
---
Autumn is here! It's time to get ready for winter.
Introducing our Cloudeight Direct Computer Care – Get Ready For Winter Checkup service!
Winter is coming sooner than you think… and we're all going to be using our computers more. Let us make sure your computer is ready for those long, cold winter nights.
Our Get Ready For Winter Checkup service is only $25 and it's available only through October 10, 2022
Get all the details about our Get Ready For Winter Computer Checkup service here. 
---
Anne says if she can't trust mail from Norton who can she trust mail from?
I have Norton 360 installed. Recently, an email from Norton advised me if I renewed NOW I could get a Two-for-One reduction in cost. This did not sound right. Contacted Norton who replied that they never offer deals like that. My problem is that I cannot trust emails from Norton bona fide or not! Bit of a Catch 22. Any ideas on how to distinguish the good from the bad?
Our answer
Hi Anne. There's no one way to tell if an email is a scam unless you're really good at investigating email headers. It's not easy to do and even those can be forged.
The rule of thumb we use and teach is never click a link in an email from a company that deals with money. If you want to check out Norton's special offers, go directly to their site by typing in the URL in your browser.
And one more good rule to follow – if it sounds too good to be true then it probably is.
Never click links that ask you to change your password, or tell you you've been compromised, etc. Always visit the site involved by typing in the URL in your browser.
And though you didn't ask, I wanted to give you our thoughts on Norton/LifeLock. We don't trust Norton/LifeLock. LifeLock has been sued several times for false advertising. In my opinion, making people believe a program can protect them from identity theft when it can't possibly do that only causes more identity theft because people let their guard down. Lifelock does not prevent identity theft. And Norton is famous for the bait & switch tactic. Luring in customers with a low price and then increasing the price or even doubling the price over the course of a couple of years.
---
Ann has a hard drive and it may have failed
I have been using a Seagate external drive for backups for some time now, never experienced any difficulty until I purchased the new computer with Windows 10 installed. Now the computer is not recognizing the external drive. Disk management shows a 0 not allocated.
I have tried finding help on the web but so complicated I hope you can assist me. I have contacted Seagate, but they have decided that the drive may be damaged, but I can't figure how that could possibly have happened. It was just a matter of plugging it into the new computer. I have tried numerous USB ports on the PC. The drive must be alive, it is sending out a shrill sound like a busy phone sound and the green light is on. This is a very expensive piece of hardware not to be able to use, hope you can assist. Look forward to a reply. Ann
Our answer
Hi Ann. I agree with Seagate – when you said the drive "must be alive, it is sending out a shrill sound like a busy phone sound…" tells me that the drive has failed. External drives don't make any sound at all – at least none I've ever had.
When a hard drive fails, sometimes you get no warning. If you were using it and it was formatted, and it was good, it would show up in Disk Management with space used and space unused.
At one time external drives were very expensive, but they've become much more reasonable. You can buy a good 2TB external hard drive for between $60 and $70. See this Toshiba 2 TB external hard drive for about $60.
---
Suzanne wants a Gmail shortcut on her desktop & she wants Cloudie also
A few newsletters back you told us how to put an icon for Gmail and Cloudie the dragon on the desktop. Now I cannot find those instructions. Can you help me? Thank you for your help and keep up the good work.
Our answer
Hi Suzanne. We haven't featured either of these in my recent memory. But I'll try to help you to do both.
You can put the Cloudie icon on your desktop by creating a shortcut to any of our Cloudeight pages.
1. Right-click on your desktop
2. Click "New" > "Shortcut"
3. Under "Type the location of the item" type the URL to any of our pages. For example:
https://thundercloud.net/infoave/new/index.htm  (our Tips & Tricks site) or https://thudercloud.net/start/index.htm (our Start page).
Then, click "Next".
Under "Type a name for this shortcut" you can use whatever you like that will help you recognize it, for instance, Cloudeight Tips & Tricks or Cloudeight Start Page. Then click "Finish".
And when you're done, you'll have a shortcut with Cloudie on your desktop.

Now, let's do the Gmail Shortcut
Here's the correct way to create a Gmail shortcut on your taskbar.
If after you create a shortcut to Gmail on your taskbar, you still feel you need a desktop shortcut to Gmail, do this:
1.  Right-click on the Gmail taskbar shortcut you created by following the instructions in our tutorial.
2.  Right-click on "Gmail" in the menu that appears, then click "Pin to Start".
3.  Open your Start menu, find Gmail, and right-click on it. Click on "More" then choose "Open File Location"
4.  Right-click the Gmail shortcut and choose "Send to > Desktop (Create shortcut)".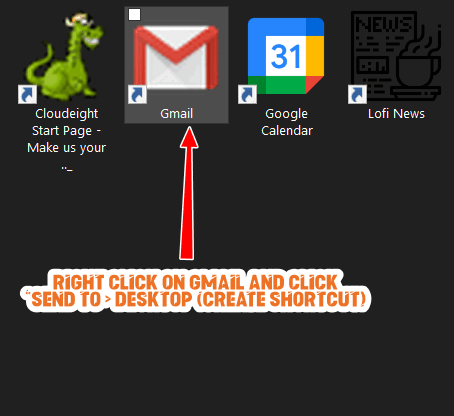 We hope this helps you, Suzanne.
---
Jean can't open certain common file types
Help! I cannot open files with the following extensions: rtf, txt, eml, doc. I can open pdf, jpg. This is the first occasion of this. Your help would be greatly appreciated. I have a lot of files. I don't want to lose them.
Our answer
Hi Jean. Not being able to open certain file types does not mean you're about to lose those files. It means you don't have a program associated with these file types. Most likely you installed something that took over those file associations and then you uninstalled that program.
In File Explorer, you can right-click on any file and choose "Open with" and browse to a program that can open that file type. For example:
RTF files are Rich Text files – you can open them with WordPad or MS Word or almost any word processor you have installed.
TXT files are Text files and by default open with Notepad.
EML files are email files – if you don't have an email program like OE Classic, Thunderbird, or another email program installed you won't be able to open these. You'll need to install a program that can open EML files.
DOC is the old Microsoft Word document extension. (Newer Word documents have the DOCX extension.). You can open doc files with Word, Open Office, Libre Office, or even WordPad.
An easier way to do this is to set file associations in Settings > Apps > Default apps and click on "Choose default apps by file type". Everything there is in alphabetical order.
---
Euan has problems with the Google Calendar
I have all of my family's birthdays recorded into my Google calendar. However, when their times arrive, they are never entered into my Gmail inbox to say that it is their day. It always says, "You have no events scheduled today……". How can I get the birthday names to appear on their conversation days to remind me that it is? Many, many thanks. Euan.
Our answer
Hi Euan. Have you followed all the tips from Google on how to get notifications from the Google Calendar?
We hope this helps get things working again for you.
---
Cheri has plenty of printer problems
Hi TC & EB. Since receiving an update in Dec or Jan I am having trouble with my HP Printer. After completing a printing job that item stays in the queue where it shows it is deleting. So, I go on to something else to print but it is just added on to waiting to print. The older item is still there showing that it is being deleted. This stays this way until I stop Printer Spool, go to Windows System 32, find Spool, then open Printers, and there are the older items along with the waiting item to print. I have to delete all these and go back to Printer Spool to restart. I have to do this after a printing job in order to print something else.
I made sure the printer is up to date which it says it is with all correct drivers installed. This printer is set to use over WiFi for all my devices to use to print. The same thing happens when using any of these devices. Went to HP for a solution. Suggested to make a shortcut to close, clean, and then restart printer spool. Does not clear the spool in Windows 32. Any ideas for.
Our answer
Hi Cheri. I'm not a printer expert. All I know about printers is what I've learned over 20 years of using them. But one thing I found that always works with any brand of printer and almost all printer problems is completely removing the printer and installing it just like you would it if were a new printer.
First, turn the printer off then (unplug it from its power source). Then, remove it from the computer using "Settings" > "Devices" > "Printers & scanners" by clicking on the printer and then clicking "Remove device". Restart your computer. Reinstall the printer exactly like you did when you first got it. If you don't have the installation software – no problem. Since you have an HP printer you can download the installation software package from HP's software and driver pages.
We hope this helps, Cheri.
---
Sheryl wants to create a Windows 10 system restore point
Hi. My question is how do I make a system restore point? I've tried to follow the directions I've found online, and they do not work for me. Can you help?
Our answer
Hi Sheryl. To start with, type CREATE in the taskbar search and you'll see the option to create a Restore Point.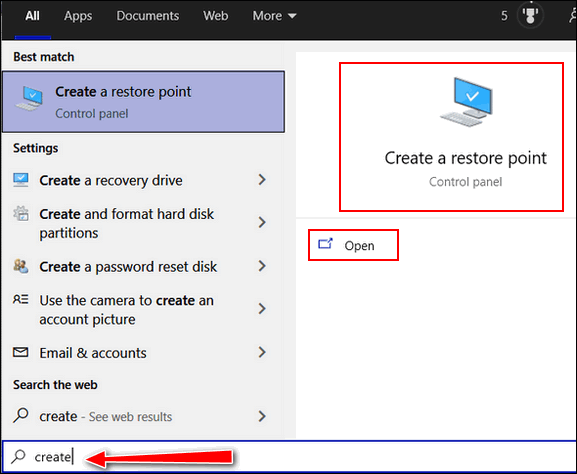 Be sure to see our "Complete Guide to System Restore". Our guide shows you how to turn on System Restore, how much space to allow for restore points, and how to use restore points to restore your computer to an earlier time.
We hope this helps you, Sheryl.
---

Don't have a Cloudeight SeniorPass? It's a great deal. Learn more here.
Our Cloudeight SeniorPass is a great deal. You get unlimited support for one full year from the date you first use your SeniorPass. We can help keep your computer running well, fix all kinds of computer problems, clean up malware, and a whole lot more. Our SeniorPass is like having insurance for your computer. And it's only $99 for an entire year.
Get your SeniorPass today for just $99.  It's just like having insurance for your computer – only better!
To learn more about our SeniorPass, please see this page.
---
Mike wants to upgrade a Windows XP computer to Windows 10
Are you familiar with Windows 10 Upgrade Companion from Zinstall? Apparently, it lets you upgrade from XP to Win 10 without losing files or having to re-install all your programs. Do you think that's true?
Our answer
Hi Mike. There is no free upgrade path from Windows XP to Windows 10. Microsoft allows only free upgrades to Windows 10 from Windows 7 SP2 and Windows 8.1 as the Windows product keys from those versions of Windows are used to license Windows 10 seamlessly. The same does not apply to Vista or XP.
If you want to be honest and stay legitimate, you'd have to buy a Windows 10 license. A legitimate Windows 10 license costs around $100.
In my opinion, it would be foolhardy to even attempt to upgrade a Windows XP computer to Windows 10. Putting a new operating system on an underpowered computer with hardware that's more than 15 years old just doesn't make much sense to me. And some programs that run on Windows XP will not run on Windows 10.
If you really want to use an old XP computer and use it safely, the best idea is to put a free Linux distro on it. Linux has many Windows-like distros that would make an old Windows XP computer usable and safer. Linux has distros that can run on old, outdated hardware and old underpowered computers. Read this article.
Zinstall makes a lot of promises… like moving software from older computers to newer computers seamlessly. That's false on its face because some old software simply doesn't run on Windows 10.
---
Diane wants to change her backup program
Regarding Ashampoo Backup: I purchased it some time ago when you recommended this product. If I want to use Windows 10 File History, what should I do? Do I uninstall Ashampoo and then clear off my external hard drive to use it for the Windows 10 File History?
I love all your tips and fixes … I've been a customer/fan since 2006! Wow, time sure does fly. Thank you, Diane.
Our answer
Hi Diane. Thanks for your nice comments and your long-time support.
I would suggest that you uninstall Ashampoo and then format the external drive that held the Ashampoo backups. Once you've done that use the instructions on this page to set up File History. Unless you have some good reasons not to, I suggest you just set it up with its default settings.
If you have any more questions or need more help, just let us know. And again, thanks so much for your longtime friendship and support.
---
---
Wait! Before you go…
Every week we help dozens of people with their computers without charge or any expectation of payment. And we have helped many folks who have fallen for tech support scams or other scams designed to steal their money.
And we now depend more on readers like you to help keep us going. Your donation helps us to help more people with their computers and helps us keep everyone safer online.
Please help support our small business and help us to keep on helping you.