Saturday Bonus Questions & Answers – 011522
It's Saturday. The weekend is here and you know what that means. It's time for more Bonus Questions & Answers.
Sometimes the best tips and tricks are hidden in the questions and answers we publish. And rarely do we post questions and answers on this website. Today, we're featuring some of the questions and answers from past issues of our InfoAve Weekly newsletters. 
These answers were selected at random from past InfoAve Weekly newsletters.
---
Saturday Bonus Questions & Answers – 011522
John was scammed while updating his GPS device
I was just in the process of updating my GPS when a chatbox opened to ask what service I wanted. They then asked for my phone number so that the tech could walk me through the steps. They started to give me instructions and then he said he found my computer address and he told me I had 15 foreign companies also using my IP address. I said I knew nothing about them. He asked me if I wanted them deleted. I said just leave it. I wanted Cloudeight to check this out. He hung up. I'm not sure what was going on so disconnected my computer. I have a Cloudeight Direct Computer Care service key left Thanks, John.
Our answer
Hi John. The chat that opened was opened by an ad you clicked on. This was an attempted scam. If you allowed someone to access your computer (permitted them) then you need to use your Cloudeight Direct Computer Care key to have us go through your computer to make sure they didn't put any malicious software on your computer or make any detrimental changes. If you didn't permit them to access your computer then you should be OK. But I'm thinking if a chat opened up, then they were connected to you and hence had the opportunity to make changes to your computer.
Legitimate companies do not connect to your computer unannounced and they don't open up chat windows, they call you randomly. So it looks like this was an attempt to scam you.
If you gave them a credit card number, you need to call the credit card company immediately and tell them you've been scammed. You won't lose any money if you do this right away.
——-
Follow up from TC: I checked over John's computer thoroughly and found no evidence of any tampering. The 15 "foreign companies" using his IP address was just a scare tactic the scammer tried to use to scare John into giving the scammer money. John was lucky!
---
Terry's Windows 10 computer randomly shuts down and restarts
Why does my Windows 10 computer running win 10 reboot on its own when no updates were installed? Just out of the blue it will shut off and restart on its own. I cannot figure it out.
Our answer
Hi Terry. If it reboots randomly it's almost always an overheating issue either with your graphics card or your processor. If your computer has fans, make sure they all working. If it's a laptop, make sure you are using it on a hard surface and not on a tablecloth or upholstered furniture. If it's a desktop make sure that the tower is not pushed up against a wall. Whether it's a laptop or desktop, make sure all vents are clean and free of lint, dust, or dirt, and make sure the device can get plenty of ventilation.
If this does not help me, let me know, there are a few settings you can change, that might work. It may also be a corrupt driver too. But honestly, it's almost always overheating that causes random shutdown
---
Don wants to change his username and master password for LastPass
I can't get support for Last Pass. I get to where it says type your question here and there is no place to type anything. Maybe you can tell me how to contact them or answer my question which is: If I change a name, user name, or password in LastPass, will it change on the site profile?  Thanks for your help, Don
 
Our answer
Hi Don, We don't have any relationship with LastPass… we just recommend the program. We're not an affiliate or a reseller like we are with Emsisoft so I don't have any contacts there. Once you change your username and/or password for LastPass, it's changed everywhere – in your browser extensions and on the LastPass and your site profile.
This will help you if you want to change your username for LastPass (your username is your email address)  Log in to LastPass and access your Vault by doing either of the following:
1. Go to https://lastpass.com/?ac=1 and log in with your username and Master Password.

2. In your web browser toolbar, click the LastPass icon LastPass then click Open My Vault.
3. Select Account Settings in the left navigation.
4. Under Login Credentials, make your changes in the Account Email field.
5. Click Update.
6. Enter your Master Password, then click Confirm to save your changes.
And this is how to change your master password for LastPass 
The Master Password to your LastPass account allows access to everything in your account: all of your Sites, Form Fills, Secure Notes, and more. There is no limit for the character length of the Master Password, but it is recommended that you use at least 12 characters and make sure you remember it.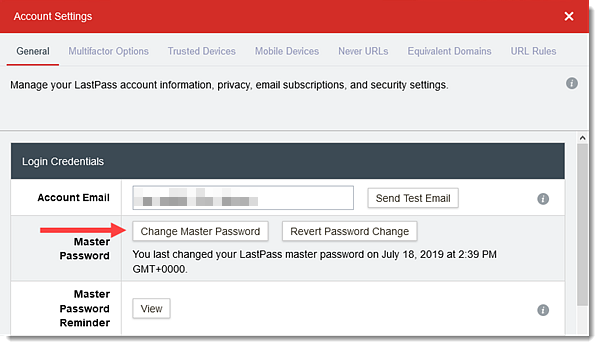 Log in to LastPass and access your Vault by doing either of the following:  
1. Go to https://lastpass.com/?ac=1 and log in with your username and Master Password.   
2. In your web browser toolbar, click the LastPass icon LastPass then click Open My Vault. Select Account Settings in the left navigation. On the General tab under Login Credentials, click Change Master Password. 
In the new web browser page or tab that opens, enter your current password, then create a new Master Password. Enter a password hint (recommended – this is a clue that is sent in a reminder email to help you remember your Master Password if it is ever forgotten). When finished, click Save Master Password to save your changes. Once updated, you will need to click the inactive LastPass icon to log in once more to authenticate using your new Master Password.
We hope this helps you, Don.
---
Linda wants to remove her personal info from a Windows 10 laptop she's giving away
I just bought a new laptop and I'm going to be giving my old laptop away. What option do you suggest that I do to do a system reset? Or should I do a factory reset? Thanks!
Our answer
Hi Linda. If you're going to be giving away or selling your Windows 10 computer, you don't need to download any 3-party software to wipe your personal information from your computer and reinstall a fresh copy of Windows before you give it away or sell it.
Here's how to do it.
1. Right-click on the Windows 10 Start button & click Settings
2. In Settings > click on Update & Security.
3. In Update & Security > click on Recovery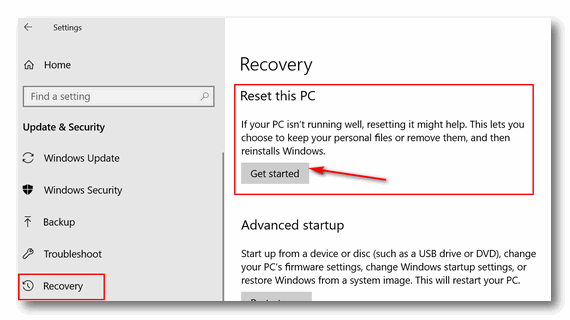 4. In Recovery under Reset this PC" > click on "Get started"
5. When you click on "Get started",  you'll have at least two options…
   a. Keep my files – Removes apps and settings, but keeps your personal files.
   b. Remove everything – Removes all of your personal files, apps, and settings.
6. Click on Remove everything.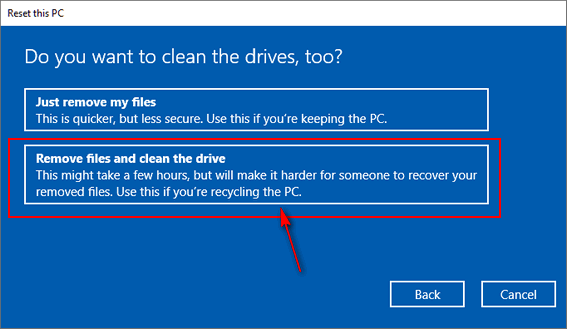 7. Windows will ask if you want "Just remove my files " or  "Remove files and clean the drive". Since you're not keeping the computer (or you just want to start with a completely clean computer), choose "Remove files and clean the drive" Selecting this wipes the C:\ drive (or Windows drive) of everything and then reinstalls Windows 10. After you do this, when you give the computer away or sell it, it's like a computer that has never been used. Or if you want to keep the computer, it's almost like having a new computer.
Once you click on "Remove files and clean the drive"  Windows will warn you and ask you to confirm you want to proceed with this operation.  After you confirm that you want to do this, Windows will start the process of wiping the drive and reinstalling Windows 10. This could take a few hours. But don't worry — you don't have to hang around while Windows does its thing, it's automatic. When Windows has finished wiping the drive and reinstalling a fresh copy of Windows 10 it will be like a new computer.  Whoever you give it or sell it to, will have to set up time zone, language, user accounts, etc. – Just like they'd have to do with a new computer.
We hope this helps you, Linda.
---
Donna can't find Windows Media Player in Windows 10
Good Morning. I do not interact with you as much as I used to because of my work, I mostly use Apple software. That said, I still like to contribute to you and need a link to do that.
My question is this: I do have one Windows-based computer and it has lost Windows Media Player. I put it in the search bar, and it says I have it, but when I go to my apps list, it is no longer there. It was working last week, so somewhere in that past week, it flew the coop. How do I entice it to come home?
Blessings, Donna
Our answer
Hi Donna. I don't know what version of Windows you're using. If you're using Windows 10, Windows Media Player should be in your Start menu under Windows Accessories. If you don't see it there, type Windows Media Player or WMP in the taskbar search.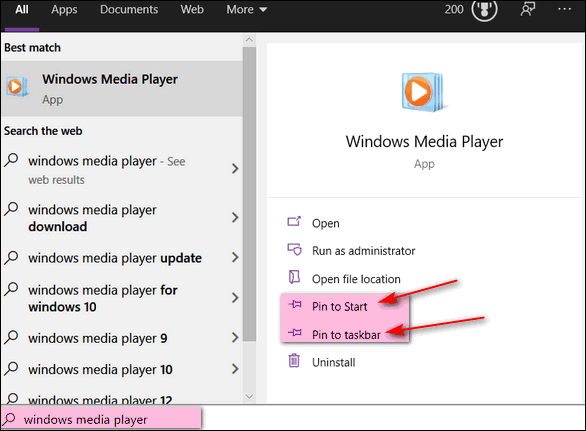 When Windows Media Player appears in the search results click on Pin to Start (to pin it to the Start menu) or "Pin to Taskbar" to pin it to your taskbar. If you want a desktop shortcut, read the instructions below for Windows 7 or Windows 8x – as it works the same in Windows 10.
If you're using Windows 7 or Windows 8x, right-click on the desktop, choose "New" and then click "Shortcut" – in the location box copy & paste this:
%ProgramFiles(x86)%\Windows Media Player\wmplayer.exe
Click Next then give it a name such as "Windows Media Player" for instance. This will create a desktop shortcut for Windows Media Player.
If you want to add Windows Media Player to your start menu, open File Explorer (Windows Explorer) and navigate to:
C:\ProgramFiles(x86)%\Windows Media Player and right-click on wmplayer.exe and choose "Pin to Start".
I hope this helps you.
If you want to help support our mission to help as many people as we can with their computers and to help them stay safe online, you can donate at https://thundercloud.net/donation.htm.
Thanks for thinking of us!
---
Bev asks about StartPage.com
Hi TC & EB. Hope all is good with you both. A friend of mine said that StartPage.com is a good app to have. What are your thoughts on this?
Thanks for looking after all of us "old ones". I don't know what we would do without you. Stay healthy, Bev.
Our answer
Hi Bev. StartPage.com is a private search engine and browser start page. It is not an app so you cannot have it, but you can use it. It's ad-supported and purportedly does not collect user data or IP addresses. Its search results are not as good or as accurate as Google's, but it is more private than Google.
If you're willing to sacrifice good search results for "privacy" then there's nothing wrong with StartPage.com. However, as we've written, privacy in today's internet-connected world is an illusion. Personally. I think since there isn't any real privacy, I prefer getting the most accurate search results using Google –it saves me time.

Other "privacy" search engines are DuckDuckGo and You – among others.
---
Myron's new laptop is running Windows 10 S Mode
I have just purchased a new laptop computer and some things are popping up differently than what I was accustomed to before. For example, I cannot download Chrome to use as my default browser and it keeps taking me to a window where it talks about S Mode. is this keeping me from the Chrome download and will I benefit if I get out of it? Maybe you could address this issue for people who are not familiar such as me. Thank you so much.
Our answer
Hi Myron. If your laptop is running in S mode, you cannot download anything except what is available in the Microsoft store. That means you can't download Chrome or any other programs (apps) that are not in the Microsoft store.
According to Microsoft: "Windows 10 in S mode is designed for security and performance, exclusively running apps from the Microsoft Store. If you want to install an app that isn't available in the Microsoft Store, you'll need to switch out of S mode. Switching out of S mode is one-way. If you make the switch, you won't be able to go back to Windows 10 in S mode. There's no charge to switch out of S mode."
To switch out of S mode (and remember, once you do you will not able to go back to it):
On your PC that is running Windows 10 in S mode.
Right-click on your Start button and click "Settings"
In Settings click on "Update & Security" then "Activation".
In the Switch to Windows 10 Home or Switch to Windows 10 Pro section, select Go to the Store. (If you also see an "Upgrade your edition of Windows" section, be careful not to click the "Go to the Store" link that appears in that section.)
On the Switch out of S mode (or similar) page that appears in the Microsoft Store, select the Get button. After you see a confirmation message on the page, you'll be able to install apps from outside of the Microsoft Store.
We hope this helps you, Myron.
---
Roy wants to change his user account name in Windows 10
My Lenovo computer, now 7 years old, was originally "set up" by a computer shop and it runs fine. However, when I check the Command prompt and type WHOAMI, I get "C:\Users\User". TC or EB, how can I get my name shown in place of "user"? Thanks in advance, Roy
Our answer
Hi Roy. Here is how to change your user account name
1. Type NETPLWIZ in taskbar search & press Enter when it appears in the search results.
2. Click on the account you want to change
3. Click on "Properties"
4. A dialog will open with the current username highlighted. Click Delete and type in a new name.
5. Click "Apply" "OK".
But… keep in mind this does not change the folder locations. For instance, Pictures will still be located at C:\Users\User\Pictures and Documents will still be at C:\Users\User\Documents, etc. Changing the username does not change the user folder locations. If you try to change those locations, you risk losing data and a corrupt user account. If you really want a new user account name, create a new user account with the name you want and then copy all the data from all your user folders (Documents, Desktop, Pictures, Videos, Music, etc.) to the user folders in your new account. This seems to me to be a lot of work especially if you're the only one who's ever going to see it.
---
Diane is having problems with Chrome
My Google Chrome has suddenly started also opening YouTube when I open Chrome. I don't think I've changed any settings. But do you have any ideas on how I can get this to stop?
Our answer
Hi Diane. The easiest & quickest way? Reset Chrome. This will reset Chrome back to its default state – which opens to the new tabs page. It will disable all Chrome extensions, but it will not remove them. This is helpful in case an extension changed your Chrome start page. You can re-enable the extensions you want after the reset. Resetting Chrome also clears browsing history.
1. Learn how to reset Chrome here.
2. Learn how to set a new start page in Chrome here.
3. Learn how to turn Chrome extensions on & off here.
W hope this helps you, Diane. If you need anything else, let us know.
---
Erica wants to know if hackers can watch you with your own Webcam.
I've read several articles that say that webcams can be activated by hackers and used to look at you things in your house. Is this true? Can hackers turn on my webcam and watch me and look at things in my room?
Our answer
Hi Erica. Not only is it true that webcams can be activated remotely, but it's also happened many times and even some famous people have had their privacy invaded. There are several ways this can happen, but usually, it usually happens when the victim is tricked into clicking a link in an email and downloading spyware/malware onto the computer thus giving the attacker control over the computer's webcam. It can be activated without the user's knowledge. Sometimes the cam can be activated without the "webcam active" light being on.
It's not likely to happen if a user has a good antivirus / antimalware program installed. However, no software is 100% foolproof. We've written articles about this before and we recommend putting a tiny piece of electrician's tape (opaque) over the camera lens. If you're concerned about the tape's sticky substance harming your lens you can put a small piece of paper between the tape and the lens.
This is not something that happens very often. But it's important to know it's not a hoax, it probably happens more than we like to think. And remember to always make sure you're protected. Someone spying on by you using your own webcam is possible, but not very likely. It just makes good sense to understand the risks and always use the best safe computing practices.
Covering the lens is a good option, but having a good antimalware/antivirus such as Emsisoft installed is essential.
---
Roberta gets a list of irrelevant "trending" Google searches in Chrome
Hi! When I do a search from the search bar on Google Chrome, I get a list of what is called trending searches in a drop-down. This just started that yesterday. The trending searches in the list are not relevant.
Our answer
Hi Roberta. It sounds like you installed an unwanted extension. So the best way to fix this is to follow the instructions below:
Reset Chrome and clear its history by following the instructions on this page.
After you reset Chrome, close it and reopen it. You should not see any "trending" because "trending" is not part of Google search on Windows.
——
Roberta wrote back: "Thanks so very much, TC. You two are just awesome GOD BLESS! Roberta."
---
Ron is looking for an article we wrote about backups not being necessary
You mentioned in a response to a question from me that backup programs are no longer necessary. I assume that it is part of Win 10. I have been looking through your newsletters and I can't find that information Would you please direct me to that page?
Our answer
Hi Ron. We never said backup programs are not necessary. We said that File History is included with Windows 10 and as a backup program, it would serve most people well. If one has MS Office 365, OneDrive is a good backup option. And we also said that image backups are not nearly as important as they once were because of the Windows 10 recovery options – such as Reset — and the fact that you can download and create Widows installation media free of charge.
We would never tell anyone not to keep good backups of their irreplaceable files and folders.
You can read one of our articles about backups here.
---
Doug now uses Edge but has a question about viewing weather radar
I started using the Edge browser. But I have a question. I set my computer to watch weather radar during storms. Is there a way to set Edge to refresh the page about every 30 seconds to start up with the changing conditions?
Our answer
Hi Doug. If you're using Windows 10, you should try Windows 10's weather program, it's excellent. It can be set for your locality and it has a great radar feature – which automatically updates. You can find Windows 10 weather on the Windows 10 Start menu or by typing weather in the taskbar search. We haven't written about Windows 10 weather for quite a while, and it's improved greatly since we did, but you can get a good overview of Windows 10's weather app by reading our article here.
Edge does not have any settings for auto-refresh. But If Windows 10's weather app isn't something you want to use you can get an Auto-Refresh Extension for Chrome that also works with the new Microsoft Edge. This extension allows you to set the refresh interval to just about anything you want. You can read more about the Auto-Refresh extension here.
And remember, you can use any Chrome extension in the new Edge.
We hope this helps you, Doug.
---
Sandy wants to open PDF files with Chrome or Edge
It's been a long time and I can't find my notes. I want to open all PDF files with either Google Chrome or Microsoft Edge. How do I do that?
Our answer
Hi Sandy. Right-click on any PDF file and choose "Open with" from the context menu that opens and select "Choose another app" Then choose Google Chrome or Microsoft Edge (whichever you prefer) and make sure you tick the box next to "Always use this app to open .pdf files" and then click OK. From then on, PDF files will open with the program you selected..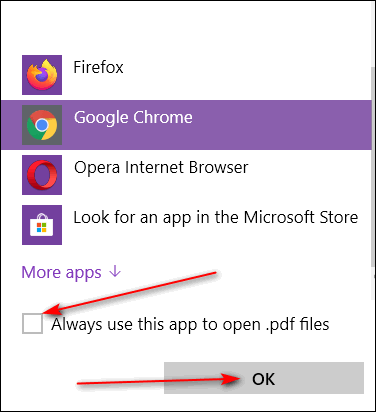 We hope this helps you, Sandy.
---
Wait! Before you go…
Every week we help dozens of people with their computers without charge or any expectation of payment. And we have helped many folks who have fallen for tech support scams or other scams designed to steal their money.
And we now depend more on readers like you to help keep us going. Your donation helps us to help more people with their computers and helps us keep everyone safer online.
Please help support our small business and help us to keep on helping you.