Saturday Bonus Questions & Answers – 100921
It's Saturday! And you know what that means. It's time for more Bonus Questions & Answers.
Sometimes the best tips and tricks are hidden in the questions and answers we publish. And rarely do we post questions and answers on this website. Today, we're featuring some of the questions and answers from past issues of our InfoAve Weekly newsletters. 
These answers were selected at random from past InfoAve Weekly newsletters.
---
Saturday Bonus Questions & Answers – 100921
Sofia gets an error message quite often
I keep having this message pop up quite often… often. Like just a minute ago.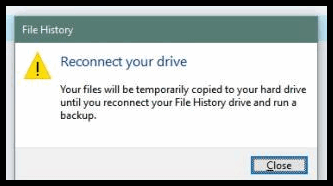 I never know what to do with it. Can you tell me what this is?
Our answer
Hi Sofia. You have File History backup set up and running. If you unplug your external drive when File History is trying to back up your files and folders, it won't be able to find the backup drive – because you either unplugged it or it's not working. When File History cannot find the backup drive you set up, Windows will display the popup you're seeing.
So, you need to leave your external drive plugged in most, if not all of the time, otherwise, you're going to keep getting this Windows pop-up dialog. If your external hard drive is no longer available or it's not working, you will continue to see these popups until you either have a working external hard drive or turn off File History in Settings–>Update & security –> Backup.
---
John asks about Windows Media Player in Windows 10
Good afternoon. I tried to watch a DVD on my Windows 10 PC today but could not find my DVD player (Window Media Player.) that I presumed would be carried over from Windows 7 to Windows 10 which you so kindly did for me. I googled and learned that Microsoft does not support WMP and am hesitant to download another player because I have no idea what would be safe. Could you recommend one to me? I am a long-time subscriber to your newsletters and read them all religiously but don't recall this ever being discussed. Many Thanks, John Ness
Our answer
Hi John. Thanks for your nice comments and your support. Windows Media Player is alive and sort of well in Windows 10. You can use it to play most audio file types. But one thing you can no longer do with the Windows Media Player is watch DVD Movies. For whatever reason, Microsoft has decided that you can't play DVD movies with WMP and that's that.
The good news is there are several excellent free media players you can install on Windows 10 that will play you DVD movies. The media player we recommend and use is one called VLC (Video LAN) media player. It's free and it integrates with Windows 10 seamlessly. It not only plays your DVD movies, but it also plays virtually all types of audio and video files.
You can download the VLC media player from this link. It's free and free from malware and tricks.
Once you download and install VLC Media Player, you can set it as your default media player for music and video files in Windows 10 by going to Settings –> System –> Default apps and clicking on Music player, and selecting VLC from the list. Next, click on Video Player and select VLC from the list.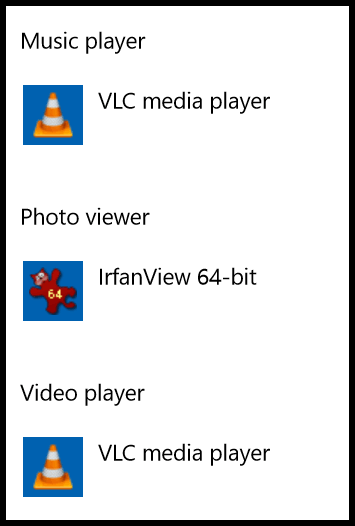 Once you have VLC set as your default Music player and Video Player, make some popcorn and then enjoy your DVD movie!
---
Don wants his mouse pointer to "snap to it" in Windows 10
Hi. Is there some way using Windows 10 to get the mouse pointer to snap to the default? I used to be able to do this with Windows 7 but cannot find any way to do it in Windows 10. I have searched the net and searched mouse properties in Windows 10, but no luck. Can it be done in Windows 10? God bless. Don B.
Our answer
Hi Don. Here you go. Open Control Panel (type CONTROL into taskbar search). Choose Mouse, then choose Pointer Options and put a check in "Snap To:" See screenshot below: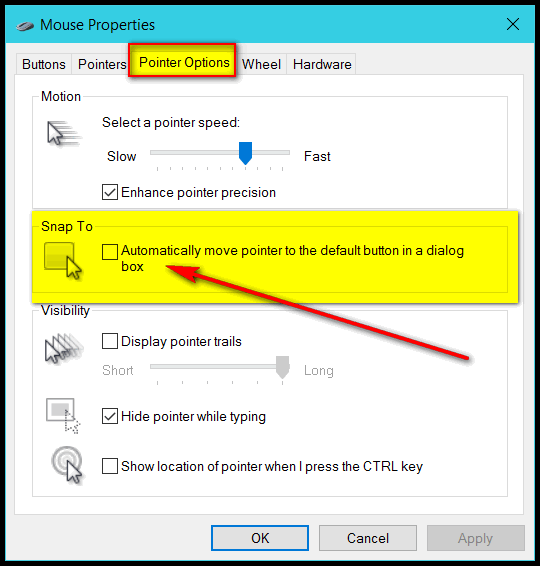 PS: As with most things in Windows you can get to these same mouse settings by going to:
Settings > Devices > Mouse > and clicking "Additional mouse settings" at the very bottom.
---
Suzanne wants to put a Control Panel shortcut on her Windows10 taskbar
I would like to know how to put my control panel on my taskbar. Can you tell me how to do it? Thanks, Suzanne
Our answer
Hi Suzanne. Type Control into Taskbar search and press Enter when you see Control Panel appear in the search results.  Once Control Panel is open, right-click on its icon in your taskbar, and choose "Pin to taskbar". That's it. Now, the Control Panel icon always will be on your taskbar.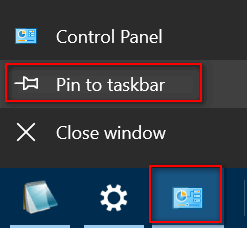 ---
Martha wants to know if hackers can watch you with your Webcam.
I've read that hackers can activate webcams. This sounds like a hoax to me. Could hackers somehow turn on my webcam, watch me, and see things in my house? Is this true–or just another viral internet hoax? What do you say?
Our answer
Hi Martha. Not only is it true that webcams can be activated remotely, but it's also happened many times. Even some famous people have had their privacy invaded. One young lady filed charges against the man who activated her webcam on her laptop in her bedroom. There are several ways this can happen, but normally it usually happens by the victim being tricked into clicking a link in an email and downloading spyware/malware on the computer giving the attacker control over the computer's webcam. It can be activated without the user's knowledge. Sometimes the cam can be activated without the "webcam active" light being lighted.
It's not likely to happen if a user has a good antivirus / antimalware installed. However, no software is 100% foolproof. We've written articles about this before and we recommend putting a tiny piece of electrician's tape (opaque) over the camera lens. If you're concerned about the tape's sticky substance harming your lens you can put a small piece of paper between the tape and the lens.
This is not something that happens very often. But it's important to know it's not a hoax, it happens more than we like to think. And remember to always make sure you're protected
Covering the lens is a good option but having a good antimalware/antivirus like Emsisoft installed is essential. Someone spying on by you using your webcam is possible, but not very likely. It just makes good sense to understand the risks and always use the best safe computing practices.   
---
Jim wants to create a recovery drive for his new computer
I just purchased a new laptop with a 1 TB hard drive but no Optical drive. Should I create a USB recovery drive or a USB boot drive? I have created an ISO image as of today on a USB hard drive, but should I also create a boot or recovery USB drive as mentioned above?
Our answer
Hi Jim. Computers that do not have optical drives (CD/DVD drives) have the BIOS set up to boot from bootable flash drives. So, you can create a bootable Windows 10 installation flash drive by going to this page:
https://www.microsoft.com/en-us/software-download/windows10
On that page click on the button labeled "Download tool now". You'll be able to create a Windows 10 installation flash drive using the tool.
We recommend you create a Windows 10 installation flash drive. It has everything a recovery drive has and more and it's bootable. You can boot your computer from it, use troubleshooting tools, and even do a reset or repair installation using it. And since your computer has no optical drives, its BIOS is already set to boot from a bootable flash drive.
I hope this helps you, Jim.
---
Joyce says all of a sudden, her keyboard started acting wonky
This morning I was typing and thought I hit the shift key plus the 1 key to make an apostrophe when a box came up on the upper left side of the screen that said something about the ease of access link. I do not know what I hit but it wasn't the link and now I cannot type unless I keep pressing on each key till the letter finally shows. Can you help me get my keyboard back to normal typing again as I do not know what I did or what to do to correct my mistake?
Our answer
Hi Joyce. Try this: Shut down your computer and leave it off for 5 minutes. Make sure all power lights are off. Then restart your computer.  Let me know if you still have a problem.
—–
Joyce wrote back: "Thank you "magic maker" it was so simple…why didn't I think of that? I'm so thankful for your help. Joyce."
---
Terry's right-click function on Windows 10 no longer works
The right-click function on my Windows 10 laptop has stopped working. It is driving me crazy because I used that feature all the time. I miss being able to quickly right-click when I need to. I have been using Windows 10 for 3 years and I have never had any trouble with it until now. Do you have any advice for me? Thanks, Terry.
Our answer
Hi Terry. Have you tried this simple fix?
1. Shut down your PC completely (all power lights off)
2. Wait for 4 or 5 minutes.
3. Turn on your computer.
4. Let Windows 10 load completely.
5. Try your computer and check to see if you still have problems.
If you still have the right-click problem, follow the alternate instructions on this page.
I hope this helps you, Terry.
——-
Terry wrote back: "It Worked! Thanks a lot. I can't believe that just shutting off my computer for a few minutes fixed my annoying problem. You guys are great! Thanks, Terry"
---
Debbie is looking for fonts
I am using Windows 10. I'm looking for script and handwriting-type fonts. I'm hoping you can steer me in the right direction. Where can I find nice fonts without getting infected with malware? I would like free fonts but I want them to be from safe sites without risking getting infected. Thanks, Debbie.
Our answer
Hi Debbie. You're in luck. We have some great font sites for you on our InfoAve website from which you can download nice fonts for free. Additionally, we show you how to install, find and preview fonts on Windows 10.
Click here to see our 3 site picks for fonts as well as how to install and preview fonts on Windows 10.
I hope this helps you, Debbie!
---
David N. wants to know why his "My Documents" folder on Windows 10 is inaccessible
I have a situation I do not understand – when I open 'My Computer' and scroll down to 'My Documents' – it says, 'access is denied"! Now, when I scroll down further to a second 'My Computer', and again scroll down to 'Documents" and this opens properly to my list? Will you straighten this out for me, and let me know what has caused this?
Thanks, and Best regards, David.
Our answer
Hi David. "My Documents" only appears on computers that were upgraded to Windows 10 from a previous version of Windows. It does not exist on Windows 10. If you upgraded from a previous version of Windows, the files that were in "My Documents" on that version of Windows will be in your Windows 10 Documents folder (C:\Users\Your Username\Documents). If you're logged into your user account, the Documents folder is available from the Quick Access menu as well as from File Explorer.
You cannot delete, modify, rename, or change the "My Documents" folder on Windows 10. It's an inaccessible leftover – what we call a dinosaur. The "My Documents" folder will not appear on computers that were purchased with Windows 10 installed or if you clean install Windows 10 – but I don't think you'd want to do clean install Windows 10 just to get rid of the "My Documents" folder. My suggestion is just to ignore it. Assuming you don't want to clean-install Windows 10, that folder will be with you as long as you have that computer.
And also keep in mind that there are no files in the "My Documents" folder in Windows 10.
I hope this helps you, David.
—————
David wrote back: "Thanks TC – I don't know what some of us 'old-timers' would do without your knowledgeable input!"
---
---

Please help us to keep on helping you.
A small donation helps us to keep on helping everyone who asks us for help. Consider making a small donation – we'd really appreciate it.
---
Have a great weekend!