Show Hidden Files, Folders, and Drives the Easy Way
Windows 10 Essentials Tip
By default, and sometimes without any apparent rhyme or reason, Windows hides certain files, folders, and drives. But many times, the Windows tips we write and the ones you see online assume you can "see' hidden files, folders, and drives. 
 Some files and folders in Windows are automatically marked as hidden because Windows doesn't want you messing around with them. But, leaving them hidden hinders your ability to make changes that can enhance your Windows experience. As I've mentioned, many tips and tricks you find online assume you can view hidden files.
Here's an example:  If you are using the OE Classic email program, and you want to add stationery, you're going to need to view hidden files and folders, otherwise you're not going to be able to see the AppData folder in your users' directory.  And if you can't see that directory, you can't add stationery.
So, we think it's a good idea to "unhide" hidden files, folders, and drives. And here's the easy way to do it.
1.) Open File Explorer (Windows key + E is a great shortcut).
2.) Click on the "View" tab at the top.
3.) Tick the box next to "Hidden items".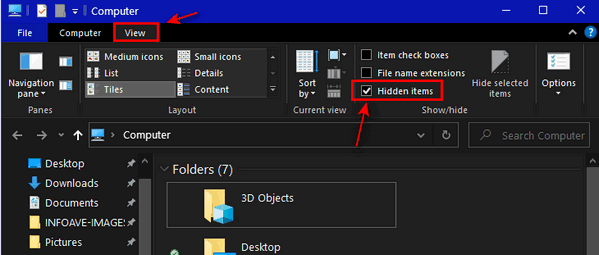 4.) Close File Explorer.
That's it! From now on, you will be able to see all the files, folders, and drives Windows was previously hiding from you.