I hate spiders. I like oak. I like oak trees. But I really do not like spiders. Fortunately for me, this article will not involve spiders or oaks, nor any stories about how mighty oaks from tiny acorns grow. I'd ague with whoever said that. Size is relative. If you're an ant and you try to carry an acorn, you'll have a bad back. Acorns are mightier than oaks to ants. But we'll argue relativity some other day.
SpiderOak is another esoteric name for an online storage (i.e. cloud storage) site, something on he order of Dropbox but more secure – or so they say.
"Whether you need to access a document you have stored on a remote server, synchronize data between a Mac, Windows or Linux device, share important business documents with your clients, or just rest easy knowing all of your data is safely, securely, and automatically backed up – SpiderOak's free online backup, online sync and online sharing solution can handle all your needs!
SpiderOak offers a different approach to online backup by combining a suite of services into one consolidated tool – free online backup, synchronization, sharing, remote access, and storage. This difference is further measured in our zero-knowledge privacy policy – the first one ever employed in this setting. Our flexible design allows you to handle data from any operating system (Mac, Windows and Linux) or location (external drives, network volumes, USB keys, etc…) using just one centralized account…" (See how it works, here.)
SpiderOak give you an unremarkable, but still usable, 2GB of free storage (you can buy more space $10/month per 100GB) . But you can earn up to 50GB of space by referring your friends. What really set SpiderOak apart from other online backup and storage sites is their security. The have zero-knowledge approach. This means that not even their employees can access your files.
Complete Privacy Guaranteed
SpiderOak never stores or knows a user's password or the plaintext encryption keys which means not even SpiderOak employees can access the data
Our zero-knowledge privacy approach means we can never betray the trust of our users.
Fault-Tolerant Design
SpiderOak online backup always protects your data even if your network connection times out or the power goes down during a backup
All infrastructure components designed and maintained in-house – eliminating vulnerabilities caused by 3rd party involvement
Multiple redundancy strategies which include point-in-time recover to protect against human error or accidental deletions
Constant automated stress testing and verification system that continually monitors production server operation to ensure immediate detection of possible malfunctions
For more information on our storage infrastructure, please click here.
To see how we display the progress and security of our online backup process: click here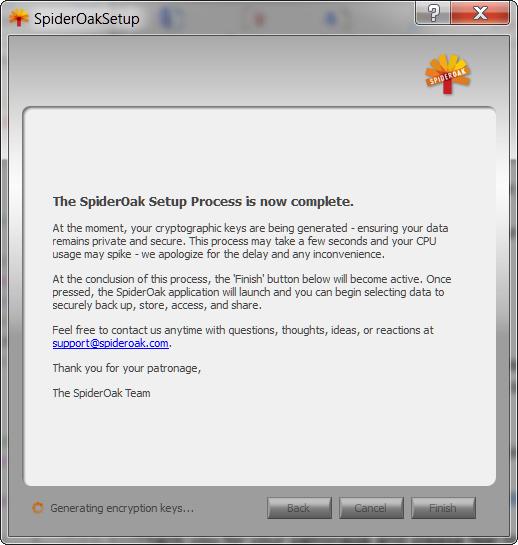 SpiderOak generating personal encryption keys.
If you want to store data online safely and securely you should take a look at SpiderOak. Even if someone breached their servers, they would never have access to you files. Something to think about. You can get more information about SpiderOak and/or download it here.
SpiderOak works on Windows XP (all), Windows Vista(32bit/64bit), Windows 7(32bit/64bit), Linux, Mac, iPhone and Android. The Windows download is 17.4 MB.