The Best Way to Play DVDs in Windows 10
More and more Windows 7 users are upgrading to Windows 10. Now almost 1 billion people use Windows 10. And we think Windows 10 is a great operating system and it continues to get better. But most new Windows 10 users are disappointed when they find out that Windows 10 does not play DVDs. While Microsoft does offer a DVD Playback option ($15), it's not free and it's not very good. It seems to be plagued with problems.
We have a better option for playing DVDs in Windows 10 and it's free. We use and recommend VLC Media Player. VLC Media Player supports a wide range of video and audio formats including MPEG-1, MPEG-2, MPEG-4, DivX, MP3, MP4, OGG and does not require downloading additional codecs to play most media formats.
According to VideoLAN's VLC Media Player website, VLC Media Player can play the following formats:
MPEG-1/2, DivX® (1/2/3/4/5/6), MPEG-4 ASP, XviD, 3ivX D4, H.261, H.263 / H.263i, H.264 / MPEG-4 AVC, Cinepak, Theora, Dirac / VC-2, MJPEG (A/B), WMV 1/2, WMV 3 / WMV-9 / VC-1, Sorenson 1/3, DV, On2 VP3/VP5/VP6, Indeo Video v3 (IV32), Real Video (1/2/3/4).MPEG Layer 1/2, MP3 – MPEG Layer 3, AAC – MPEG-4 part3, Vorbis, AC3 – A/52, E-AC-3, MLP / TrueHD>3, DTS, WMA 1/2, WMA 3, FLAC, ALAC, Speex, Musepack / MPC, ATRAC 3, Wavpack, Mod, TrueAudio, APE, Real Audio, Alaw/µlaw, AMR (3GPP), MIDI, LPCM, ADPCM, QCELP, DV Audio, QDM2/QDMC, MACE. DVD.. and more.
And VLC Media Player has a lot of great features including filters, effects, playlist, video snapshots, visualizations and more – all in a very simple user interface.
You can download VLC Media Player from here.
If you're not sure if you have a 64-bit system or not, download the regular version as it works on both 32-bit and 64-bit systems. If you want to find out if you have 64-bit Windows 10, type ABOUT in taskbar search and click "About your PC". Under "Device specifications" look for "System type". If you see 64-bit there, then you know!
Once you install VLC Media Player, you'll want to make it your default media player. You can do that this way:
1.) Right-click the Windows 10 Start button
2.) Click "Settings"
3.) Click "Apps"
4.) Click "Default apps"
5.) Under "Video Player" click "Movies & TV" and a list of programs will appear. Select VLC Media Player from the list.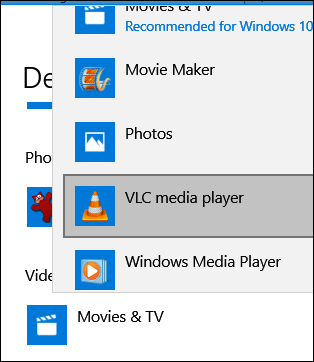 That's it. From now on, VLC Media Player will be your default media player and you will be able to play DVDs in Windows 10 without any problems.