The Chrome Malware Scanner
Did you know that Google Chrome comes with a built-in malware scanner that can help you remove some types of harmful software? It does and it's easy to use and we'll show you how in just a bit.
Most of us have heard the scare stories about computer viruses, but we can tell you that it's not viruses that are plaguing Internet users these days. Twenty-plus years ago viruses were ubiquitous and if you didn't have good antivirus software installed, you were in for quite a rough ride.
Now, even the worst antivirus programs can protect you from viruses. But now the threats are much more eclectic. Malware and scams and trickery are running amok on the web and it takes a multi-faceted security program to protect you from all the modern threats. But even the best antimalware and antivirus cannot protect you from being tricked or falling for a scam or from every possible dangerous software threat. That's up to you and your common sense.
The Chrome malware scanner is a way to run a secondary check to find out if anything is going on that shouldn't be. It comes with Chrome and it's easy to use, so if you use Chrome there's no reason not to run it once in a while just to make sure.
IMPORTANT: The Chrome scanner gives you an option to double-check your PC for harmful software – it is not meant to be the first line of defense or primary security software. You still need to install good security software such as Emsisoft.
After the Chrome malware scanner finishes, Chrome will let you know if anything was found and you'll also have the option to remove it. You may also want to reset your Chrome browser (see our tutorial here) if several things were found. See our article here on resetting Chrome.
Here's how to run the Chrome malware scanner:
Type or copy & paste the following in the Chrome address bar (omnibar).
chrome://settings/cleanup
and press Enter…
In the Settings dialog, scroll down and click on "Advanced" then click "Reset and clean up".


In the "Reset and clean up" dialog, click on "Clean up computer".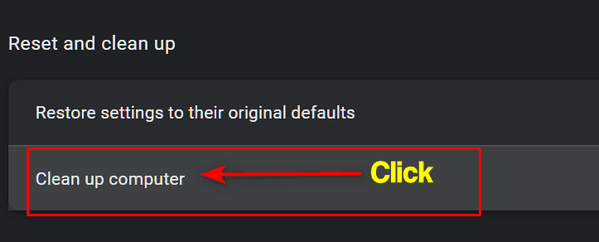 Chrome's scanner will scan your computer for malware. This may take a while… Chrome's scanner is not particularly fast,
And if all goes well, you'll see this…
But if malware is found on your PC, Chrome will give you the option to remove it. 
As Emsisoft says… we hope you have a great, malware-free day (or evening).