The Cloud Clipboard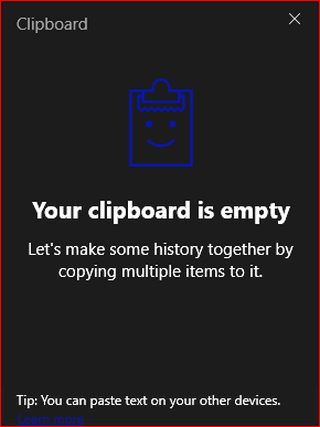 The Cloud Clipboard is one of the most useful features of Windows 10, but very few people take advantage of it. The Cloud Clipboard lets you copy and paste multiple text clips, links, and pictures (under 1 MB in size). And if you're using a Microsoft account and logged into more than one device you can use the Cloud Clipboard across multiple devices.
Unlike the standard Windows Clipboard, the Cloud Clipboard can store multiple items. And it's easy to use and all you need to do is turn it on. Once you do you can access the Cloud Clipboard using the Windows key + V shortcut.
Turn on the Cloud Clipboard
To turn on the Cloud Clipboard type CLIPBOARD in the taskbar search and press Enter when you see Clipboard Settings appear in the search results.
Under Clipboard History, turn the switch to "On". If you use one Microsoft account on multiple devices, you might also want to turn the switch under "Sync across devices" on as well.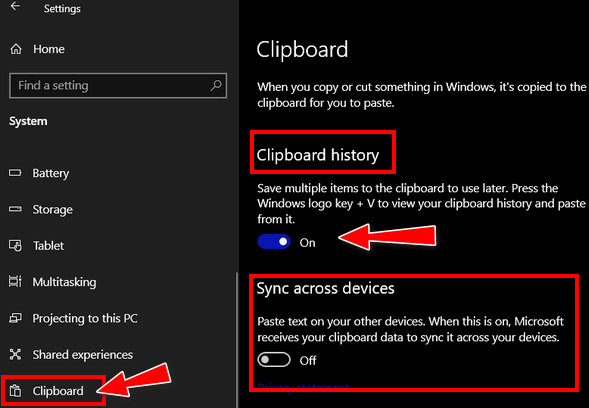 Now press the Windows key + V to open the Cloud Clipboard and you'll see all the content your previously copied – including text, links, and images (less than 1MB in size).
Here's a screenshot of my Cloud Clipboard.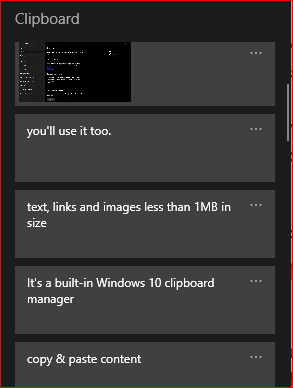 Copied text in this clipboard history can also be shared across all devices that are signed in to the same Microsoft account, providing that text is less than 100kb in size.
To copy & paste content from the Cloud Clipboard, left-click on the item you want to paste. Then, use the Ctrl + V shortcut to paste the selected content wherever you want.
And that's it. It's a built-in Windows 10 clipboard manager and it's there for you to use. We use it all the time because it saves us time. We think once you try it, you'll use it too.