The End of Flash is Near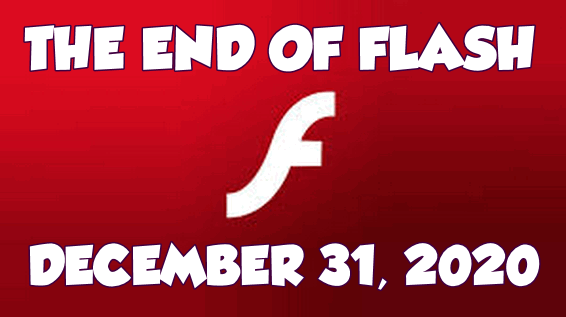 December 31, 2020, marks not only the end of one crazy year, but it also marks the end of Adobe Flash. After that date, most modern browsers will no longer support Flash and you'll no longer be able to download Flash Player from Adobe.
But that does not mean you'll no longer be able to play games online – or that they'll no longer be interactive websites. HTML5 and CSS will seamlessly replace Flash content on Web sites. HTML5 is a more powerful version of HTML which is the code with which all Web sites are built.
While you may not have ever heard of HTML5, it has been around since 2014.
HTML5 runs natively in all modern web browsers – no plugins or add-ons are needed. To display Flash content a plug-in had to be installed separately on a web browser unless you were using Chrome or the new Microsoft Edge which came with the Adobe Flash plugin preinstalled.
And you may be surprised to learn that the websites you have probably visited are using HTML5 instead of Flash, for instance, Amazon, Apple, and BBC. I
But wait there's a lot more. Do you want to see more examples of Websites built with HTML5 and CSS? Then take a look at…
Tesla
https://www.tesla.com/
Disney Parks
https://disneyparks.disney.go.com/
Star Wars
https://www.starwars.com/
And how does HTML5 work for games? Take a look at AGame.com.
For all of you who like to play games online, most game sites have already replaced Flash or are busily replacing their Flash content with HTML5. Hopefully, your favorite game site has switched to HTML5 already. All sites with Adobe Flash content should be ready to go before the official end of Adobe Flash — December 31, 2020.
Want to know more?
Here's what Microsoft says about the end of Flash…
Microsoft will end support for Adobe Flash Player on December 31, 2020, along with Adobe and their other industry partners. This means that starting January 2021, customers will no longer receive security updates for support for Adobe Flash Player. Microsoft will also take steps to remove Flash from the Windows operating system. More information can be found here.

Here's what you can expect for each Microsoft browser:

Flash is currently disabled by default in the new Microsoft Edge. However, users may re-enable it on a site-by-site basis through December of 2020.

In January 2021, Flash will be fully removed from the new Microsoft Edge. The schedule of changes is available here.

Flash will not be disabled by default from the legacy version of Microsoft Edge (built on EdgeHTML) or Internet Explorer 11 prior to its removal in December of 2020.

To learn more about the end of support for Adobe Flash Player in the legacy version of Microsoft Edge and IE 11, please go here…
And this is what Google has to say about the end of Flash…
For 20 years, Flash has helped shape the way that you play games, watch videos and run applications on the web. But over the last few years, Flash has become less common. Three years ago, 80 percent of desktop Chrome users visited a site with Flash each day. Today usage is only 17 percent and continues to decline.

This trend reveals that sites are migrating to open web technologies, which are faster and more power-efficient than Flash. They're also more secure, so you can be safer while shopping, banking, or reading sensitive documents. They also work on both mobile and desktop, so you can visit your favorite site anywhere.

These open web technologies became the default experience for Chrome late last year when sites started needing to ask your permission to run Flash. Chrome will continue phasing out Flash over the next few years, first by asking for your permission to run Flash in more situations, and eventually disabling it by default. We will remove Flash completely from Chrome toward the end of 2020.

If you regularly visit a site that uses Flash today, you may be wondering how this affects you. If the site migrates to open web standards, you shouldn't notice much difference except that you'll no longer see prompts to run Flash on that site. If the site continues to use Flash, and you give the site permission to run Flash, it will work through the end of 2020.

It's taken a lot of close work with Adobe, other browsers, and major publishers to make sure the web is ready to be Flash-free…
Adobe announced the end of Flash in July 2017.  Web developers have had plenty of time to replace Flash content. So, hopefully, your favorite Flash sites have been updated and have replaced Flash content with HTML5 and they'll work great after December 31, 2020.