The Killer in Windows
If you're using Windows 7, Windows 8.x or Windows 10, this tip is for you.
If you've ever been faced with a non-responsive program that you simply cannot close or terminate no matter what you try, we're going to show you a way to kill it and force it to close. And it's not hard to do.
We are using Firefox as an example for this tip. You can terminate most programs this way.
I recently had a problem with Firefox, there were several tabs open and I could not close any of them, nor could I close Firefox.
In a situation like this, you can use a Taskkill command to close all instances of Firefox. Here's how:
a. Open a Command prompt. In Windows 7 type CMD in Start menu search and press Enter when it CMD appears at the top. In Windows 8x press Windows key+ S to open search, type CMD and press Enter. In Windows 10 type CMD in taskbar search and press Enter.
b. At the command prompt type:
taskkill /im firefox.exe /f
and press Enter. Make sure you type the command exactly as you see it above and leave the spaces exactly as shown above.  If you typed the command correctly, you'll see that every instance of Firefox has been terminated.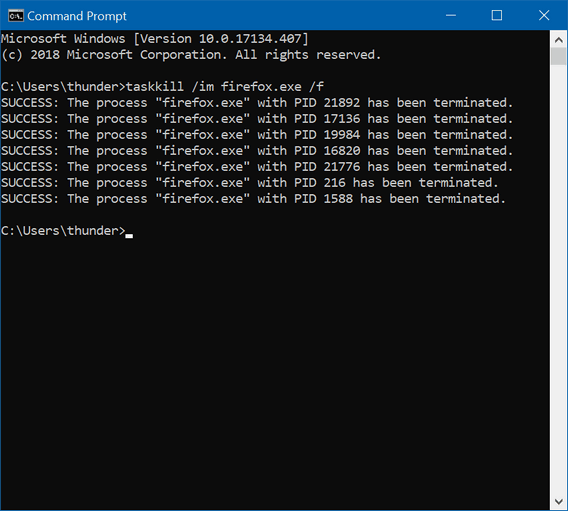 You can close most programs this way. Just substitute the program's exe for Firefox. For example: If Chrome is not responding, substitute chrome.exe for firefox.exe in the command. If Edge stops responding, substitute  microsoftedge.exe for firefox. If you're not sure what the name of the exe for the program you want to kill, open Task Manager and look in the list of processes.
Don't try to terminate Windows processes, system processes or you security software this way. It probably won't work and you could cause problems if it does. But for killing most programs than have stopped responding and you can't close any other way, you can kill them using Taskkill.
One more thing, Columbo: If you terminate a program like Word, Notepad, WordPad, any word processor or image editor this way, you'll lose any work you haven't saved.