The McScam: The Infamous McAfee Renewal Email
You've heard of Chicken McNuggets®, Egg McMuffin®, McCafe®, McChicken®, etc., right?  Well, folks, we are here to tell you about a different Mc and it's not from McDonald's®. It comes to you compliments of nefarious crooks and scammers all 'round the world. We call it The McScam.
The McScam is a scam email sent from a variety of email addresses such InternetSecurity <admin-stration@greybrokers.net>. But an address that it is not sent from is any email address ending in the domain @McAfee.com. That should be enough to startle your eyeballs and get those fingers moving quickly to click the Delete button without further reading.
However, a great number of people (hopefully, none of you in our fine Cloudeight family) have fallen for this scam. Enough people, in fact, to make it lucrative for the miscreants who send it. And they're making so much money from this scam that variations of it have become ubiquitous in inboxes far and wide. Funny thing, emails like this seem to get passed even the best spam filters, while legitimate emails like our newsletters are often blocked (Yeah, you Yahoo and, yeah you ISPs using Yahoo servers). Oh well, that is a topic unto itself. 
Anyway, dear friends, just keep an eye out for an email with a subject line similar to "Your Mcafee subscription_isExpired0fWB". Even the subject should send your fingers into DELETE mode… especially if you don't even use McAfee products.
The McScam spam email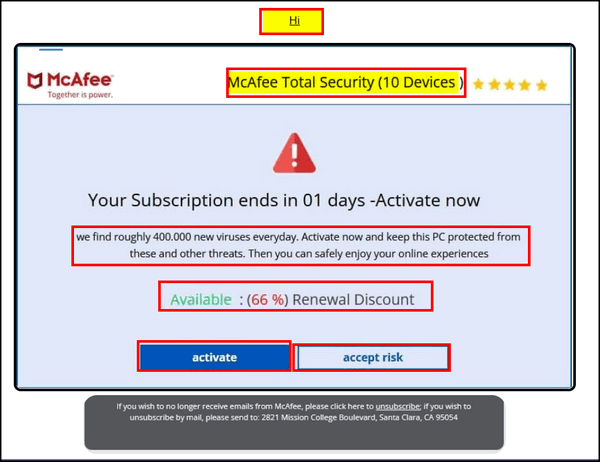 Things you should look for
Besides the obvious (the "Sent from" address and the salutation), we've highlighted things you should look for like "Hi". If this was a legitimate email and your subscription to McAfee was about to expire, don't you think it would say Hi Willie Milliken, or Dear Maggie Toussand – instead of just "Hi"?
"McAfee Total Security (10 Devices)"
Do you have 10 devices? Well, you might have 2 or 3 or 4, but 10? That should be another hint that this email is spam and a scam. 
Would McAfee actually write something like this?
As much as we don't care for McAfee products, we find it hard to believe that McAfee would ever write this:
"we find roughly 400,000 new viruses everyday. Activate now and keep this PC protected from these and other threats. Then you can safely enjoy your online experiences."
66% Discount? 
66% discount off of what price. These McScam emails often try to charge users $300 – $400 per renewal. But, please don't click anything in this scam email or the image embedded in it to find out. Just don't do it, OK?
Activate or face the consequences buddy!
The call to action, the crux of most advertisements is, in this McScam email, in the form of clickable buttons… "activate" or "accept risk". Of course, someone who believes this email is from McAfee would never click "accept risk", right? But beware, both buttons lead to bad places, so don't click! 
Now you know all about the McScam spam email
If you see the McScam spam email in your inbox you know what to do, right. RIGHT! Delete it… Delete it…Delete it! Don't click on anything in it, even if you are curious … beware and be safe!