The Ultimate Windows Startup Manager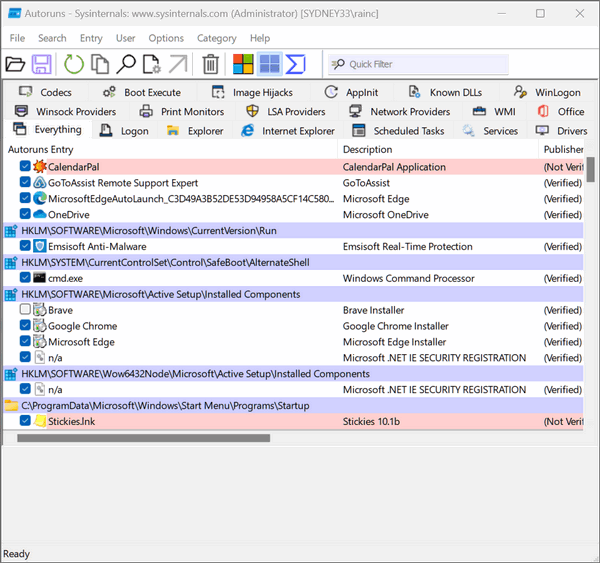 Above: Autoruns in action.
The ultimate Windows startup manager does not come with Windows, but it does come from Microsoft (SysInternals). It's called Autoruns. We've featured this utility a few years ago and it's only gotten better since then
What is Autoruns?
Autoruns is a powerful tool that allows users to view and manage the programs that automatically start on their Windows systems. It provides a detailed view of the various autostart locations on a Windows system, including the Windows registry, system services, and scheduled tasks, as well as the ability to disable or delete items that are not needed.
One of the things that separate it from other startup managers is its comprehensive view of autostart locations. It can display not only the standard autostart locations, such as the registry and the Startup folder, but also less well-known locations, such as the AppInit_DLLs registry value and the Image File Execution Options registry key. This makes it an effective tool for identifying and disabling malware that may be hiding in these less-common locations.
Another useful feature of Autoruns is its ability to verify the digital signature of the items that it displays. This can help users to identify and remove unsigned or malicious programs that may be running on their systems.
The interface of Autoruns is clear and easy to use. Users can easily navigate through the various autostart locations and view detailed information about each item. The program also provides a search function, which makes it easy to find specific items.
And another plus… Autoruns uses VirusTotal to help identify malicious processes churning away in the background on your computer.  
And being us of course, we just can't resist letting the developers tell you about their program…
"This utility, which has the most comprehensive knowledge of auto-starting locations of any startup monitor, shows you what programs are configured to run during system bootup or login, and when you start various built-in Windows applications like Internet Explorer, Explorer and media players. These programs and drivers include ones in your startup folder, Run,RunOnce, and other Registry keys. Autoruns reports Explorer shell extensions, toolbars, browser helper objects, Winlogon notifications, auto-start services, and much more. Autoruns goes way beyond other autostart utilities.

Autoruns' Hide Signed Microsoft Entries option helps you to zoom in on third-party auto-starting images that have been added to your system and it has support for looking at the auto-starting images configured for other accounts configured on a system. Also included in the download package is a command-line equivalent that can output in CSV format, Autorunsc.

You'll probably be surprised at how many executables are launched automatically! "
If you're a stickler for keeping your startup programs in check, you owe it to yourself to give Autoruns a try. It's completely free and completely free of trickery and malware.
ONE MORE THING: What can you disable?
We want to clear this up right now. Every time we feature a startup manager we get dozens of people asking us "how do I know what I can disable?" The answer is: Do some homework. Google the item you are considering disabling and find out what it is and what it does.
Generally don't disable anything with Microsoft in its name and don't disable your antivirus/antimalware program. If you use a backup program, even if it's cloud-based like OneDrive, Google Drive, or any one of the many others, you shouldn't disable it from starting with Widnows.

You can read more about and download the latest, greatest version of Autoruns from here.
Instructions for opening Autoruns
Download the zip file and unzip it. Right-click on Autoruns64 and choose "Run as administrator" 
If you're one of the few still running a 32-bit version of Windows, right-click on "Autoruns" and choose "Run as administrator".