Time to Take Ownership
File and folder permissions are normally set to protect your computer from unwanted actions. But when Windows denies you access to a folder or a file you want to delete and it won't let you, it's aggravating.  Files which you know exist but are not accessible because Windows says you don't have permission to access them is maddening! Trying to delete one of these kinds of files is time-consuming and frustrating.
When you try to delete something and you get an "Access Denied" or a "Cannot delete this file because the file is in use" error message, you just want to throw up your hands up in dismay or kick your computer. Don't do either.
Instead, man-up (even if your a lady) and show Windows who's the boss. Take ownership of the file or folder and have your way with it.
We've mentioned other programs that can assist you with these aggravating error messages but we've never found one easier to use or with a better interface than Take Ownership Pro. And while its name has Pro in it, the price does not – it's freeware, I tells ya!
And, once you've installed the program you can just, drag and drop a file or folder on to it, or browse to the file or folder using the "Add" button. And if that's not enough, also have the choice of right-clicking on a file or a folder and choosing "TakeOwnershipPro" from the right-click menu. Something else: If you choose a folder, you can also choose to edit the permissions of all the files and sub-folders inside the folder. Boo-ya!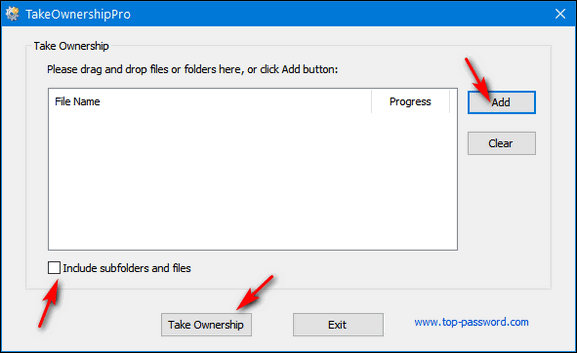 It doesn't get much simpler or minimalistic than this, does it?
Once you have your file or folder selected, just press the Take Ownership button and give Take Ownership Pro some time to work its magic. Once Take Ownership Pro has done its job, an on-screen prompt will let you know the operation was successful. Now that you own the file or folder for real you can delete or access it.
Here's some info from the  program's site:
"Take Ownership & Gain Full File Access

TakeOwnershipPro is a nice freeware that helps you take ownership and grant full permissions of any folders or files in Windows. Simply drag and drop your folder / file to the program and you can grant yourself full control permissions quickly.

This program also adds the "TakeOwnershipPro" option to the right-click menu in Windows Explorer, which that makes this process easier! Absolutely free. Take ownership of your files from right-click context menu. Supports all Windows system (32-bit & 64-bit).

Key Features & Benefits

– Simple and intuitive graphic interface.

– Drag your desired folders or files to the program and you can grant yourself access rights quickly.

– Easily take ownership through right-clicking the folders or files that you're denied access.

– Fix the "Cannot Delete" or "Access Denied" problems even though you was logged in as the Administrator. 

– Take ownership of multiple folders or files at one time.

– TakeOwnershipPro is 100% free for both personal and commercial use.

– Compatible with Windows 10, 8, 7…

– Full install/uninstall support…"
Well, that's about it folks. We tested Take Ownership Pro on 9/12/2019 and found no monkey business going on with its Web site or download links –  and no added junk or PUPs in the installer. It was 100% clean.
Now go forth and take ownership of your files and folders!
Visit this page to download or learn more about TakeOwndership Pro.