Tutanota: Anonymous Email for Everyone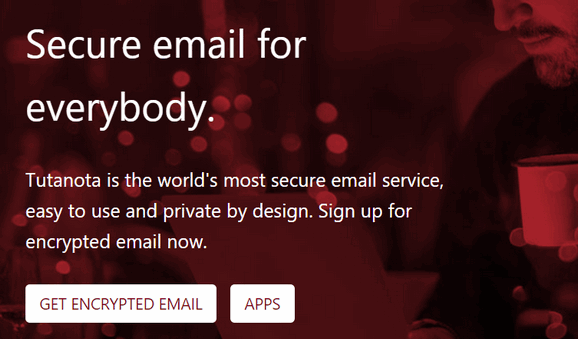 We've already reviewed and recommended Swiss-based Proton Mail as one of the best anonymous email services. In our quest to help you find some modicum of privacy on the World Wide Web of data breaches, ransomware attacks, endless hacks, and let's not forget spying by governments and government agencies, we've found another excellent anonymous email service you may want to check out. It's called Tutanota
Tutanota is a top choice of cybersecurity and privacy experts. Tutanota uses its own unique encryption standard to encrypt your entire inbox, including the subject lines of your emails and your contacts list.
According to Tutanota:
"With end-to-end encryption and 2FA, your emails have never been more secure. The built-in encryption guarantees that your mailbox belongs to you: Nobody can decrypt or read your data…

"Our apps for iOS, Android & desktops let you send secure emails wherever you are. Our fast web client & apps make sure email encryption is a pleasant experience…"

"Tutanota is open source so security experts can verify the code that protects your emails. Our Android app is Google-free making Tutanota the best open source email service…
Signing up for a Tutanota email account
First, you must agree that you will only sign up for one free Tutanota account and that you won't use it for business. If you want to use it for business email you're required to sign up for a paid account. But we're only recommending Tutanota for personal use since we're not going to use it for business.
No personal information needed
You don't need to enter any personally identifiable information to create your account. You are not asked for a contact phone number or an alternate email address. Instead, you'll be sent a recovery code you can copy and paste into a text file and save or print. We recommend you save it in a text file since you can't copy & paste very easily from a printed document.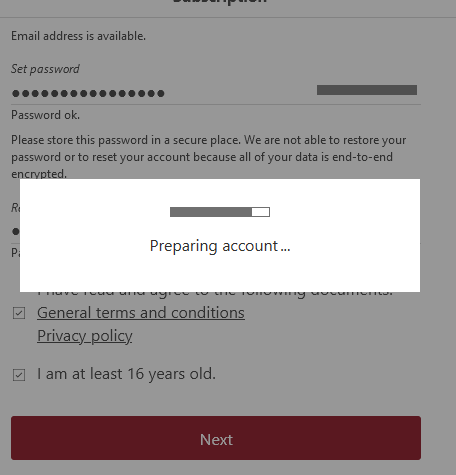 And the free plan gives you a generous 1GB of storage for your emails, contacts, and attachments.
After you sign up for Tutanota
After you complete the signup and open your inbox, you'll see two messages from Tutanota.
Message #1…
"Welcome to your secure and ad-free Tutanota mailbox, protected with strong encryption. Tutanota makes switching from other email services easy. Our intuitive web client, apps for Android & iOS, as well as desktop apps for Windows, Mac OS, and Linux enable you to access your secure mailbox on any device…

Tutanota follows 4 principles to offer a privacy-friendly alternative

— Tutanota does not track you.
— Tutanota cannot scan your data.
— Tutanota encrypts your entire mailbox, contacts & calendar.
— Tutanota incorporates privacy by design.
Message #2…
"Tutanota lets you send encrypted emails to any email address in the world – automatically if the recipient uses Tutanota as well, or via a shared password if the recipient uses another service. Even emails sent or received unencrypted are stored encrypted on our own servers based in Germany…"
Being in Germany means Tutanota is protected by The German Federal Data Protection Act – a modification of the general EU GDPR law. It prohibits the collection and use of personal data unless the law specifically permits it or you have given your informed consent. Since Tutanota has a zero-knowledge architecture, even if you were a target of German authorities, the only information they'd have on you would be the time you went on/offline.
And oh yes! We tested Tutanota. Its default settings allow you to send encrypted emails to anyone. But listen up! If you're going to send encrypted messages you must first create a password and share it with the recipient so they can decrypt and read your email – otherwise, no happiness will ensue. But remember it also means that your message can be read only by the recipient. No other prying eyes will be able to read it.
It's easy to change the default settings to "non-confidential" if you want to make things easier by not having to create and share a password for every email.  And remember, even if you do switch to "non-confidential" your emails are still vastly more private than if you sent them with let's say Google, Outlook.com, or Yahoo Mail.

Above: Tutanota's default setting is to send with end-to-end encryption. This requires you to create and share a password with the recipient(s) so they can read it.
If you send an email with end-to-end encryption to someone who does not use Tutanota mail, they'll see something like this.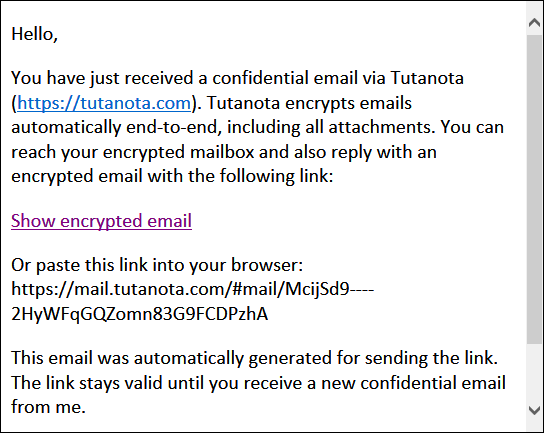 Now if you're a hacker and you think you're going to read the email by copying the link plainly visible in the image above, be my guest.  You don't have the password I created so you won't be able to decrypt and read the message.
And remember, the end-to-end encryption means that email sent from Tutanota users to non-users, requires the recipient to use a password to read your email. This means (and this is important), you must give your recipient the password you created for them before you send them the email. This password decrypts the email and ensures that it can only be read by the intended recipient.
Switching back and forth between Confidential and Not confidential modes is easy
To switch between the default Confidential mode to Not confidential mode, do this:
Under "USER SETTINGS" click "Email". Under "Default delivery" use the down arrow to choose "Not confidential".
If you switch to "Not confidential" your email remains private, but not encrypted end-to-end. After you change your settings to "Not confidential" you'll see "This message will not be sent end-to-end encrypted".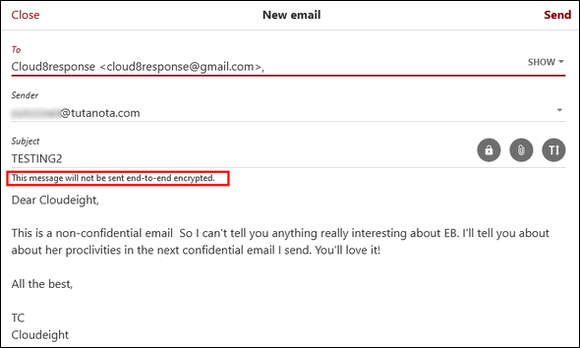 And when your recipient(s) receive the mail it will look like any other email – they can read it without using a password to decrypt it.
Tutanota can be used on virtually any device…

If you're looking for more email privacy, visit Tutanota and learn more about its services or signup for a free Tutanota account