Two New Services Being Offered by Cloudeight
As COVID-19 continues to disrupt life around the world, and more and more people are sheltering in place and practicing social distancing, we are committed than ever to helping you stay connected and keeping you safe in the online world. Today we are announcing a new affordable service for students and those who work from home, called Cloudeight Critical Checkup. We are also adding a new free service for those who have a Cloudeight Senior Pass.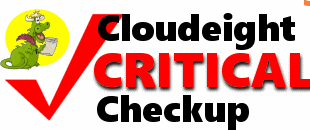 Please share this offer with friends, family or co-workers that may find this useful
Special pricing for students and those who are working from home
Our new Cloudeight Critical Checkup service was created to help students taking classes online or those working remotely from home.  We are now offering discounted student/home worker pricing for our new Cloudeight Critical Checkup service. We'll check your computer/laptop for any malware/problems, make sure your computer security is up to date, check your browser for problematic extensions and potential privacy issues, plus we'll optimize your system for better performance. And… if you do not have anti-virus/anti-malware protection, we'll install Emsisoft and give you a 90-day complimentary license

We will remotely access your computer – you never have to leave you home. You can watch us work on your PC and see what we are doing at all times. You'll also be able to chat with us and ask questions via a convenient in-session chat-box.
If you are a student taking classes online, if you're working remotely from home, or if you have a friend or family member who is a student or working from home, please share this with them.

Get all the details and discounted pricing on our new Critical Care service.

Attention Cloudeight SeniorPass Holders! Announcing our new SeniorPassTelephone Hotline Service
During this global crisis, we are offering a special telephone hotline service to all Senior Pass holders. There are many reports of Covid-19 scams targeting seniors, so if you are approached or encounter something suspicious, you can use our hotline to discuss and we check into it and do all we can to help you.

If currently have a SeniorPass, all you need to do is contact us. Send us your telephone number and a brief message describing your problem and we'll call you back during normal business hours.

If you don't yet have a Cloudeight SeniorPass and you'd like to know more about our SeniorPass, please see this page.

Please note: Currently, our telephone hotline service is only available to SeniorPass holders in the U.S.A.due to international call restrictions.

With hope and prayers, may you and your loved ones stay safe and well.

Your friends at Cloudeight,
Darcy and TC