Two Windows 10 Features You May Not Know About

Mobility Center
Where can you find controls for screen brightness, battery settings, volume,  external displays, and more all in one place? Well, yes the taskbar does show most of these settings, but if you're curious you want to know another way, right?
It's easy. Just type MOBILITY into taskbar search and press Enter when Mobility Center appears in the search results.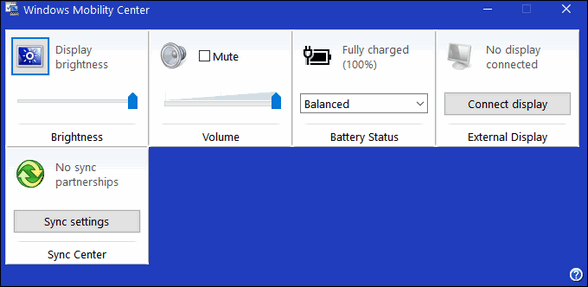 Yes… Windows 10 still has the old Mobility Center that was in Windows XP, Windows Vista, Windows 7 and Windows 8.   You can adjust your screen brightness, sound volume, check battery settings,  and more in the Mobility Center. If you're using a laptop, you may find the Mobility Center useful.
---
WIPE OUT! Cipher.exe
When you delete files or folders in Windows, they're not actually deleted. Not even close. Deleting a file or folder merely tells Windows that the space occupied by the file or folder that you deleted is now available for use, and Windows considers it free space, space to be used.
So everything you delete is still on your computer, but the hard drive space it used shows as free space. That means the files you deleted are very recoverable… at least for a while. In fact, with the right software, everything you've ever had on your computer, every word you've typed, every picture you've saved and deleted, everything is recoverable.
There's a hidden utility in Windows that will overwrite all the free space and make the files you've deleted unrecoverable. It's called Cipher.exe and all it takes is a simple command to run it.
Press the Windows Key plus the "R" key and type:
cipher /w:C (where C is the letter of the drive you want to wipe). So if you want to wipe drive C, type: cipher /w:C . If you want to wipe drive D, type cipher /w:D . Please note the space between the word cipher and the forward slash.
Also, it's important to note that wiping the free space on your drives does not affect any of your data or programs. It does not delete anything… it merely wipes the space occupied by files you have deleted and that Windows shows as free to use. You won't lose any data by doing this.
One more thing: If you have a very large hard drive with a lot of free space, this process is going to take a long time, so be prepared. Also, closing all open applications while the free space is being wipes helps speed up the process. So the best time to do this is when you're not planning on using your computer.