Uninstalr – A Free and Powerful Uninstaller
I had to look at its name a few times before I realized its name is Uninstalr, at first glance it looked like UnistaIr (Uninstair with a capital I). And had it not been for one of our readers, Gabrielle, we would have never known about this unique program.
Uninstalr is free, but it's also very powerful, and you have to know a couple of things before using it or you might not like the outcome.
Uninstalr will automatically close all open programs when it begins its uninstall routine

Uninstalr will automatically restart your computer when it's done installing whatever you've uninstalled.
These are not necessarily bad things, but if you're not aware of them, you could lose whatever you were working on when you clicked the "Uninstall…" button. You can override these two options, but the point of using Uninstalr is to completely remove apps/programs and leave no pieces/parts of the app/program behind.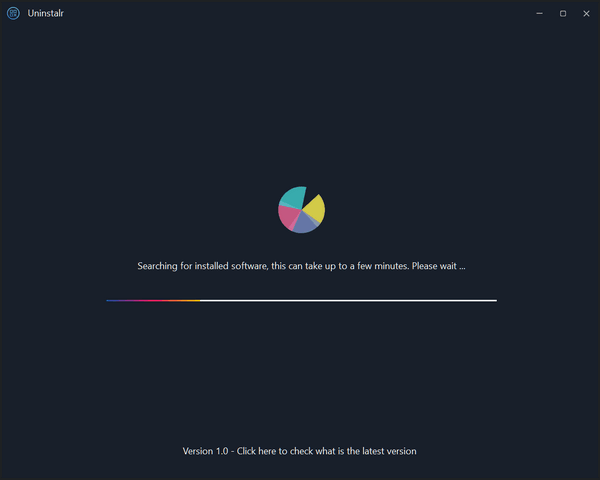 While Uninstalr does not have a lot of features, like HiBit Uninstaller, it is a very powerful uninstaller that removes more leftovers than any other uninstaller we've tested. Uninstalr can even show you leftovers from programs you've previously uninstalled.
Here's a screenshot from the developer's site (all the rest of the screenshots here are from our software testing) showing leftovers from programs previously uninstalled using other uninstallers.
When you open Unistalr, it shows how many programs you have installed, how much disk space those programs occupy, and how many files, folders, and registry entries are related to the installed programs. Take a look.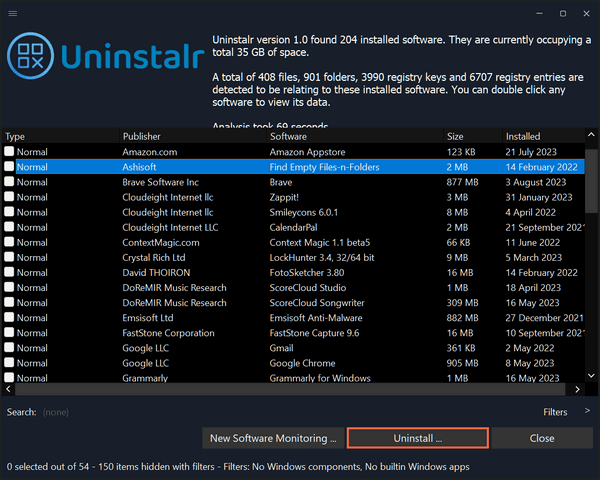 I really don't want to uninstall "Find Empty Files-n-Folders", but the screenshot below shows you an example of how much detail Uninstalr shows about every program installed on your device.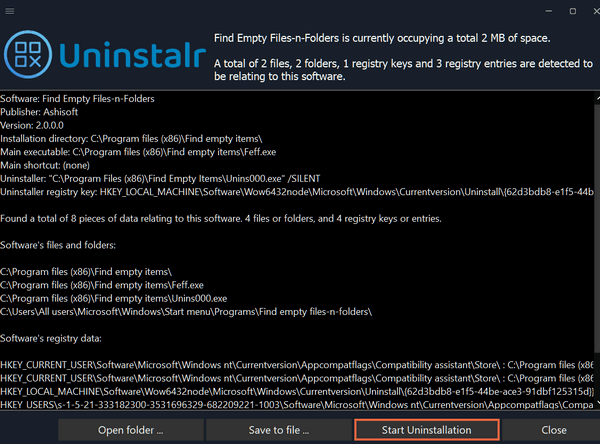 So now that you've seen you can get info about any program installed on your PC, let's go ahead and uninstall a program. 
For this text, I've chosen a program I want to uninstall. I downloaded Epic Privacy Browser a long time ago only to test it and forgot it was still installed. Housecleaning time! Uninstalr tells me that Epic has created 10 files, 3 folders, and 82 registry keys and entries.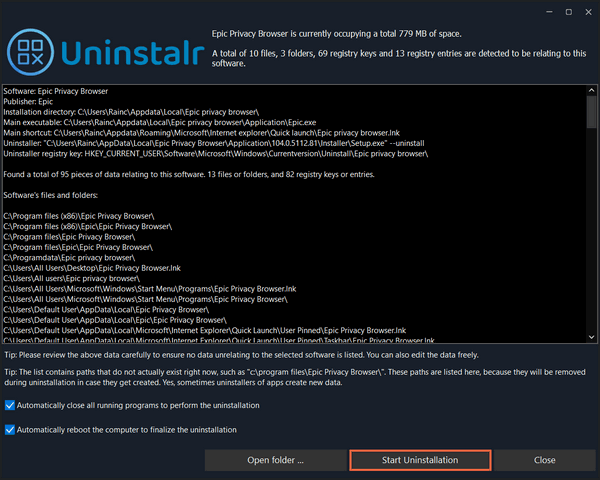 After I clicked "Start installation", Uninstalr did its thing. It closed all open programs and when it was done installing Epic Privacy Browser, it rebooted my PC.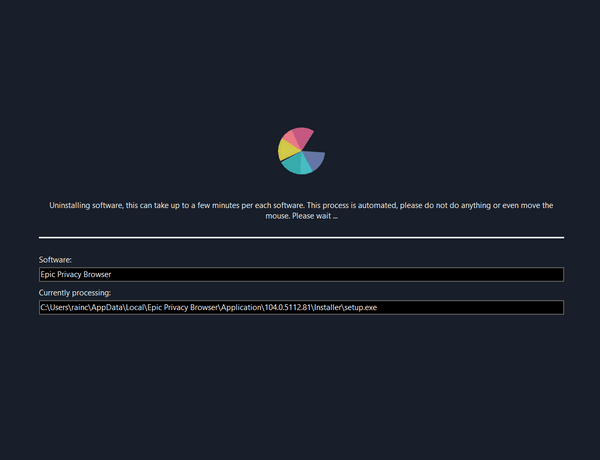 It took about five or six minutes to complete the process and when it was done there were no traces of Epic Privacy Browser on my PC.
Before we let you go and try Uninstalr, we will let the developer have a word with you…
Uninstalr is an easy to use and very accurate software uninstaller for Windows. It can uninstall multiple apps at the same time and we think it's pretty cool.

Key Features
Batch uninstall many apps at the same time.

Supports unattended uninstallation of apps.

Supports monitoring of new software installations.

Also detects portable apps and previously uninstalled software leftovers.

Shows all the data added to your system by installed software on a file-by-file basis.

Shows all the data it will remove before starting the uninstallation.

Filter and search the list of installed software.

According to our benchmark, Uninstalr is the most accurate software uninstaller by leaving the least amount of leftovers when uninstalling apps.

Supports detection and uninstallation of Microsoft Store, Steam, Big Fish Game System, Chocolatey, NuGet, and Ninite installed software.

Supports Windows Dark Mode.

Supports Windows 11, 10, 8 and 7.

Comes with these translations builtin: Chinese Simplified, Chinese Traditional, Czech, Danish, English, Filipino, Finnish, French, German, Greek, Hindi, Hungarian, Indonesian, Italian, Japanese, Korean, Malay, Norwegian, Polish, Portuguese, Romanian, Slovak, Spanish, Swedish, Thai, Turkish, Ukrainian and Vietnamese.Has a single executable file portable version and a normal setup version.

Uninstalr is freeware, lightweight and easy to use. No bells and whistles, no-nonsense.
If you're looking for a powerful, free, thorough uninstaller that removes all traces of whatever you uninstalled, you might want to add Uninstalr to your arsenal of uninstallers. It's not fancy, and it doesn't have a ton of other features and options like HiBit Uninstaller, Reg Organizer, or some of the others, but it does uninstall programs and apps completely – without leaving a trail of leftovers behind. Plus the batch uninstall feature is a real time-saver if you've got more than one program you need to uninstall.
Take some time and visit Uninstalr's home page to learn more about Uninstalr and download a copy for yourself.  It comes in two flavors – Portable (which doesn't install – you just download it and run it) and an installed version that installs on your PC.