Use the Battery Power Icon to Adjust Screen Brightness, Open Power Options and More
This tip applies to laptop computers running Windows 10
Did you know that that the battery power icon in the notification area of your laptop is good for more than telling you how much battery power you have remaining? Indeed it is. From the Battery Power Icon you can also:
1. Adjust screen brightness
2. Open Power Options
3. Open Windows Mobility Center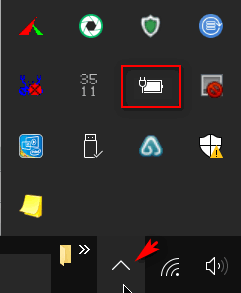 If your battery power icon is not already showing on your taskbar in the notification area (the area of the taskbar just to the left of the system clock), click on the up "arrow" (see above) to expand the taskbar, then right-click on the battery power icon (see above).
When you right-click on the battery power icon, you'll see you have 3 option in the menu that appears. You can "Adjust screen brightness", access "Power Options" or the "Windows Mobility Center".
If you didn't know those options were there, then you learned something new – and that's a good thing!