When It Comes to the Creators Update, Patience is the Key
NOTE: This was written for the April 2017 Creators Update (Version 1703)… but it applies to all Windows 10 Version Updates. Many problems with the update are caused by thinking the update has stopped or frozen and restarting the computer before the update is completed. This ends up causing a myriad of problems. So, patience is the key. This article applies to all version updates including the April 2018 Update (version 1803) released May 1, 2018.
Darcy set up Creators update a week ago, but I decided to wait until the weekend, when not much is going on, to update my work PC. I'm glad I waited.
As most of you know, Microsoft began rolling out the Windows 10 Creators Update on April 11, 2017, and as of today, most Windows 10 users are still waiting for the update. It will eventually be delivered to every Windows 10 user via Windows update, unless the user has chosen to delay the update (available only on Pro and Enterprise editions) or is using the metered connection tip (discussed here) to delay the update.
11:45 AM Saturday
I checked my Windows update, but found that the Creators Update was still not being offered to me via Windows update. So, I downloaded the Windows 10 update assistant from Microsoft (available here).
It was a quick and easy download. I double-clicked on the upgrade assistant and it started downloading Windows 10 Version 1703 (Creators Update). It took a while to download since the file is over 3 GB. Once it had downloaded, the upgrade assistant checked the integrity of the download and all was ready to go. I followed the easy on-screen instructions ( I clicked "Next" a couple of times ) and the installation began.
1:05 PM Saturday
An hour after the update started to install, Windows update assistant told me the update was 17% complete. It was slow going for sure. I looked at the clock and it was now a little after 1 PM. I didn't feel like sitting around watching the update's progress, so I went and had some lunch at a cheap 🙂 restaurant about a half hour away from my home. After lunch, I drove home and looked at the clock:
2:40 PM Saturday
I checked my PC and Windows showed that the update was 87% complete. The little circle animation on the screen was spinning around and around so I figured, no problem, it's still installing.
3:10 PM Saturday
A half an hour later i came back, and it still said it was 87% complete? Was it frozen in spite of the spinning circle animation put there by Microsoft to make me think all is well?
I decided to wait.
3:40 PM Saturday
I came back and checked again – still at 87% complete. Hmmm…I made the decision that I would wait one more hour and, if it still said 87% complete, I would declare it frozen. Then I would shut down and restart my computer… and hope Windows would revert to my previous version of Windows without any problems.
4:10 PM Saturday
Still 87% complete; animation still spinning 'round and 'round.
4:45 PM Saturday
I came back and checked my computer expecting to see 87% complete and, YAY! I saw that progress has been made. Not much progress, but Windows now told me that the update was 91% complete. And the animation was spinning round and round.
Patience is a virtue!
5:10 PM Saturday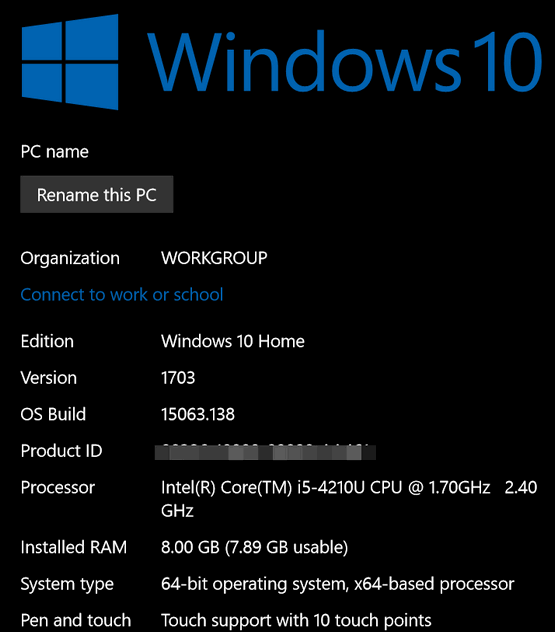 Hooray! Windows 10 Creators Update was successfully installed. I was presented with a screen full of privacy options – a list of on / off switches where I got to choose how much data I wanted to share with Microsoft – I turned all the switches off, despite Microsoft telling me how much more wonderful my Windows experience would be if I left them all switched on.
The next screen offered help in setting up my PC, with Cortana ready to "Talk" me through it. There was not much to set up, my computer looked exactly like it did over 5 hours before, when I started this long journey. All my desktop icons were there, all my programs were there, all my files were there, but it was definitely Windows 10 Creators Update. There are some pretty big differences, but no earth-shaking ones, if that make any sense to you.
Darcy updated her PC (clean install) in about an hour. I updated mine and it took over five hours.I have a fast processor and 8 GB of RAM – my work computer, while not a powerhouse, is probably what you'd call a middle-of-road PC.
Here's the moral to this story: If you are going to do a major upgrade like Windows 10 Creators Update, then allow plenty of time – don't be in a rush, and do not assume that because the upgrade looks like it's stuck, that it is.
Be patient, and if your update goes anything like mine, your patience will be rewarded with a hassle-free upgrade, albeit a very time-consuming one.
---
---

Buy a Season Ticket During our Memorial Day Sale and we'll give you a lifetime license for FastStone Capture – the only screenshot tool we use!
Get unlimited computer repair sessions for one full year for just $99. EVEN MORE SPECIAL – if you buy a Season Ticket during this special sale, we'll give you FastStone Capture FREE! Help us and get one full year of computer care PLUS a lifetime license for FastStone Capture – the screen shot tool we use for all our screen shots – all for just $95. You can't beat that price! Get more info and/or your season ticket here.
One Year Emsisoft License With FREE Installation & Set-up
Some of you still aren't using Emsisoft… so we're making you an offer you can't refuse! If you're not yet using Emsisoft, here's your chance to get the best protection you can buy and we'll install it and set it up for you FREE. See this page for all the details.
Help us by making a small donation
Don't need any of the products or services we offer right now? Please consider making a small donation. We would appreciate it very much! Visit this page if you would like to help us with a small donation.  
If you'd like to make a recurring monthly donation, please visit this page .
Thank you so much!