Which Is Worse: Driver Updater Programs or Malware?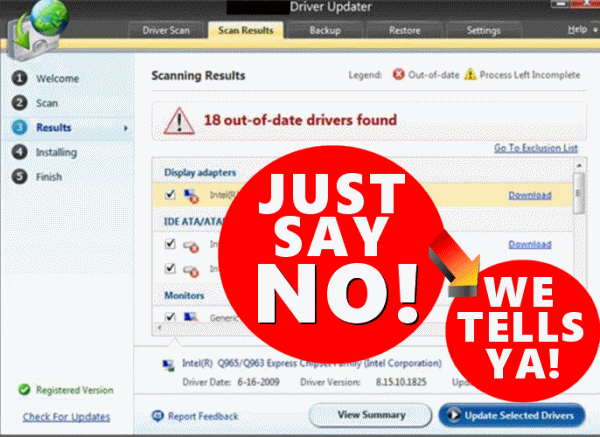 This question crossed my mind this morning as I was working on 2 different PCs, owned by 2 different people, in 2 different countries, who both were experiencing some really bad Windows problems. What did these two PCs have in common?
These two  PCs had one thing in common – they both were using driver updater programs.
Darcy and I have been using Windows since Windows 3.1 (yes, there was such a thing), and we can't ever remember a time when driver updater programs were necessary. Then again, Windows was pretty bad back in the Windows 3.1, Windows 95, Windows 98, Windows ME era, so perhaps they may have been of some use in those days. Back in the day, we used to keep our fingers crossed every morning when we booted up our PCs. There was better than a 50/50 chance they wouldn't boot. And if our PCs would not boot, we knew we would have to spend the next 2 or 3 days reinstalling Windows and getting everything back up and running again. But, you back then you got used to it and expected it. So we had all our floppy disks (remember those?) and CDs (yes,Windows used to fit on a CD) ready to go for the reincarnation of Windows and getting our PC working again.
I can remember (and so can Darcy) that, back in those days, the hardest part of getting Windows working right again was getting back online – particularly Windows 95. But all that being said, I don't think either of us recall ever needing a driver updater — even back in those dark ages of Windows.
We can tell you with much certainty, that from Windows XP through Windows 10, driver updaters have been among the most often downloaded and among the most useless programs on the Web.
I digress.
The two computers I referenced at the beginning of this article, although located in different parts of the world and owned by two different people, both had problems caused by driver updaters as well as malware. And even those two, the driver updaters and the malware are related Many so-called "free" driver updates, are "free" because they come bundled with all manner of malware. So, I was pretty sure that some or most of the malware on these to PCs came from malware bundled with the driver updater software.
Driver updaters are not only worthless, they can and do cause problems with Windows PCs.
First of all, you don't need a driver updater to tell you that you need a new driver. The only time you ever need to update a driver or drivers is if a hardware device (printer, sound, etc.) is not working correctly. Installing new drivers just because new drivers are available, is unnecessary, and can be a recipe for disaster.
If you have a hardware device that is not working properly,  you can get the correct driver from the device's manufacturer. When you visit the hardware device manufacturer's website, make sure you know the version of Windows you're using and the name / model of your hardware device. Then download and install the correct driver directly from the manufacturer.
If you're not having any problems with your hardware devices, there's no reason to update your drivers – even if new drivers may be available.
Don't be tempted to  install a driver updater because you think it's going to make your computer run better or it's going to make it easier for you to keep your drivers updated. Driver updaters are unnecessary and many times can cause problems with your PC.
Remember: In the world of computer software, less is often more.
So, be smart and leave those driver updaters alone, we tells ya!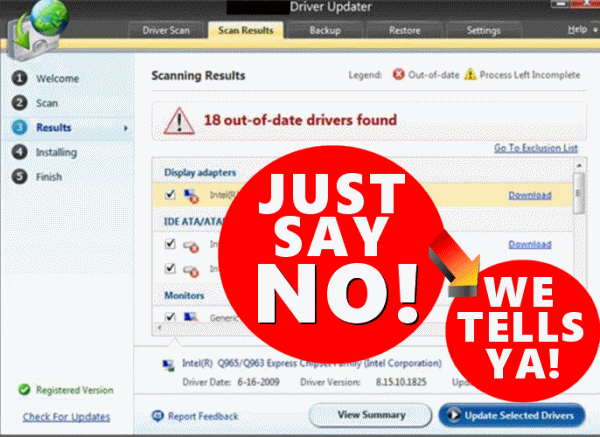 ---

Donations help us continue our mission to keep you informed, separate the truth from the hyperbole, and help you stay safer online. We provide support to thousands of people. Every week we help dozens of people via email at no charge. Thanks to donations, we do a lot more than provide this free newsletter. We help you recognize online threats, fight for your online privacy, and provide you with the knowledge you need to navigate the Web safely, and help you get more out of your PC.
Help us keep up the good fight with a small donation.
It's the beginning of a new year, and we really need your support.  We hope you'll take a few minutes today and help us with a small donation. 
After you donate, you will receive info on how you can become a Cloudeight Booster.
Help us keep up the good fight with a small donation.
We would really appreciate it.