Windows 10 File Explorer Tips

Here are a couple of easy Windows 10 File Explorer tips for you.
Windows 10 File Explorer Navigation Made Easy
When using Windows Explorer to navigate through folder levels, each of the levels is shown in the "address" bar. In the example below, EB is looking at a folder located at
This PC (computer) > Documents > Cloudeight > Help and Signatures files.
Each of those levels is clickable. For instance, by clicking on "Documents", "Documents" will open.  By clicking on "This PC", you'll go back to "This PC".  Each level shows in the "address" bar and each level is clickable. That means you don't have to go back one level at a time, you can go back several levels or back to "This PC" all with one click.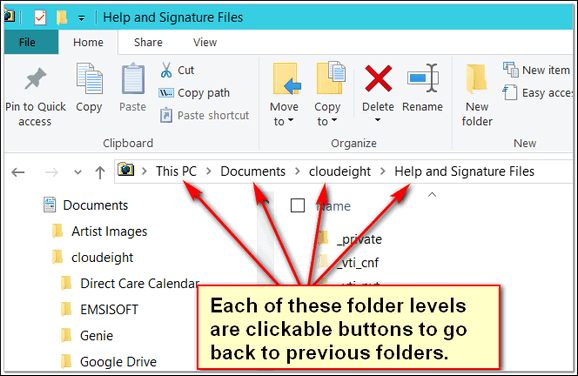 How to show or hide the Windows 10 File Explorer ribbon
Sometimes you feel like a ribbon and sometimes you don't.  Whether you like the "ribbon" in File Explorer or not, you will be glad to know that it's easy to show or hide it.
The simplest way is when File Explorer is in focus (on top). Just press CTRL+F1. If the ribbon is showing, CTRL+F1 will hide it. And if it's hidden, CTRL+F1 will show it. How easy is that?
You can also use the little arrow hiding just to the left of the question mark to hide or show the ribbon.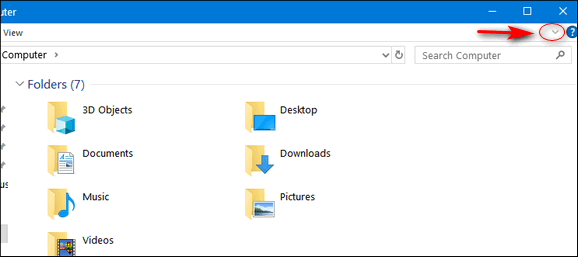 See? Whether your like or hate the File Explorer ribbon, you can hide or show it very quickly and easily.
Note for laptop users: You may find CTRL+F1 doesn't hide or show the ribbon. You may find that it opens the Narrator. If this happens to you, press CTRL+Fn+F1 and that should show the ribbon in Windows 10 File Explorer.