Windows 10 Tip: Print Thumbnails of All Pictures in a Folder 
Back in the day of film photography, there was something  called a contact sheet. A contact sheet was a single print of everything on a roll of film. In the age of digital photography, Windows 10 makes it easy to print a "contact" sheet of thumbnails of all pictures in a folder. And it's really easy to do.
With its default settings you can print 35 thumbnails on a single sheet of standard size printer paper — which in the USA is 8.5 inches by 11.0 inches. If you have more than 35 pictures in a folder, it will print them on another sheet of paper. For instance, if you have 100 pictures in a folder, 35 thumbnails will be printed on the first piece of paper, 35 on the second and 30 on the third.
If you've ever wanted to print quick contact sheets of all pictures (as thumbnails) in a folder, here's how to do it on Windows 10:
Open the folder which contains the pictures you want to use to make your contact sheet.
Select the pictures you want to be on the contact sheet. If you want all the pictures in a folder, select one picture then press CTRL+A.
When all the pictures you want to print as thumbnails on a contact sheet are selected, right-click on one of the selected pictures and choose "Print" from the right-click menu: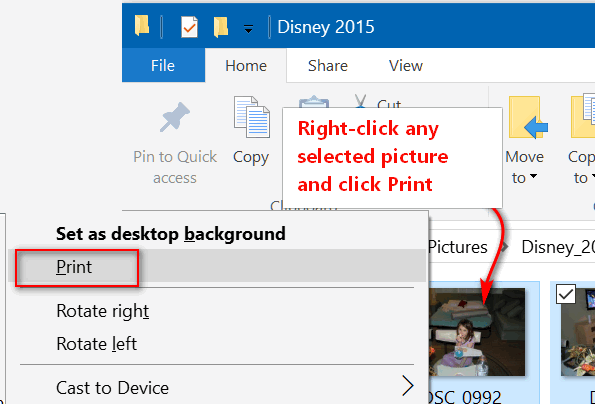 The Print Pictures dialog will open. Your printer will be selected. You can choose Paper size, Quality, and Paper type. The defaults on this computer are "Letter" for the size, "Normal" for the quality and "Plain paper" for the paper type . You can adjust these to your specs.
From the icon menu on the right in the "Print Pictures" dialog, choose "Contact sheet" (the bottom icon in the menu):
When you click the "Contact sheet" icon you'll see a preview of your contact sheet appear in the window. This is a preview of the first page of thumbnails.  For this tutorial I chose 35 images in a folder… that is one printed sheet.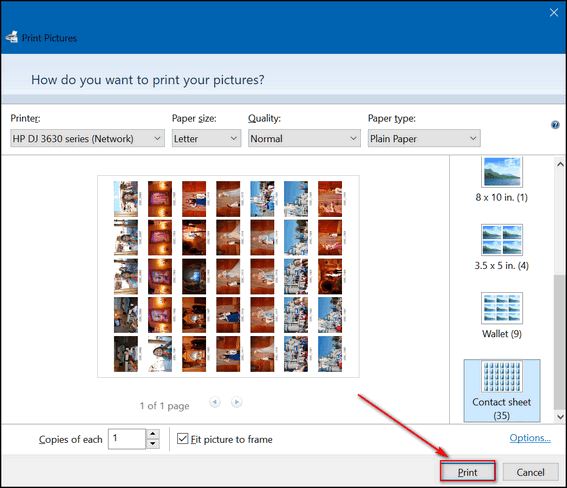 Choose the number of copies of the contact sheet you want to make and click the "Print" button to print your contact sheet.