Windows 7 Users Will Soon Start Seeing a Windows 7 End-of-Life Notification
Many of you are still using Windows 7 – and that's fine. You still have until January 2020 to use Windows 7 safely. This is a heads up for all Windows 7 users about a new Windows 7 End-of-Life notification that's coming your way soon.
Starting on April 18, 2019, Windows 7 users will begin seeing periodic notifications reminding them that Windows 7 will reach its end-of-life on January 14, 2020. The notifications will contain a "Learn more" link to a Microsoft page which contains information about the end of support for Windows 7 and recommending Windows 7 users upgrade to Windows 10.
The "Learn more" page says, among other things:
"…While you could continue to use your PC running Windows 7, without continued software and security updates, it will be at greater risk for viruses and malware. Going forward, the best way for you to stay secure is on Windows 10. And the best way to experience Windows 10 is on a new PC. While it is possible to install Windows 10 on your older device, it is not recommended…"
The text in the notification above reads as follows:
After 10 years, support for Windows 7 is nearing the end.
January 14, 2020, is the last day Microsoft will offer security updates and technical support for computers running Windows 7. We know change can be difficult, that's why we're reaching out early to help you back up your files and prepare for what's next.
If you don't want to keep receiving these Windows 7 End-of-Life notifications, keep on reading.
Don't want to keep receiving these End-of-Life notifications? Then be sure to check the box next to "Do not remind me again."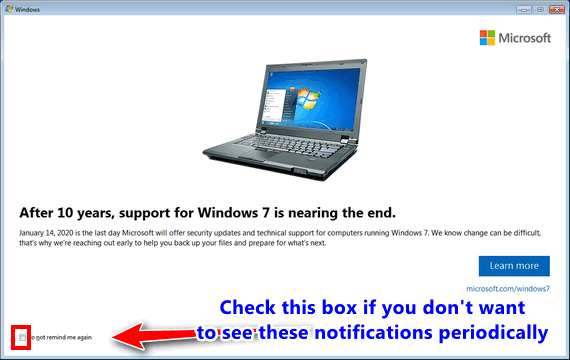 Below: A close-up. Check the box just to the left of "Do not remind me again" if you don't want to see these notifications pop-up on your computer periodically.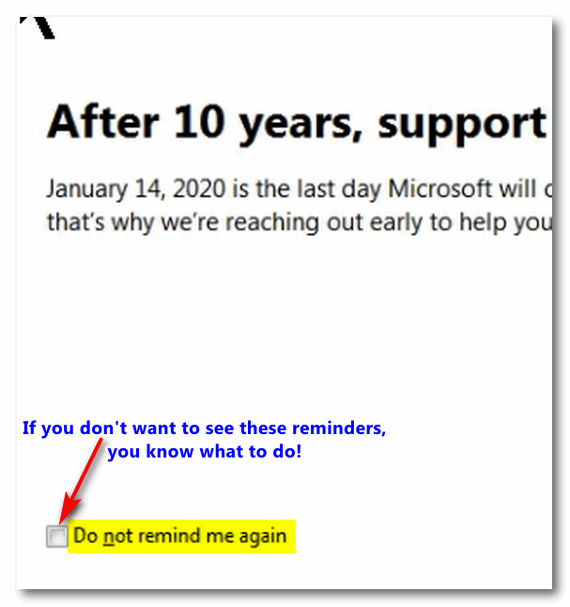 If you prefer not to install this update at all, open Windows Update in Control Panel and set Windows Update to "Check for updates but let me choose whether to download and install them". When you see that KB4493132 waiting for installation, be sure you don't install it.
If it the update does get installed somehow, go to Control Panel > Programs & Features and click on "View installed updates" on the menu o the left.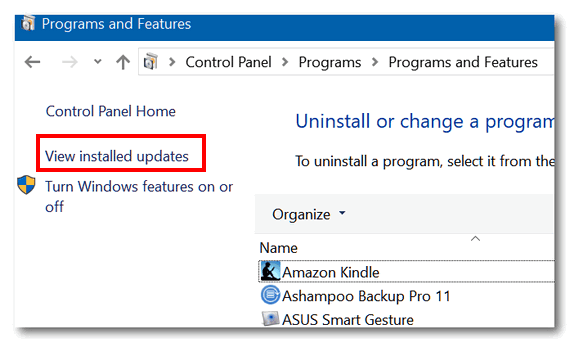 Find KB4493132 in the list of installed updates and double-click on it. Confirm you want to uninstall it by clicking "Yes".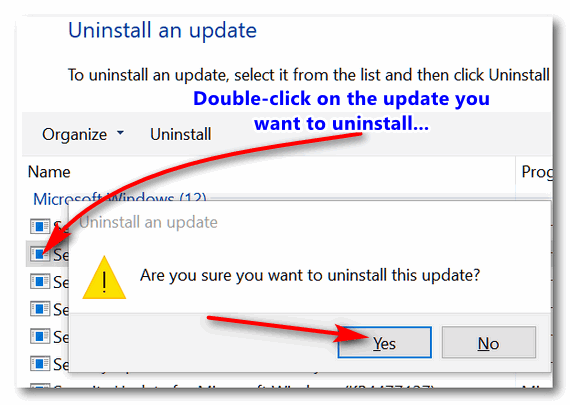 If you don't stop these notifications will continue to pop up on your Windows 7 computer.
Forewarned is forearmed. If you're using Windows 7 you can use it safely until January 14, 2019. Although Microsoft has never announced it officially you can still upgrade to Windows 10 free, see our article here.