You Can Still Upgrade Windows 7 and Windows 8x to Windows 10 for Free
Note: This article was not written to persuade you to upgrade your Windows 7 or Windows 8x computer to Windows 10. The purpose of this article was to find out whether or not you could still upgrade a Windows 7 or Windows 8x PC to Windows 10 for free- some two years after Microsoft said you couldn't. And as you will see, you can indeed still get a free upgrade to Windows 10.
We have been hearing rumors that Microsoft is still allowing Windows 7  and Windows 8x users to upgrade to Windows 10 for free. If you recall, Microsoft announced the end of free update on July 29, 2016… over two years ago.
According to some information I have been reading, you can update any Windows 7 or Windows 8x computer provided that:
Windows is licensed

Your computer meets the requirements for Windows 10
According to this article written by Ed Bott, long-time Windows expert, you can still update from Windows 7 or Windows 8x without any tricks, without providing any false information, without doing anything other than updating using the Windows 10 Update Assistant.
We've been down this road before, so naturally, we were skeptical. I happened to have a six-year-old Dell Inspiron 15R 5520 7520 Series laptop with Windows 7 Home Premium on it. I had given it up for dead  a couple years ago when it wouldn't boot and I didn't feel like fiddling with it. (Yes. Sometimes I get that way.) 
I recently revived it and got it working but not very well. It, therefore, became the perfect guinea pig to find out for myself – and you – whether these articles were click-bait or if you really could update a Windows 7 computer to Windows 10 for free, more than two years after Microsoft said you couldn't.
So, today, a Sunday and a day to relax, I got the Windows 7 laptop out and fired it up. I opened my browser (Chrome) and headed to this Microsoft page to download the Windows 10 Update Assistant.
I clicked on the "Update now" to download he Update Assistant on my Windows 7 laptop. Once it was downloaded, I ran the program.
Once I ran the update assistant, it started downloading the files I needed to upgrade my Windows 7 Home Premium laptop to Windows 10 Home Edition.
Once the download completed (about 20 minutes), it was time to install Windows 10. It took about 45 minutes for the installation to complete. No input from me was necessary – the installer rebooted my laptop several times.  When I came back and checked I saw the installation was successful… and I was greeted with this Windows 10 privacy settings screen:
Above: My 6-year-old Dell laptop running Windows 10 after being upgraded from Windows 7 Home Premium… for free.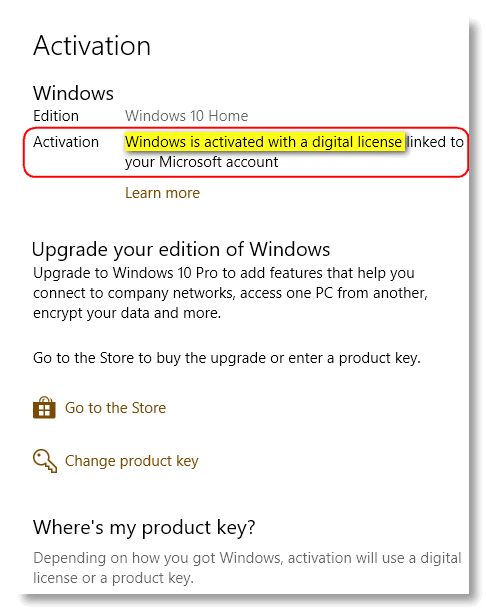 Above: Windows 10 shows it is licensed and activated… no charge. August 19, 2018Mission accomplished. At no time was I ever asked for a product key or was I asked to activate Windows 10. Now my six-year-old old laptop is running Windows 10 and it shows it is licensed and activated. Totally legal and I had nary a problem.
If you've got a Windows 7 or Windows 8x computer and you've not updated to Windows 10 because you thought you'd have to pay for it: It's true… you can still get it free.
Bring on the caveats!
Some old Windows 7 and Windows 8 PCs may not be able to run Windows 10. However, if you use the update assistant and it finds your computer does not meet the requirements to run Windows 10, it will not install upgrade your PC and nothing will change. 
Your experience may vary from mine. The Windows 7 laptop I upgraded was a six-year-old Dell laptop with a 1 TB hard drive, an Intel i5 processor and 8 GB of RAM.  I was surprised to find that Windows 10 runs much better on my old Dell laptop than it does on my work computer (a three-year-old ASUS laptop).
The old Dell Laptop is faster now then I ever remember it. But that means nothing other than this was  great move for me. It may not be a great move for you. It may not work as well – or at all – for you. Your computer may not run as well with Windows 10 installed as it did with Windows 7 or  Windows 8. It may run better. 
The point of this article is: As of August 19, 2018, you can still upgrade a Windows 7 or Windows 8x PC to Windows 10 for free… as long as it meets the requirements and is running licensed copy of Windows 7 or Windows 8x.