Some of Our Favorite Things (so far) About the Next Version of Windows 10
One of the nice things about resurrecting an old computer and updating it to Windows 10 is that it gives me the chance to get in the fast lane and test new Windows versions before they're released. Id never dare do it with my work computer – can't afford the down time if something should go wrong.
So today I spent some time playing with the next version of Windows 10 – creatively called Version 1809 "October 2018 Update". I would have called it the Halloween update. 
So, pictorially I'm going to give you a sneak preview of some of our favorite things that are coming in Windows 10 Version 1809.
Windows 10 Gets a Clipboard Manager
Clipboard managers have always be among the most popular freeware tools for Windows. But now, finally, Windows 10 will come with its own Clipboard manager and all you have to do is turn it on. Head to Settings >System > Clipboard and flip the switch to "On"
Everything you copy will be copied to the Clipboard. To see what's on the Clipboard, just press Windows Key + V.
Nothing on my Clipboard yet. I press Windows Key + V and I see this:
After I've copied a few things, I pressed Windows Key + V and I can see everything I've copied on the Clipboard.  And access it too. If I'm signed into more than one device with a Microsoft account I can share the Clipboard contents. We'll get into that another time.
Windows 10 Snipping Tool gets a new name and new features
Snipping tool gets migrated into Screen Sketch in Windows 10 Version 1809. Screen Sketch is also  called Snip & Sketch in some versions. It lets you snip screen images immediately or on a delay. It also has several marking tools and a ruler.  To access Screen Sketch Windows Key + Shift + S .  Don't worry. Even though Microsoft said they were removing the old Snipping Tool, it is still there in Version 1809… so far.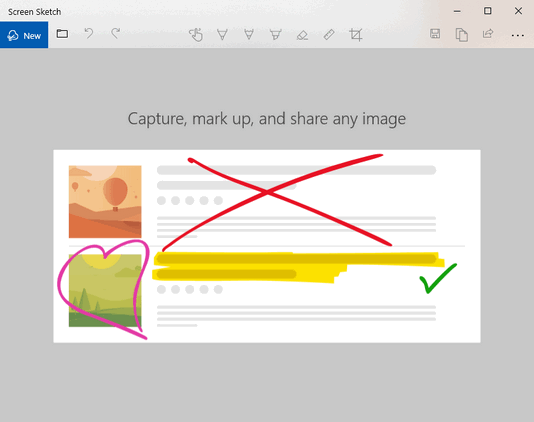 Screen Sketch Replaces (kind of) Snipping tool
Windows 10 Version 1809 Search gets better
After trying to bundle Cortana and Windows search together… Microsoft gave them a divorce – kind of. The Search feature in Windows 10 Version 1809 is cleaner and much more intuitive – and Cortana takes a back seat.
Even Notepad gets updated in Windows 10 Version 1809 (October 2018  Update)
I can't remember the last time Notepad was updated… it's been a long time. Anyway, Notepad gets some updates, including a Zoom feature. Plus it has increased functionality for writing code, and if you (for whatever reason) want search the Web from notepad, just type in a search like I did below "Where in the world is Sumatra?" , highlight it, click Edit and choose "Search with Bing". Not sure how handy this feature is, but it's there and it works. 
Well this is a just little overview of some of the new things coming to Windows 10 Version 1809 (October 2018 Update). The update will be coming to a computer near you sometime in October 2018… that's the plan.
We'll have more details and more tips for the next major version of Windows 10 coming when Version 1809 is released.