Windows 10 S Mode – What is it?
Windows 10 in S Mode is a limited, locked-down version of Windows 10. Most computers do not come with the option to run Windows 10 in S mode, but some do. And lately, we are starting to see more computers running Windows 10 S Mode.  Also, all Microsoft Surface tablets/laptops run S Mode.
In S Mode, you are restricted to running apps from the Microsoft Store, and until and unless other browsers like Chrome and Firefox decide to put those browsers in the Microsoft store, you can only use the Microsoft Edge browser and you must use the Bing search engine. Currently, you can't change the default search engine to Google or anything else unless you leave S Mode first.
Microsoft is following Apple's lead because, like Apple's operating systems, S mode is locked down and limits you to running apps from the Windows store. According to Microsoft, this provides more speed and security and provides a more stable operating system.
Since Windows in S Mode can only run apps from the Store, junkware, and malware bundled with freeware cannot install or run. You are limited to installing only apps from the Microsoft store; you cannot install applications from the Web. This does have the advantage of preventing you from accidentally installing software bundles loaded with PUPs, hijackers, and malware.
But security comes at the cost of your freedom to choose and your freedom to customize Windows the way you want it. In Windows 10 in S Mode, you can't make changes to the registry or use PowerShell, Command Prompt, or the Registry Editor.
You can leave S Mode anytime you like, but once you leave S Mode you can't back to it again. You can, however, limit Windows 10 Home or Pro to installing apps from the Microsoft Store only. You can do this in Settings > Apps > Apps & features, and under "Choose where to get apps" and "Installing apps only from the Microsoft store helps protect your device" choose "The Microsoft Store only (recommended)".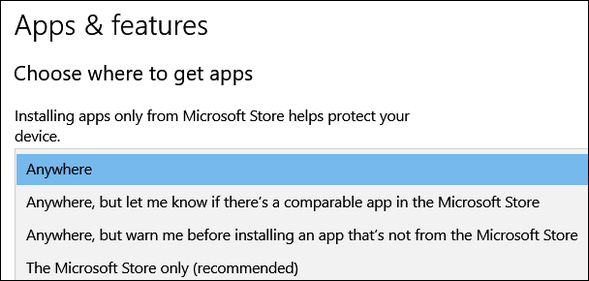 The "recommended" comes from Microsoft – not us.
S Mode is available on all Microsoft Surface Tablets/Laptops, but other computer manufacturers are offering it as well. To find out if your computer is in S Mode, type ABOUT in the taskbar search.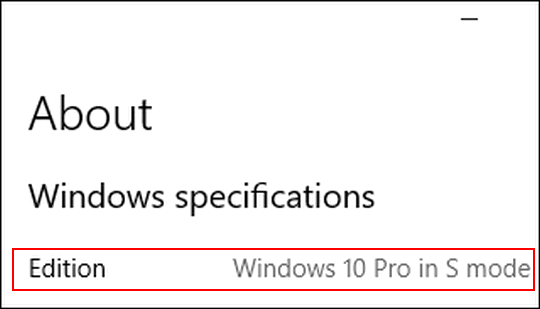 How to take your computer out of S Mode
1.) On the PC running Windows 10 in S mode, open Settings > Update & Security > Activation.
2.) Find the Switch to Windows 10 Home or Switch to Windows 10 Pro section, then select the Go to the Store link.
Note: Don't select the link under Upgrade your edition of Windows. That's a different process that will keep you in S mode.
3.) On the page that appears in the Microsoft Store (Switch out of S mode or a similar page), select the Get button. After you confirm this action, you'll be able to install apps from outside the Microsoft Store.